Introduction of ECAT
ECAT stands for Engineering College Admission Test, is the entrance exam which is conducted by the University of Engineering & Technology (U.E.T.), Lahore from F.Sc. (Pre-Engineering)/HSSC/Equivalent students who want to take admission in the engineering colleges and universities in the Punjab province. Some other institutions also have the requirement of ECAT such as NUST. Each year, almost 45,000 students from all the districts of Punjab, and the Federal Territory, Islamabad compete in the test for merely around 3,000 BS/B.Sc. Engineering seats.
What are ECAT Subjects?
Engineering students come under two major categories of ECAT, the Computer Science group and the rest of Engineering group. Thus, the ECAT test taken for the rest of engineering group is based upon four major subjects; Physics, Chemistry, Mathematics and English while the ECAT test for the Computer Science group is based upon four subjects; Physics, Computer Sciences, Mathematics and English.
What is ECAT Marking Criteria?
ECAT test is in the form of multiple choice questions (MCQ). Each MCQ has 4 marks while it consists of negative marking of -1 for wrong answer. You must do ECAT preparation accordingly so that you do not lose marks due to negative marking.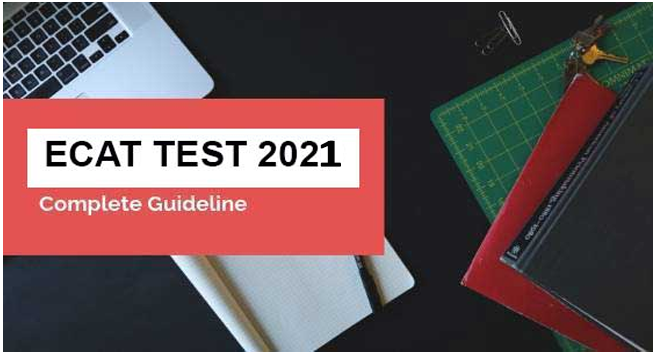 Latest Updates

UET Entry Test 2021 result has been announced at Monday, July 12, 2021. For more information, click ECAT UET result 2021.
University of Engineering and Technology Lahore has announced the registration schedule for the combined entry test for UET ECAT 2021. The university will conduct the orientation session for the candidates on 02 July 2021 and 03 July 2021 in the assigned campuses of the Virtual university. The test will be of intermediate level and will be offered in various combinations.
Combined Entry Test
The ECAT entry test will be held from 05 July 2021 to 08 July 2021 at the allotted time in the assigned campuses of theVirtual university. The entry test is mandatory for the students to get admission in BSc Engineering and BSc Engineering Technology programs in Punjab. The candidates who intend to appear in the test can collect the tokens from the designated HBL branches after submitting Rs. 1300/- from 12th April 2021 to 17th May 2021. You can get full detail of UET entry test date 2021 or UET ECAT test date 2021 on ECAT Registration and Fee.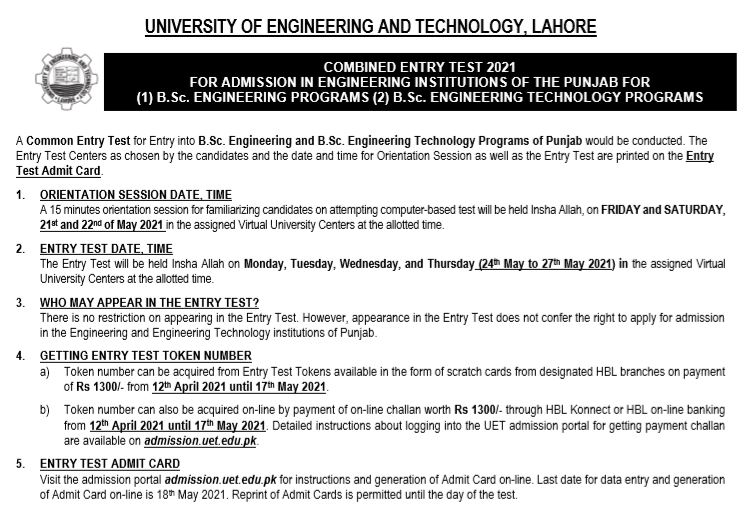 Latest news of ECAT entry test date 2021 is that it has been rescheduled ECAT test 2021 will start from 05 July 2021 to 08 July 2021. ECAT UET test answer keys have been mentioned by UET on its official website but there is no display of record of answers till now. There are four test booklet colors such as red, brown, blue, and green and the answer keys vary for each color.

You may need to look ECAT Eligibility Criteria and ECAT online test so check it as well. Stay updated with EduNews for Murad Raas twitter, Shafqat Mahmood twitter and NCOC twitter. If you have any query then feel free to comment in the comment section.
Frequenty Asked Questions Regarding ECAT / ECAT FAQs
What is ECAT?
ECAT is an entry test which is compulsory for getting admission in pubic and private engineering universities. This test is conducted by the University of Engineering and Technology (UET) every year.
Is ECAT compulsory for engineering admission in public universities?
Yes, ECAT is compulsory for getting admission in engineering in public universities. Some private universities also require this entrance test for admission.
What is the syllabus for ECAT?
The syllabus of ECAT is derived from FSc pre- engineering books including physics, chemistry, mathematics, statics and English. The conceptual questions are also asked in ECAT. The multiple chopice questions are asked in ECAT.
Can FSc pre- medical students give ECAT?
Yes, FSc pre-medical students can also give ECAT. FSc pre-medical students can get admission in bio-medical engineering and technology. Now, FSc pre-medical students are also eligible for this test.
How to register for ECAT?
You can get UET online application form at admission.uet.edu.pk. You can fill this form with the help of token number. The complete procedure for applying is given in the advertisement given by UET.
How many MCQs are asked in ECAT?
There are total 100 MCQs asked in ECAT. 30 MCQs are asked from physics, 30 MCQs are asked from chemistry, 30 MCQs are asked from Mathematics and 10 MCQs are asked from English. The total marks of ECAT are 400. Each correct MCQ give you 4 marks. There is also negative marking in ECAT. 1(negative mark) is for each wrong MCQ.
What are the passing marks of ECAT?
For passing ECAT, 60% marks are compulsory. For getting admission in engineering universities, the students have to work hard and perform the best in both board examination and ECAT. Minimum 60% marks are must required to pass ECAT. The merit of UET is very high so, you need to score maximum marks in ECAT for getting admission in engineering university.
How to prepare ECAT the best?
For getting good marks in the ECAT, students should prepare their textbooks. They should make more practice through past papers. Students should work hard and clear each and every concept related to ECAT. Students should give more time to the topics, they find difficult. Study with more concentration and make maximum practice of multiple choice questions. Students should learn how to deal with technical and conceptual questions. They should also make practice for completing ECAT in given time.
Is calculator allowed in ECAT?
A lot of students asked that whether the calculator is allowed in ECAT or not. The answer of this question is 'no'. The calculator is not allowed in ECAT. You have to make your practice without calculator. Learn to solve questions without calculator because it is not allowed in ECAT.
Is ECAT difficult?
ECAT is neither much easy nor much hard. You need preparation and maximum practice for performing well in ECAT. You should study with complete concentration. You have to manage stress and time in ECAT. You can practice maximum MCQs as practice makes man perfect. If you follow the above instructions, you will find ECAT easy.
ECAT 2021 Online Video Lectures 100% FREE
ECAT English: 40 Vidoes

Taught by Muhammad Ali Zafar who has over 5 years of ECAT English teaching experience at leading test preparation/coaching centers in Lahore.

ECAT Mathematics: 107 Vidoes

Taught by Naveed Ali who has over 10 years of ECAT mathemtics teaching experience at leading test preparation/coaching centers in Lahore.

ECAT Physics: 31 Vidoes

Taught by Hassan graduated from UET Lahore 5 years in honorable Institutions like Unique Group of Institution, Apex college and star Entry test program.

ECAT Chemistry: 39 Vidoes

Chemistry-Kumail Haider...BS(HONS) Chemistry from University of Education lahore and M.phil Chemistry from University of Management and Technology Lahore. 5 years experience
Prepare From Thousands of MCQs
English

Physics

Mathematics

Chemistry
ECAT 2021 Online Video Lectures 100% FREE
ECAT English: 40 Vidoes

Taught by Muhammad Ali Zafar who has over 5 years of ECAT English teaching experience at leading test preparation/coaching centers in Lahore.

ECAT Mathematics: 107 Vidoes

Taught by Naveed Ali who has over 10 years of ECAT mathemtics teaching experience at leading test preparation/coaching centers in Lahore.

ECAT Physics: 31 Vidoes

Taught by Hassan graduated from UET Lahore 5 years in honorable Institutions like Unique Group of Institution, Apex college and star Entry test program.

ECAT Chemistry: 39 Vidoes

Chemistry-Kumail Haider...BS(HONS) Chemistry from University of Education lahore and M.phil Chemistry from University of Management and Technology Lahore. 5 years experience
Prepare From Thousands of MCQs
English

Physics

Mathematics

Chemistry
ECAT Preperation & Coaching Center In Pakistan
| | | |
| --- | --- | --- |
| | Street 101, G-13/1 G 13/1 G-13, Islamabad, Islamabad Capital Territory | Rs. 25,000/- |
| Al Hamd Institute of Sciences Lahore | 8-3-A2 Township Lahore | Rs. 28,000/- |
| Al Hamd Institute of Sciences Sargodha | 87-A, Satellite Town Sargodha | Rs. 28.000 |
| Al-Umar college and academy | Ferozpur Rd, Amar Sidhu, Service Road, Gul Colony, Lahore, Punjab 54600 | Rs. 25,000/- |
| | Office 206, 2nd Floor Siddique Trade Center Main Boulevard Gulberg III Lahore Pakistan | Rs. 0 |