Latest Updates on BBA Program
Updated 04-Nov-2022
BBA Admission Deadline Update !

4 November 2022

, Today is the last day to apply at

Bahuddin Zakariya University Multan

.

Click here

to check
Updated 26-Oct-2022
BBA Merit List 2022 Update

!

Kohat University

and

SSUET

announces there Merit list for

BBA session 2022

.

Click here

to Visit the site.
Updated 19-Oct-2022
Allama Iqbal Open University

has extended its Admission date from 18th Oct 2022 to

8 Nov-2022

! Hurry up and

Apply

to get yourself Enrolled in

BBA UG Program 2022
Updated 13-Oct-2022
ADMISSION ALERT !

National College of Busniess Administration & Economics

Latest Admission Updates 2022 in

BBA

,

BBA(Hons)

and related Feilds ,

Click Here

to apply , Application Deadline:

19th October 2022

ADMISSION ALERT ! Virtual University

admission open in

BBA-4 year Program 2022 ,

Application Deadline:

25 October 2022

. APPLY NOW!
BBA full form is Bachelor of Business Administration. BBA in Pakistan is known as one of the most professional degree among all feilds. BBA is an undergraduate degree program and students of Pakistan can choose this 4 year program and pursue their careers in business related fields. BBA Course emphasis importance of economics, accounting, business, accounting and finance. Prospective students who take in Admission in BBA Degree will learn important business subjects like business principles, management, marketing and different strategies courses that will equip them to excel in the professional business fields.
BBA Field Information
BBA is the most demanding field for students because of its vast future opportunities. This 4-Years Degree Program helps students to make their career in management and business aspects. The students can combine the theoretical and practical aspects for a better decision-making process. The techniques of business progress are discussed in this degree program. Moreover, the students are made aware of the creativity for increasing the profits of the business.
BBA Skills
BBA degree program will enable prospective study to apply their analytical, critical thinking towards technology and improve communications skills targeted towards formulating business strategies and various business situations. BBA Degree Program enable students to draft effective business proposal, deliver strong presentations using range of modern technologies available. Business students showcase and demonstrate business theories, business tools and fundamental business concepts presented in their Business Administration Syllabus and work together as a strong team.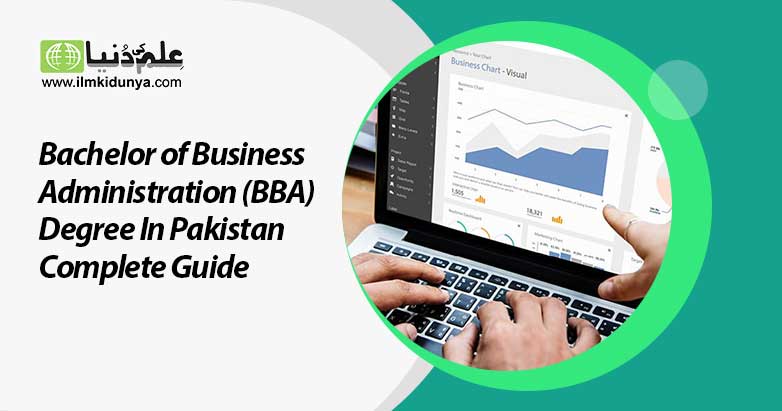 BBA Degree Requirements
Prospective students don't have to worry about their previous educational field as BBA Eligibility does not restrict entry for any specific educational background but it is open to all. Various BBA Colleges and Universities have special reserved seats based on quota towards provincial, government employees , sports section , disabled students among others. Prospective students will have to prove their mantel through special entry test designed to test BBA eligibility of students.
BBA Eligibility Criteria is regulated under the guidance and suggestions from HEC and then approved and applied towards the general public. BBA degree program consists of 4 year study tenure comprising 08 semesters for prospective students. Criteria for admission in BBA requires prospective students to have minimum of 50% Marks attained in Intermediate examinations or equivalent a level study program while having obtained 2nd division in respective I.Com/ICS/F.Sc.
BBA Scope In Pakistan
A prospering economy, Business activities such as in CPEC Venture, developing financial area such as banks, redesigned modernized societies need Business Administrators. Besides, with the significant revolution in numerous fields like auto market, sports goods and numerous others have made BBA program at high demand. The Scope of BBA in Pakistan is same for girls as of boys because women have same opportunities in this program as of men degree holders. BBA Salary is quite attractive in Pakistan for BBA degree holders. You can also visit the BBA Job Opportunities in Pakistan, page to check career opportunities after BBA.
BBA Degree International Demand
BBA degree provides lot of scope for prospective student as they are trained for industry relevant skills and encourage to develop strong decision making skills for the international market. BBA Course provides student with the opportunity to persue mba degree program in the country or abroad. BBA student's can also apply and adopt various attractive career fields such as marketer, financial advisor, admin manager, real estate agent, accountant, trader and entrepreneur among others.
BBA Courses in Pakistan
Bachelor of Business Administration (BBA) program offers multiple subjects. The value and importance concerning BBA cannot be ignored as these are the best important and highly paid BBA Courses in Pakistan. Studying these courses helps students understand the various processes, working and implementation aspects of marketing, Finance, HRM, Logistics fields. BBA courses carries special importance among private and public companies as it is vital to balance financial resources through proper financial planning, management and execution. Some Important courses in Pakistan are listed below:
Supply Chain Management
Finance
Islamic Business & Finance
Project Management
Production & Opertion Management
Marketing
Hospital & Health Care
Accounting
Frequently Asked Questions
Student

Consultant

Employer