The most common question that the candidate asked is what css stands for in pakistan? and what is css in pakistan? The candidates are informed that the CSS stands for central superior service exams. Every year the federal public service commission of pakistan conducts the css exams for the candidates. There are thousands of candidates that aim to join the civil services of pakistan after passing the css exam pakistan. But these exams are considered as one of the toughest exams for the students and comprehensive study is required to ace the exams with the maximum marks. The candidates have to select the optional subjects along with the compulsory subjects to start the preparation for the exams. The candidates that are looking for updates regarding CSS 2022 can check it from this platform. All the details are available here that assist the students and keep them updated regarding the latest information of css pakistan
CSS Exams In Pakistan
With the passing years, the number of candidates has been considerably increased that want to appear in the competitive exams but only a few of them managed to pass the exams with the maximum marks and able to secure the job in the government sector. The css offers high scope and numerous job opportunities to the candidates due to which it has become a widely chosen option after the completion of graduation. The candidates that intend to appear in the css exams and are looking for guidance are invited on this platform from where they can check all the important details without any inconvenience. Many students feel confused that from where the preparation should be started and what are the important steps must be considered before appearing in the exams. The candidates are informed that there is nothing to be worried about as they can check the information from this portal.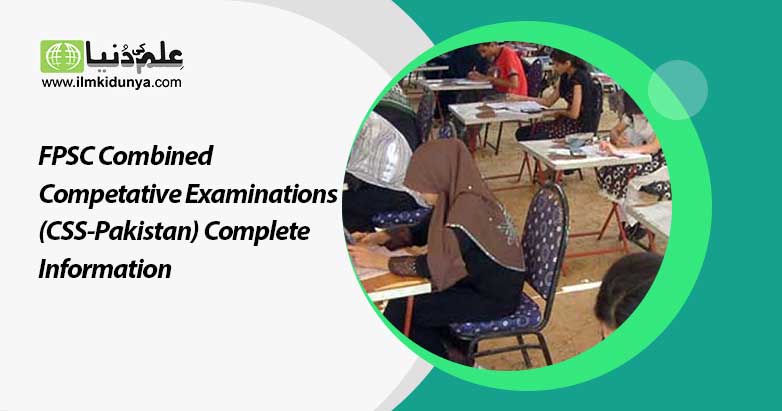 CSS Scope in Pakistan
As you were already aware, pakistan offers a css degree program. After graduating css, the pakistani government selects you for a grade 17 position in a prestigious department. Because this is a high-ranking position, the payout is more than any other private or state job in pakistan. This degree also allows you to select your desired field from a list of 12 options, including intelligence, the military, and many others.
Salary of CSS in Pakistan
Css is both a good and a difficult subject in pakistan. The government of pakistan will select you after you complete this career-oriented degree. If you are considering css as a career, you should know that the beginning pay in pakistan is more than 80 thousand. Css is the ideal option for students who wish to both serve their country and earn money in a short amount of time.
Basic Information About CSS Exam
Here is the basic information about the css exam that everyone has to follow:
The css exam can only be taken three times by a candidate.
Css has a written exam that consists of six optional and six mandatory papers. You can choose the subjects from the given list.
The candidate must hold a bachelor's degree from a reputable pakistani university with at least a 2nd division or an equivalent qualification from a foreign university recognized by hec.
Only candidates with the 3rd division in their bachelor's degree and the highest division in their master's degree are eligible to take the exam.
Candidates who pass the written exam will be shortlisted for further medical, psychological, and viva tests.
CSS Pakistan FAQs
You will find all information regarding CSS exam, schedule, eligibility, subjects, fee, quota, viva, paper time, fee paper, paper pattern, registration guideline, syllabus, past papers, training program, job scope, written test, medical test, marks division, groups , required criteria and all the latest updates regarding CSS exam for prospective candidates.
CSS Prepration / Coacching in
| | | |
| --- | --- | --- |
| Al Asar Institute of Professional Studies | | Karachi |
| Center for Competitive Excellence Lahore | | Lahore |
| Centre of Excellence Lahore | | Lahore |
| Citi CSS Officers Academy Islamabad | | Islamabad |
| Citi Officers Academy Rawalpindi | | Rawalpindi |
| Civil Officers Academy Lahore | | Lahore |
| | | Hyderabad |
| CSS COMEX Academy Karachi | | Karachi |