Introduction To DPT (Doctor of Physical Therapy)
What is DPT? DPT stands for "Doctor of Physical Therapy". It is another important degree after MBBS in the healthcare sector. After MBBS and BDS, It is also a study of "medical science of dealing and also an art of caring patients". It is one of the growing field and profession globally and also in Pakistan and there is bright career after DPT in Pakistan. A DPT graduate in Pakistan is likely to be called a Doctor of Physical Therapy or Doctor of Physiotherapy.
DPT Goals:
The goals of the DPT degree is to prepare Doctor of Physiotherapy who will;
Be main providers of physical therapy care and services.

Recognize researchable issues, sponsor and participate in research, and integrate research findings into clinical practice.

Compare theory with practice and think productively.

Identify researchable problems, advocate and participate in research, and incorporate research findings into clinical practice

Understand and place in context the social, economic and cultural issues of practice and effectively advocate for changes in policy.
DPT Objectives:
A graduate of Doctor of Physical Therapy degree will
Show deep knowledge of basic sciences and clinical sciences applicable to physical therapy.

Understand and relate academic basics of knowledge to the practice of physical therapy.

Demonstrate the performances of the leading clinician by developing and using the process of serious rational and analysis.

Demonstrate leadership,management and communication skills to effectively practicipate in physical therapy practice and the health care team.

Demonstrate in depth knowledge of the basic and clinical sciences relevant to physical therapy, both in their fundamental context and in their application to the discipline of physical therapy.
Scope of Doctor of Physiotherapy (DPT) in Pakistan
Value of DPT : The program educates practitioners or therapists to meet the challenges of an active healthcare environment and supports intellectual activities that makes bridge between science and clinical practice. It efforts on treating a range of situations including but not limited to Neurological, Musculoskeletal, Pediatrics, Geriatrics, Cardio-Respiratory, Mental Health, Sports, Balance disorders etc.
DPT Vaccine
Dpt Vaccine is combination of vaccine to Protect gainst three DTP infection(Diphtheria,Tetanus,Pertussis).D&P(Diptheria & Pertussis) spreads for person to person.Tetanus enters into body through cuts.Use of DPT Vaccine has end the D &T in childhood and reduce the number of Pertussis cases.If you have a serious allergic reaction ,then you should not receive the vaccine.Some side effects of the vaccine are tiredness,mild fever,readness,sealling,pain.
Diptheria:It is a serious bacterial infection that affects the mucous membrances of your nose & throat
Tetanus:Disease of the central nervous system
Pertussis:Infection caused by the bacterium bordetella pertussis
Latest Updates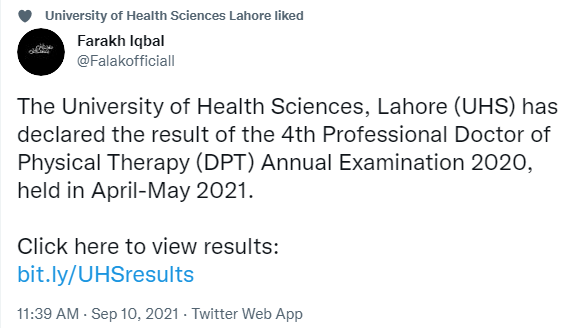 UHS has declared the result of 4th Professional Doctor of Physical Therapy DPT Annual Examination 2020 which was held in April-May 2021.