PPSC stands for Punjab Public Service Commission. PPSC is an authorized official institute set up by the punjab government to handle and administer testing and selection of competent and qualified candidates concerning various government job seats and opportunities provided to the public. PPSC provides the schedule of current PPSC job openings and upcoming job positions regularly on their official website. Respective candidates are required to fill in their official credentials concerning national cnic number, education background, current qualification, attested copy of candidate's original documents among others on the PPSC online web application portal for applicant candidate for upcoming ppsc competitive exam for the public job posts.
PPSC Guide Highlights
PPSC Guide 2022 Latest Updates
| Key Points | Updates |
| --- | --- |
| Date Sheet | Punjab Public Service Commission announced the Test dates of Lecturer Computer Science, Lecturer Geology, Lecturer Biology and Lecturer Philosophy Posts |
| Result | PPSC announced the written test Results of Lecturer Journalism, Naib Tehsildar (Multan), Lectuer Zoology and Final Result of Assistant Director, Mentors, Lecturer Physics, Junior computer operator and many other posts. |
PPSC Exam Objectives
PPSC main objective is to filter out high-quality competent candidates from the crowd and provide fair opportunities for all deserving candidates of punjab concerning public job positions and vacancies regardless of bias, racism or favour towards a certain class. By carrying out high-quality competitive examinations complying with international standards among various deserving candidates under the supervision of the government of Punjab, the commission fulfils its role of being a neutral empire for the public positions match.
Punjab Public Servies Commission PPSC Importance
PPSC also acts as an official guide or informer following in the footsteps of its big brother success FPSC or Federal public service commission concerning administration and handling of federal public positions distribution among the public. Deserving candidates can succeed by working hard and focusing on their studies so that PPSC can reward them by giving them highly paid public job positions according to their respective experience and job scale through the process of carrying out international standard examinations under provincial government supervision.
Function Rules of PPSC 2022
All the rules about the PPSC test 2022, PPSC examination interview and selection as per advertisement. Provincial services and all other posts that connected with the affairs of the provinces, as can be directed, other such posts in, or an organization or other regulatory body using authority under any rules, as may be ordered. Such authorities who contributors of a provincial carrier or such posts that keep their connection with the province affairs. Such other capabilities can be authorized.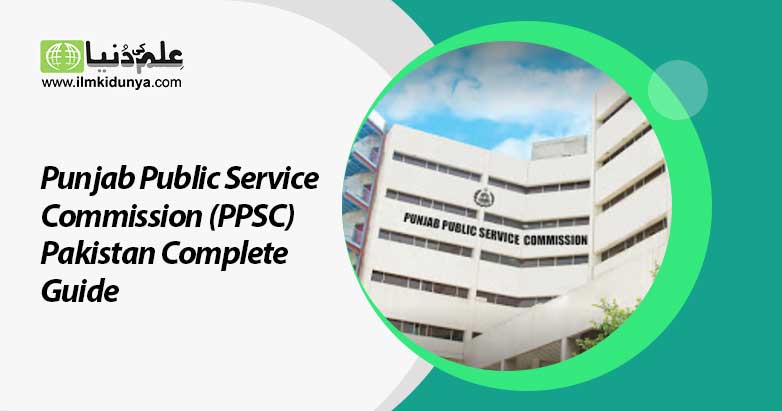 PPSC Clubbing of Examination/Test Policy
Punjab Public Service Commission (PPSC) announced the new Clubbing of Examination / Test policy. Clubbing policy introduce due to the large no of candidates applying to PPSC for multiple posts. According to the details, keeping in view a large number of candidates, applying for different posts. The commission has decided to introduce a policy of clubbing of PPSC test/examination. Under PPSC Regulation, 2016 and Manual of Policy Decisions have been amended.
Main Features of Test Policy 2022
Following are the features that has been decided under the new clubbing policy for PPSC Examinations/Tests.
The posts may have different or similar appellation but should have similar syllabus/content for test
If a candidate found is declared as passed in such combined (PMS) test, he will be considered to have succeeded in examination for all posts combined in that particular test/examination.
Successful candidates will be shortlisted for interviews for each post as per existing policy.
A candidate will pay fee against each post applied for as per existing procedure.
Here you can download the Punjab Public Service Commission (PPSC) newly announced Clubbing policy of examinations/test.
PPSC Examination Updates/Date Sheet 2022
Worried about the upcoming exam and don't have PPSC Exam Schedule? Don't worry as it's your lucky day as you will be provided with all the latest news and information regarding PPSC Date Sheet 2022 on this page. Prospective candidates who wish to attempt their PPSC Exam should bookmark this page for reference so that they remain informed regarding the latest news and alerts regarding ppsc date sheet.
PPSC Interview Schedule 2022
Respective candidates who wish to succeed in their PPSC Upcoming Interview 2022 can easily do so by going through their respective candidate Interview eligibility criteria, interview date, documents required by candidate, minimum passing percentage for the interview, guidelines regarding interview questions, interview schedule for different government posts, important guide regarding candidate interview call letter among others.
PPSC Past Papers
PPSC exam past papers are the centralized object or key to success in PPSC exams. It provides a guarantee of success to students because they come across a wide range of questions through the past papers. You can get all departments PPSC Past Papers PDF of Punjab Government like Home department, Punjab Police ppsc past papers , Board of revenue past papers, exice and taxation department past papers and irrigation and power department past paper.
PPSC Result 2022
Every year punjab public service commission announces various public sector jobs positions and opportunities for the public to uphold policies, standards, set selection criteria, provide equal job opportunities, conduct examinations, provide services to government regarding selection criteria, recruitment methods, improve selection process efficiency and announce PPSC Results regularly on time. Prospective job candidates must keep a lookout for their respective job's PPSC Result 2022 announcement and they do not want to miss the government service job opportunity as there is fierce competition among the applicant candidates as their ultimate dream is to service their country pakistan with good job security so they must keep a look out for PPSC Written Result appearing online, in social media, in print media and on official ppsc website.
PPSC Syllabus
When PPSC Job advertisement announced, then department upload the syllabus details against the each post. Here you can download the PPSC Syllabus details of government of the Punjab's different departments.
Frequently Asked Questions
You will find all information regarding PPSC 2022 registration process, application process, form, rules, guidelines, criteria, official guide, application website, deadlines, online application portal, useful links among others and you will also be provided latest news and updates regarding PPSC test registration process as well.