Do you have what it takes to become a successful teacher or lecturer? Than you have arrived to the right place as you will be provided all latest information regarding B.Ed Degree Program on this page.
B.Ed Program
B.Ed basically stands for Bachelors of Education and it focuses on the significance of teaching field. The main goal of this specific field area is to attain the targets of educational system in a better way. The empowering teachers and lecturers play a crucial role in the development of the country. The B.Ed Degree is intended to train the teachers in the professional life. It also facilitates people with different opportunities to meet the international standards of teaching profession.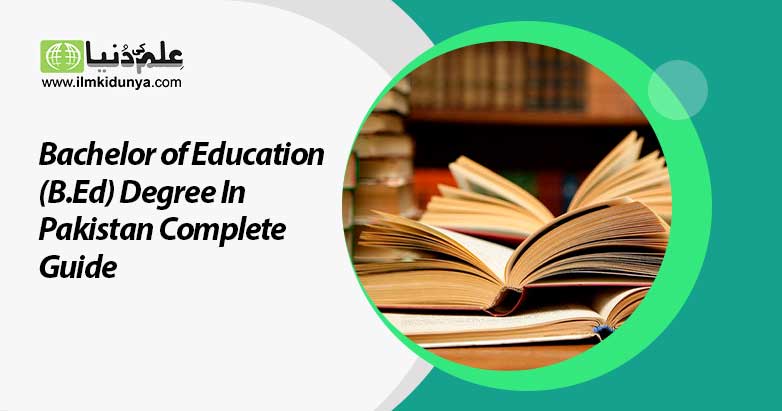 B.Ed Stand For
B.Ed stand for Bachelor of Education
Bachelor of Education Duration
Bachelor of Education is 4 year Degree. There are 8 Semester in 4 years. Students have to complete 8 Semester to get the degree of Bachelor of Education.
B.Ed Eligibility Criteria
FA/FSC/A Level with minimum 2nd division
Applicants with A Level will submit equivalence certificate
Candidates with ADE (2 Years) degree can join in the fifth semester of BEd (4 Years)
B.Ed Advance Courses
B.Ed degree program can equip prospective students to major in various subjects like computer science, economics, accounting, english, math and computer science. B.Ed Degree provides students diversity and versatility towards various educational employment positions and opportunities. B.Ed Graduates can get hired in leading private and public organizations and provide their services towards management, accounting, publishing, and research field.
Bachelor of Education degree program is a morning study program and students who become b.ed graduates can easily work in leading Education Universities and Colleges as teachers for future generation and will be responsible for incorporating moral value, optimism and positive thinking towards future nation of Pakistan.
B.Ed Scope in Pakistan
B.Ed degree program will allow students to provide teaching services in leading schools of Pakistan for subjects including history, political science, physical education, chemistry, math, botany, statistics, electricity, english, urdu, computer science, Islamic studies, and physical education. The degree also provide various Educational Career Opportunities for graduate students to develop their professional skills through development courses that are in line with the national standards of Pakistan for teachers. Teacher development programs are very important in current era as they are the foundation for success in the long run for students.
Frequently Asked Questions
What is the B.Ed full form?

B.Ed stands for Bachelors of Education.

What is the main objective of studying B.Ed?

The main aim of this course is to attain success in the field of education via empowering teachers, lecturers and professors.

What is the duration of B.Ed program?

The duration of B.Ed degree program is almost 4 years.

How many semesters are included in the program of B.Ed

In this degree program, there are eight semesters.

How many credit hours does the B.Ed program consist of?

The total credit hours of this degree program are 130-160

What are the learning outcomes of B.Ed program?

The learning outcomes of B.Ed program are as follows

Increase your interest in learning and social services
The candidate are made efficient enough to understand the psychology of students
Understand the significance of teaching research

Can I take admission in B.Ed After 12th?

yes, you can take admission in Bachelor of Education.

Can I do B.Ed after BBA?

Yes, You can do B.Ed after the completion of BBA (Hons) 04 years program.

Can I take direct admission in B.Ed?

Yes, There are no entrance test requirements for B.Ed admission.

Which are the top institutes for B.Ed?

Punjab University, Bahauddin Zakariya University, IUB Bahawalpur, Karachi University are the top institutes for B.Ed Admission.

Can i do B.Ed Private?

Yes, some institutes like: AUST Abbottabad, Women University AJK, Aga Khan University, Riphah University offer B.Ed private admission in Pakistan .

Can i do B.Ed after 12th in Pakistan?

On the completion of Intermediate (12 Years) degree you can take admission in Bachelor of Education (Hons) 04 years program, not in B.Ed 1.5 Years Program.
Student

Consultant

Employer