474
College &
Universities
across pakistan offering this course
0
Recent Open
Admissions
across pakistan offering this course
MBA stands for, Master of business administration. MBA is a post-graduate degree program. MBA course covers different areas of business such as accounting, finance, marketing, human resources and operations in such a way that is most relevant to the management analysis and strategy. Mba can be done after bachelor of commerce degree. Basically Master of Business Administration (MBA) degree is designed for the aspirants to develop their views about business as a program for post-graduation. In MBA programme students will have an opportunity to choose an area of specialization to strengthen their experience. It is designed for bachelor graduates with 14-year education who want to select business as their profession by enhancing their certified business skills. It provides opportunities to know about special methods required to surpass in the challenging and fast growing world. You can select MBA banking, MBA finance, MBA in human resource management, information technology etc, for specialization.
MBA Degree Courses
Undergraduate students mostly apply towards MBA because it is a general program that does not have any special requirements for undergraduate students whether they are from the art field, engineering, finance, marketing, mathematics or science. BBA graduates usually prefer to apply towards MBA degree program as it offers them grants, scholarships and special credit hour exemption towards their graduation which greatly benefits them to get a head start in the industry. You can check MBA degree courses in detail from our list of subjects page.
Undergraduate students applying towards MBA degree program usually have vide range of core business courses to choose from along with having some core business electives, business specialization courses, business final project or student thesis.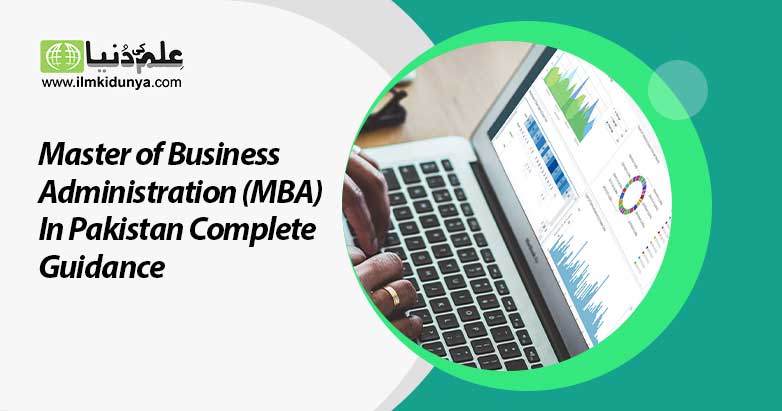 MBA Scope In Pakistan
This specific program fulfills the necessities to those students who need to seek after their career in administration or towards advanced education in business. This is a course planned with a progression of theoretical and practical study that assists the students with developing of their abilities like intuitiveness, collaboration, business decision making and quantitative techniques. MBA degree, after the completion, enables the students to work at managerial positions in the industry, business or government sectors etc. MBA salary is highly attractive in pakistan for degree holders. You can also visit MBA career page for job opportunities in pakistan.
MBA Specialization
MBA business graduate program offers specialization in Marketing, HRM, Finance, Supply chain, Data Analytics, Textile Management. The value and importance concerning Marketing major cannot be ignored as its all around us from media commercials, print media, print advertisement, social media campaign, social media ads, flex banners, media holding, among others. Study of marketing helps students understand the various processes, working and implementation aspects of marketing field. HRM major holds special importance for companies for balancing the right people with suitable experiences for various job posts as it reduces business and company turnover improving sales and lowering overall yearly costs. Finance specialization carries special importance among private and public companies as it is vital to balance financial resources through proper financial planning, management and execution as without it the company would be facing various law suits, fines and operating violations among the market leading to company being closed down or declaring bankruptcy.
MBA Degree Merit
Mba program requires undergraduate students to have completed a minimum of 16 years of education from HEC recognized university. Students also must have attained at least 60% marks in their bachelor to be considered. Merit criteria vary according to university ranking but it is usually set to be 70% entry test and 30% marks obtained in bachelors.
MBA Program Credit Hours
Mba program is offered consists of two-year study tenure with some exceptions offered to previous business studies students offered under hec policy. Undergraduate students are required to complete at least 60 credit hours to be eligible for MBA graduation. Undergraduate business students can waive off or exempt up to 30 credit hours depending upon the universities staff or faculty decisions. MBA 3.5 years consists of almost 95 credit hours, MBA 2 years consists of 60 credit hours and MBA 1.5 years program consists of 36 credit hours.
MBA FAQs
What is MBA degree?

MBA full form is Master of business administration. This is two years degree program related to business. It is a business degree in which students are taught technical, managerial, and leadership skills. MBA is a graduate degree in which students deal with business research.

What are the requirements for getting admission for getting admission in MBA?

For getting admission in MBA, the requirements are given below:

Bachelor degree from a recognized university is mandatory.
The minimum percentage in Bachelor's degree should be 45% - 60%
In some universities, entry test is also required. Minimum 50% marks should be in entry test

What are the subjects of MBA?

Some of the subjects which are taught in MBA are given bellow:

IT management
Accounting and financial management
Business economics
Financial reporting and analysis
Marketing management
Human resource management

Which Are the Jobs after MBA?

There are a lot of jobs after MBA degree. The MBA graduates have a lot of job opportunities. Some of the top good jobs are given below

Computer and information systems manager
Information technology director
Business operations manager
Marketing manager
Health services manager

Is MBA equivalent to M.Phil?

Yes, MBA generally recognized by HEC is equivalent to M.phil. You can do PhD after the completion of MBA. After doing MBA, you don't need to do M.Phil. You can directly enroll in Phd after MBA.

Is MBA a tough degree?

MBA is not too difficult. It is not without challenges. You have to face many challenges in this degree. But this is rewarding for those who invest in it.MBA is not too much difficult and not too much easy. It is a technical degree. You have to deal this degree with fully attention. To get admission in MBA, the students must crack the MBA entrance exam. If you work hard, you will find this degree easy and interesting. Selection of a field is also depends upon students interest. If you are interested in it, you will find this degree easy