1636
College &
Universities
across pakistan offering this course
0
Recent Open
Admissions
across pakistan offering this course
2nd year is known to be the final session of HSSC as HSSC stands for in Pakistan as Higher Secondary School Certificate. Intermediate is gateway of your future education career which can open several opportunities in your life. At this stage you try to be more conscious regarding your study because it is the last chance for you to improve yourself. Following are the ways through which you can maintain your study in 12th standard:
First of all make an analysis about yourself that how you maintain your studies in the previous section i.e. during 11th class.

If you were the best in managing of your studies then it must apply the same routine for your education or study this year too.

If you did not maintain your study in such a way that you should be then find that what are the restrictions that render in your studies.

Just try to overcome these restrictions and try to make better performance as compared to previous session.
You can check for 12th Class Online Test for your preparation.
2021 Result Highlights
We will keep you updated when will the 2nd year result announced 2021 by all of the Boards.
| Board | Status | Board | Status |
| --- | --- | --- | --- |
| Bise Peshawar | Announced | Bise Lahore | Announced |
| Bise Swat | Announced | Bise Gujranwala | Announced |
| Bise Kohat | Announced | Bise Multan | Announced |
| Bise Malakand | Announced | Bise Faisalabad | Announced |
| Bise Abbottabad | Announced | Bise Sargodha | Announced |
| Bise Bannu | Announced | Bise Rawalpindi | Announced |
| Bise Mardan | Announced | Bise Bhawalpur | Announced |
| Bise Dera Ismail Khan | Announced | Bise DG Khan | Announced |
| Federal Board | Announced | Bise Sahiwal | Announced |
| Karachi Board | Announced | | |
Latest Updates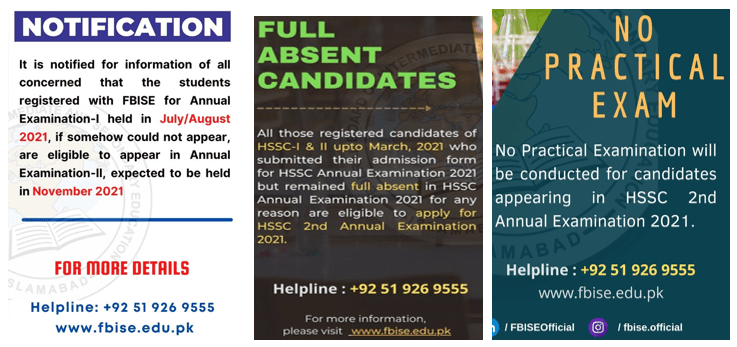 The Federal Board of Intermediate and Secondary Education has started the registration of special exams 2021 for repeaters. According to Fbise notification about exams 2021, HSSC second annual examination 2021 will be commenced from 10th November 2021. The candidates who intend to appear in the exams are informed to check the schedule and submit the admission form and admission fee as per the instructions provided for the candidates. Those students who are registered with HSSC inter Part II annual examination-I but due to some reason and could not take the exams, they can now get registered with Annual Examination-II of Federal Board. Full absent students can also apply. Moreover, there would be no practical exams in these examinations. You can also check the above FAQ issued by Federal Board regarding Special Exam. Stay updated for HSSC annual examination 2022 information.
---

Students can now apply for Recounting or Retotaling of Intermediate annual examination papers 2021. It can be done through online or One Window Cell within 20 days of declaration of the result. Stay updated for 2nd year result 2022 expected date.
---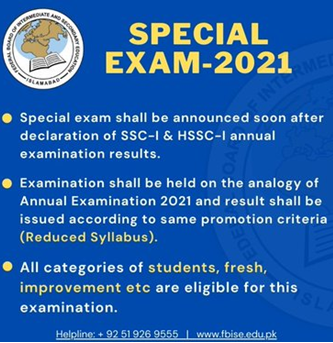 Special Exams 2021 is going to be started by Federal Board after the results of Class 9th and Class 11th. All of the students including fresh and improvers can take the exams again if they are not satisfied with their results. We will inform you on which date result of 12th class 2022 will be announced of other boards.
---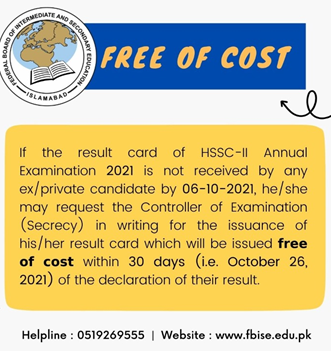 If the private candidates have not received HSSC part II result card of annual examination 2021 of Federal Board, they can contact to Controller of Examination in writing for the issuance of result card Free of Cost within 30 days. Stay updated for latest news about result of 2nd year 2022.
---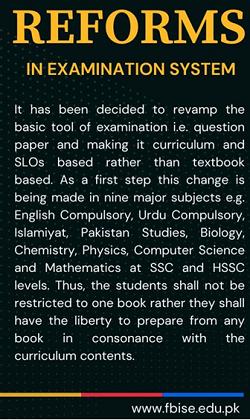 Federal Board has decided to change the examination system of SSC 2022. The question papers will be reformed and the students can do their preparation from any book as there will be no restriction for specific book of major nine subjects. Stay updated for how to check result at Ilm ki dunya 12 class result 2022.
---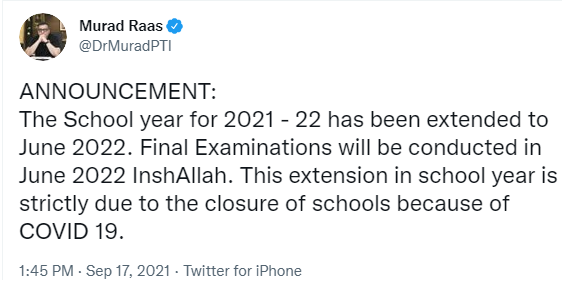 Murad Raas tweet today about education that the school year will be ended in June 2022 for the next session. Final examination will be conducted in June 2022.
---

Karachi board of intermediate education has made an important announcement regarding the result. According to the statement issued by the board authorities, it is informed that the candidates who had appeared in the annual examination of the intermediate will be passed whereas the candidates who had not taken the exams will not be passed.
---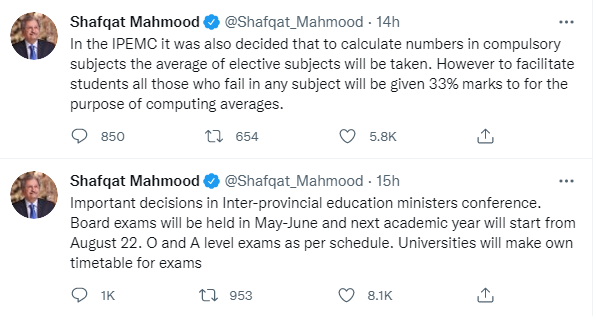 According to Shafqat Mehmood latest news about exams 2022 today, Board exams will be held in May to June in 2022 session and new academic year will start from August 2022. Moreover, the marks of complusory subjects will be given according to the average of elective subjects and all of the students will be passed by giving 33% to those students who will fail in any subject.
---
KILL THE DRAWBACKS OF 1st YEAR FOR BETTER PERFORMANCE
So, make it sure that you know that how to maintain your studies routine for the 12th standard now.

After making your routine planning, comes toward your actual preparation.

First of all make an analysis about your preparation that which kinds of mistakes and drawbacks you have done in your previous session and try to overcome them.

If you are not able to get rid from these drawbacks then try to engage yourself with guider. For this reason you must meet with your senior class mates, teachers and tutors.

This is necessary because if you do not correct your mistakes then they once again may bring problems for your education career.
It is good for you to check 12th class Past Papers so that you know what type of questions appear in the exams.
MAKE A PLAN FOR STUDY INTERMEDIATE PART-II
After getting admission in the new session of study, the very next thing that you do is to choose a plan for your study. Following tips will help you to make a good study plan:
A daily task routine gives you the right way to cover your study and preparation

Keep your goal or achievement into your mind which you want to get and then make workout for your goal and achievement. This will help to make the better progress.

Do not miss your even single class or lecture from the college because during the lecture your professors teach you more than that of your syllabus.

For further preparation try to join private evening academies and home based tutors (if needed).
You can check for 12th Class Video Lectures from which you can attend the lectures of our highly competitive teachers free. 12th class Paper Scheme can be beneficial for you. You can also find Smart Syllabus for 12th class 2022 on this guide. If you have any inquiry about Ilm ki dunya result 2022 2nd Year then write a comment below. You can also check Ilm ki dunya result 2020.
Intermediate Part II Frequently Asked Questions / FAQ 2nd Year