The word LLB stands for bachelor for law. The LLB degree is pronounced as LLB due to historic Latin qualification "Legum Baccalaures". The LLB (honors) bachelor degree is a five year program that students have to undertake in order join the legal job field due to the requirements of Pakistan bar council and HEC.
The LLB is a great degree choice in comparison to any other non professional degree. The LLB in Pakistan offers you respect and power to the one who completes it. You will be able to provide your services to the people and help them in their problems. The LLB honors program is now recommended by HEC but the 3 Year LLB Program in pakistan is also being offered in some institutes across Pakistan.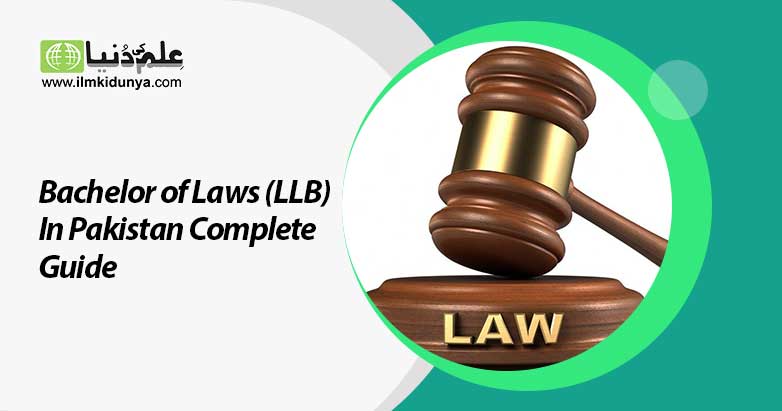 LLB Guide Highlights
LLB Guide Updates 2022
| Key Points | Updates |
| --- | --- |
| Admission | LLB Admission in public Universities are open after the announcement of Intermediate result. On the other side, admission in private institutes are open in Spring, Fall and summer semester. |
| Merit List | Different Universities are announcing their spring merit list 2022 |
| Result | Bahauddin Zakariya University declared the result of Ist Annual LLB Examination, 2021 |
| Date Sheet | Punjab University issued the examination schedule of LLB program. PU LLB & LLB Hons Annual Examination, 2022 will start from 08 September, 2022 |
| HEC LAT Test | Last, LAT test date was 15 May 2022. |
Punjab University LLB Examination 2022 News Updates
Law students of Punjab University are searching their annual examination dates of 2022 exams. We inform to all Law students that Punjab University issued the examination schedule of LLB 3 years and LLB (Hons) 05 years students. Lets we check the Examination schedule now.
LL.B (3 Years) Schedule
LLB (3 Years) Part-I, Part-II and Part-III Annual Examinations 2022 will be commencing from 08 September 2022. Important Note: This schedule is only for compartment holder candidates
LL.B (5 Years) Hons Schedule
LL.B (5 Years) Part-I, Part-II, Part-III Part-IV and Part-V Annual Examinations 2022 also start from 08 September 2022. But point to note is that, PU didn't issued any official date sheet of thest LLB exams, now. Keep update with ilmkidunya.com. When University will issue any update regarding the date sheet, you will check here.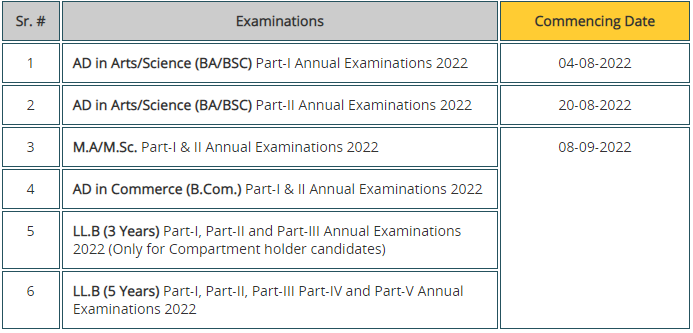 LLB Eligibility Criteria in Pakistan
Students who are undertaking the Admission in LLB in Pakistan are required to have completed their intermediate education from well recognized educational institute or board. Students undertaking LLB honor degree program must have passed LAT (law admission test) as required by HEC. The student who wish to undertake LLB honor degree program will be based on student having 70% marks in intermediate and 30% marks towards matriculation examination.
Students who are undertaking the LLB 3 year program must have completed their BA or Bachelor equivalent degree securing at least second division. Students undertaking LLB 3 year program must pass their LAT (law admission test) which is compulsory requirements by HEC. The student undertaking LLB 3 year program must also have secured 70% mark in their matriculation, intermediate and bachelors while having 30% marks in entry test to be considered for admission.
LLB Universities in Pakistan
Bachelor or intermediate students seeking admission for concerned in Bachelor of Laws or LLB in Pakistan, leading Law colleges and Universities will be happy to know that the admissions in fall semester has opened. LLB is a famous program for bachelor and intermediate students who have gained excellent marks and are want to pursue the career in law field.
Some of the top Universities for Bachelor of Law program are Punjab university law college Lahore, Bahauddin zakariya university multan, Islamia university bahawalpur, University of lahore, university of central punjab lahore, quaid-e-azam law college, University of Sargodha and Government college university Lahore are the popular LLB Universities in pakistan
LLB Admission in Pakistan
LLB admission empowers students to raise their voice against violence, injustice and crime against humanity. LLB Admission 2022 provides students with a clear understanding of the legislative, judicial, and legal executive system of Pakistan. After attaining admission towards LLB course, students can start practicing in different courts of Pakistan as an advocate or go abroad for higher studies. Here, on that page you can check the latest announced LLB 2022 Admission in Pakistan's leading Colleges or Universities.
LLB Examination Updates/Date Sheet 2022
Being prepared for upcoming exams is quite helpful for Bachelor of Laws students as they can manage their study plan and prepare accordingly as to what they have prepared and what needs more attention for the upcoming exams. You can check here all latest announced LLB date sheet 2022 of Pakistan's top institutions. So students should remember to visit the page and keep vigilant regarding the latest updates from their college and university as not to miss important developments regarding the LLB final exam datasheet.
Scope of LLB in Pakistan
LLB degree program student graduates have very high demand in all professional field requiring analytical abilities as well as the legal field in Pakistan. Successful LLB graduates can become successful in various law fields and have interesting LLB career in jobs related to academia, civil service, research, policymaking and financial institutes in pakistan and abroad.
Difference Between LLB and LLB Hons
A simple LLB degree is a three year course in pakistan. Students who have completed the Bachelor degree like B.A/B.Sc/B.Com or equivalent qualification can take admission in LLB 03 years program. But according to the new policy, three years program is closing and shifting to hons progam. While LLB Hons degree duration is 05 years. If you completed the Intermediate degree in any field like F.Sc/I.Cs/F.A or equivalent qualification, you can enrolled in best LLB Universities in Pakistan after passing the Law Admission Test (LAT) which is taken by higher education commission Islamabad.
LLB Career Opportunities
LLB also famous due to the best career opportunities in different government departments. In pakistan, There are highly paid posts for LLB graduates in different departments. A lawyer always follow the rules and regulations restricted by the government of bar council of the country. In Pakistan scope of Lawyer is increasing rapidly because of increase in the number of crimes, snatching of rights and corruption.
LLB Result Updates 2022
The students of LLB who are recently completed their annual or supply exams, it is very important time phase in the students life as his future career hangs in the balance. Universities and colleges usually announce the Results of Bachelor of Law (LLB) in the month of October or November every year. But due to the covid-19 issues exams conducted late and result also announced late.
LLB Mobile Application
The LLB Mobile App is a new way to study the LLB program in Pakistan. LLB Mobile App includes all the latest featured that are required by any LLB student including past papers, admissions, latest news, LLB Universities in Pakistan.
Law Admission Test 2022
The Law admission test is the first step for starting law education. It is organized by the higher education commission of pakistan (HEC). If a candidate wants to take admission to the LLB program then this test is mandatory. HEC has made the Law Admission Test mandatory and listed it as the required criteria for the LLB degree program. Those who wish to attain their lifelong dream of becoming district attorney, lawyer, civil or high court judge must successfully pass the LAT test to be eligible to carry out the LLB degree program
Frequently Asked Questions