PMS full formis Provincial Management Service. This test is responsible for offering a plethora of government job opportunities to the candidates. The fundamental goal of this test is to control the provincial administrative tasks quite efficiently. PPSC organizes the test every year for evaluating the intellectual level of the candidates. The selected candidates are initially appointed on scale BS-17. However, they will be promoted to the scale BS-18, BS-19, and BS-20 after some years. Let's discuss all the details of this test
Educational Requirements
The candidates should have to follow all the instructions befire applying for the test. Moreover, they must understand the eligibility criteria to avoid all kinds of inconveniences during their application procedure. The educational requirement for this test is given below
The candidate must be graduated from an HEC recognized university. Candidates with a bachelor's degree in any discipline are eligible to apply for this test.
The fresh graduates or job holders can also apply for this test without any difficulty.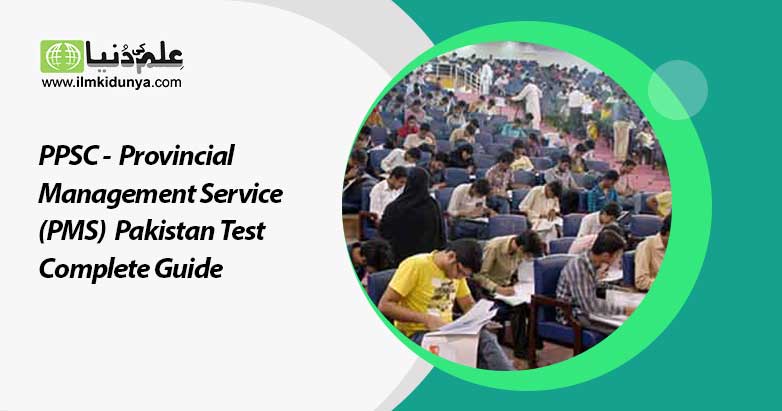 Test Pattern
The candidates must be able to understand the test pattern for performing in a better way. They must have to attain at least 40% marks in the exam for relishing their desired future job. The details of questions asked in the exam are given below
The overall marks of the test is 1400. The exam is categorized into three sections: written test, interview, and viva voce.
The total marks of the written test are 1200. All the questions related to the compulsory and optional subjects are asked in this section.
The remaining 200 marks are of viva voce. The candidates need to take at least 40% marks to pass the exam
Duties of a PMS Officer
The responsibilities of a PMS officer are given below:
The officer should manage the directorate structure of the province.
He should be capable of handling the administrative duties of the province.
They accomplish different duties for the welfare of the country. These duties involve Tehsil, District, Division, and many other crucial posts.
Career opportunities
This test is liable to grant a wide range of job opportunities to the candidates in the future. Some of these job opportunities are given below:
The officer can be appointed as Deputy Secretary.
After passing the test, the candidate can work as Additional Secretary
The candidate can also be appointed as DCO, DG, and many other relevant posts.
PMS FAQs
PMS Preparation & Coaching Center In Pakistan
PMS Preparation / Coaching In
| | | |
| --- | --- | --- |
| Center for Competitive Excellence Lahore | | Lahore |
| Central College Kalma Chowk Lahore | | Lahore |
| Central Group of Colleges, Lahore | | Lahore |
| Centre of Excellence Lahore | | Lahore |
| Citi CSS Officers Academy Islamabad | | Islamabad |
| Citi Officers Academy Rawalpindi | | Rawalpindi |
| Civil Officers Academy Lahore | | Lahore |
| Destiny Academy for Civil Services Lahore | | Lahore |
Student

Consultant

Employer