9th class represents Secondary School Certificate (SSC) education level in Pakistan. The papers are administered by Board of Intermediate and Secondary Education (BISE) as all the students are required to take part in 9th class for the completion of Matriculation level. It is one of the most crucial study level for the students. According to HEC, it is the primary course education of getting higher studies in Pakistan. Their marks and percentages affect the future of students as 9th Class is also the foundation for graduation studies.
After passing the middle section i.e. 8th Class, the students are allowed to enter into a new level which is 9th standard. 9th standard is, actually, considered as a pre matriculation because matric completes after getting success in both 9th and 10th classes. Day after day, the new changes and modifications come to see in the education level i.e. it is getting more and more advance. So, it is necessary to make a healthy base of your study standards with the help of class 9th guide offered by Ilmkidunya.
2021 Result Highlights
We will keep you updated when 9th class result will be announced 2021-2022 by all of the Boards.
Latest Updates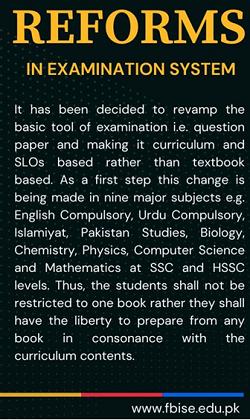 Federal Board has decided to change the examination system of SSC 2022. The question papers will be reformed and the students can do their preparation from any book as there will be no restriction for specific book of major nine subjects.
---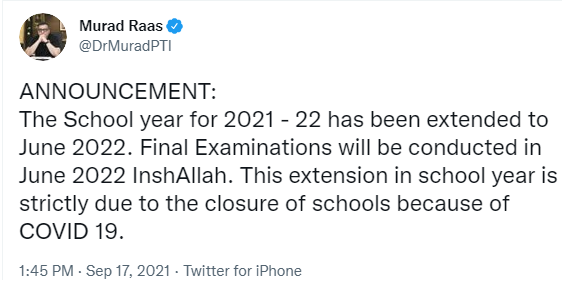 Murad Raas tweet today about education that the school year will be ended in June 2022 for the next session. Final examination will be conducted in June 2022.
---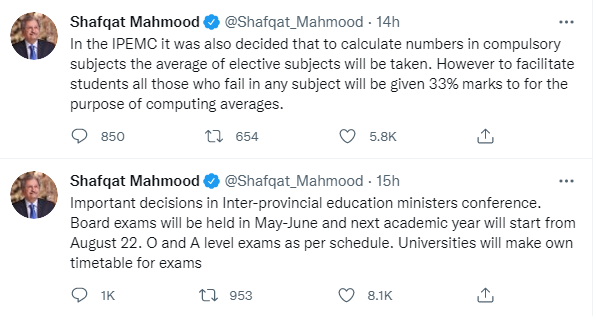 According to Shafqat Mehmood latest news about exams 2021 today, Board exams will be held in May to June in 2022 session and new academic year will start from August 2022. Moreover, the marks of complusory subjects will be given according to the average of elective subjects and all of the students will be passed by giving 33% to those students who will fail in any subject. Stay updated for Shafqat Mehmood latest news about exams 2022 class 9.
---
Importance Of 9th Class
As we discussed above, in order to move towards the advancement of education level, it is important to make your base strong. You can choose science or arts subjects alongwith Biology or Computer optional subjects. According to your choice, it will open your carrer opportunities in future. We have provided you the full detail about 9th Class Syllabus and 9th Class Notes. Kindly check them so that you can make your base well built. After Covid-19, Punjab Board has issued new smart syllabus of 9th class 2022. You can also look for it. Similarly Sindh Board, KPK Board and AJK Board has also issued the Smart Syllabus for 9th Class 2022. Balochistan Board does not issue any sort of smart syllabus till now.
How to Plan Study for 9th Class
Before starting your education career you must plan about 9th class study pattern. A planning offers you to choose the right way for any task to perform in the life. Following are the tips to plan study:
Try to plan your study hours each day at the start of your session.
Ask yourself that how many hours can you study in a day. It will depend upon your capability.
Find out that how may hours are you paying attention for each subject.
Note down that how many subjects are covering in a single day easily. You must not take yourself in a burden of studies.
You must check out that how much parts of course will you cover in a week or month in near future.
9th Class Marks Distribution 2022
The total marks for 9th class are 550. All subjects carry 75 marks while Pakistan Studies and Islamiat has 50 marks. You can check the detail from 9th Class Books. Whenever Boards of Education will announce the Datesheet of Class 9, 2022, you can check it here. It is also applicable for 9th Class date sheet 2022 Punjab Board, 9 Class Date Sheet 2022 Lahore Board, datesheet of class 9 2022 Faisalabad Board, 9 Class Date Sheet 2022 Multan Board, 9 Class Date Sheet 2022 Gujranwala Board, Date Sheet 9th class Federal Board 2022.
You may take help from 9th Class Home Tutors and 9th Class Online Test. If you need special assistance then we have effective lectures on 9th Class Video Lectures. Kindly visit this page regularly as we have updated information about results of 9th Class final exam 2022, notes, syllabus, guess papers, board exam 2022 date class 9 etc. of all Pakistan boards which is essential for getting you the highest marks. If you have any query then kindly submit it in the Comment Section below.
---
Frequenty Asked Questions Regarding 9th Class / Class 9 FAQs