The Law Admission Test 2022 is the first step for starting law education. LAT Test 2022 in pakistan is organized by the Higher Education Commission (HEC) of Pakistan . If a candidate wants to take LLB Program Admission then this test is mandatory. This test plays an important role in assessing the skills and capabilities of the students. LAT Test evaluates if the student is eligible for studying law or not. It is specified for the candidates who want to begin their career as Lawyers, Consultants, Judges and among other career opportunities. Let's discuss all the significant aspects of this test.
Details of Law Admission Test 2022 in Pakistan
LAT Stands For Law Admission Test. The LAT test is conducted by the higher education commission of pakistan for the students who intend to take admission in the Undergraduate 05 Years LLB Program. The LAT Meaning is Law Admission Test. The test is mandatory for the students so that they can secure admission after passing the HEC LAT Test 2022 with maximum marks. Through this test, the authorities analyze the skills and abilities of the candidates that want to join the Law field. On the direction of the honorable supreme court, the test is conducted for the students that are interested to pursue their careers as lawyers, attorney, consultants, and judges.
LAT Entry Test Importance
HEC has made the LAT Test mandatory and listed it as the required criteria for the LLB degree program. Those who wish to attain their lifelong dream of becoming district attorney, lawyer, civil or high court judge must successfully pass the LAT test in pakistan to be eligible to carry out the LLB in Pakistan. The LLB program requires students to have very high merit as they face various challenges throughout their Law Career. These high education merit and LAT Test 2022 in Pakistan passing criteria will greatly help achieve the goal of transparency and merit among the Law field education.
Purpose of LAT 2022 Exam
The LAT test is equivalent to the international GRE or Graduate record examination that has become a standard for world wide universities all over the world. The LAT Test is used to determine and examine the aptitude of students interested towards pursuing career in the field of Law e.g consultant, attorney, lawyer etc. GRE exam standard is followed in the America and all over the world, afterwards america felt the need for test regarding law school so they created, law school admission test. The LAT test 2022 has been in use since 1945 having six sections to be attempted under 3 hours and 30 minutes.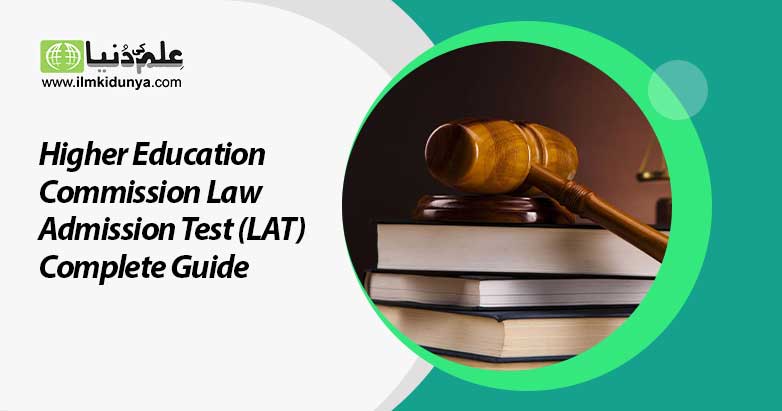 HEC LAT Test Registration 2022
Are you appeared in Intermediate Annual Examination and want to admission in Law program? Then there is a good news for you that Higher Education Commission (HEC) Islamabad announced the LAT Test Registration 2022. Required Qualification to registered for LAT Test is: Intermediate degree in any exams like FA/FSc/ICom or equivalent from a recognized secondary board. Intermediate Result Awating candidates also can apply for LAT Test Registration 2022. LAT test 2022, last date to apply is 22 July, 2022. We advised to all candidates that apply online at www.etc.hec.gov.pk website, before the last date. HEC commission will not extend the last date and online portal will be closed after 22-07-2022. Here you can check the official announcement of LAT Law Admission Test registration.
Pakistan Implementing LAT Exam
India has applied LAT and has been standard for some years regarding admission towards LLB Colleges for Undergraduates. Pakistan's hec felt the need for the LAT test towards establishing quality towards Law Graduates so it implemented LAT test. LAT Test Preparationis very important for the BS degree students for attaining success in getting admitted towards their desired Law College or University for LLB Law study program.
LAT Test Syllabus 2022
Students must also note down the LAT Examination date as a reminder for not missing the examination and must remember the LAT Fee Structure 2022. Students seeking admission into the LLB Program in Pakistan will be required to attempt various MCQs ranging from English, Islamic Studies, Urdu, Math, Pakistan Studies, General Knowledge, and English. LAT candidates will also be required to complete essays in their desired English or Urdu language. Candidates of the LAT Law Admission Test 2022 will also be required to enter a personal statement with a maximum of 200 words in their choice of English or Urdu language.
LAT Frequently Asked Questions
You Can find all information regarding HEC LAT Test 2022, exam details, test purpose, schedule, registration process, exam fees, coaching center details, exam past papers, results, candidate eligibility, test pattern, guides, official links, FAQ's, recommended study material, among others available on this page.
LAT Colleges / Universities Center In Pakistan
| | | |
| --- | --- | --- |
| | | Lahore |
| Bahauddin Zakariya University Bzu Multan | | Multan |
| Bahria University Islamabad | | Islamabad |
| Bahria University Karachi | | Karachi |
| | | Lahore |
| Escribir College of Advanced Studies Karachi | | Karachi |
| Faisalabad College of Law Faisalabad | | Faisalabad |
| Federal Urdu University Of Arts Science And Technology Lahore | | Lahore |