MBBS Stands For in Pakistan as Bachelor of Medicine & Bachelor of Surgery. MBBS is considered as a highly qualified and professional degree in Pakistan and its value never diminished. It is a renowned and demandable profession worldwide. In Pakistan, a Doctor receives huge respect for his services towards the humanity. In Pakistan, the number of students ambitious to have an MBBS in pakistan is extremely high, therefore, MBBS Admission in Pakistan has become tougher now. Medical Colleges and Universities are offering MBBS program from which the students can choose according to their merit.
MBBS Guide Highlights
Updates Of All Universities
Updated 23-Nov-2022
There is an update about preparation of documents for MBBS admission in University of Health & Sciences (UHS) lahore, so students are advised to check the complete required details of documents for admission time. Check Documents Detail
Updated 16-Nov-2022
National University of Health Sciences has announced the Admissions of MBBS, the last date to apply 7th December 2022. Check Admissions Detail
MBBS in Pakistan 2022 Guide Updates
| Key Points | Detail |
| --- | --- |
| PMC MDCAT Test 2022 | Pakistan Medical Commission announced the dates of MDCAT Test Registration 2022. PMC MDCAT Registration 2022, last date to apply is 15 July 2022 (with double fee). |
| Merit List | NUMS has issued MBBS overall final merit list 2022 of all public and private medical colleges. |
| Admissions | Agha Khan University AKU admission 2022 has been opened now. The last date to apply for AKU MBBS admission 2022 is April 28, 2022. |
| Result | Result of UHS Final Professional MBBS Examination 2021 has been announced. |
Purpose of MBBS Course Program
The purpose of MBBS Degree is to prepare medical professional or an MBBS doctor who will be trained in:
Clinical & Intellectual Skills related to patients care
Problem Solving Clinical Practice in an MBBS student
Logical Knowledge for Good Medical and Healthcare Practice
Knowledge of Community & Population Health and Health Systems
Research in Medical Sciences
Related: MBBS Criteria in Pakistan 2022
Learning Objectives of MBBS Degree Program
At the end of completion of degree, a graduate of MBBS degree shall be able to:
Demonstrate reason critically, make justifiable decisions and evidence-based medicine practice
Provide/arrange for the best possible care, which is ethical and socially sensitive
Solve problems, deal effectively with inexperienced problems by continuous learning
Effective working with colleagues and health care teams
Provide leadership role in issues concerning society
PMC MDCAT Registration Notice
Pakistan Medical Commission (PMC) announced the Registration Dates for MDCAT Test 2022. It is notified that the registration for Medical and Dental Commission Test (MDCAT) is open from 25 May 2022. PMC MDCAT Exams will be held from 7th September 2022 To 30 September 2022. Medical and Dental Commission meeting held on 14 May 2022. In its meeting, PMC approved the Dates of MDCAT Exam 2022.
---
PMC MBBS Fee Notice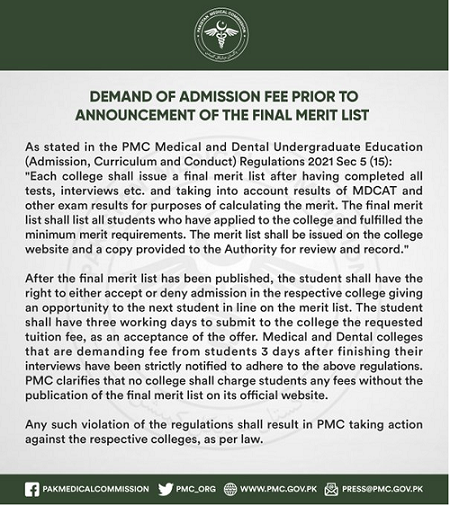 According to Pakistan Medical Commission, all Medical and Dental Colleges are bound to demand admission fee after the publication of final merit list on their respective websites. They have to complete all tests, interviews etc. then they can demand fee from the students.
---
PMC MBBS Instructions Regarding Admission Interviews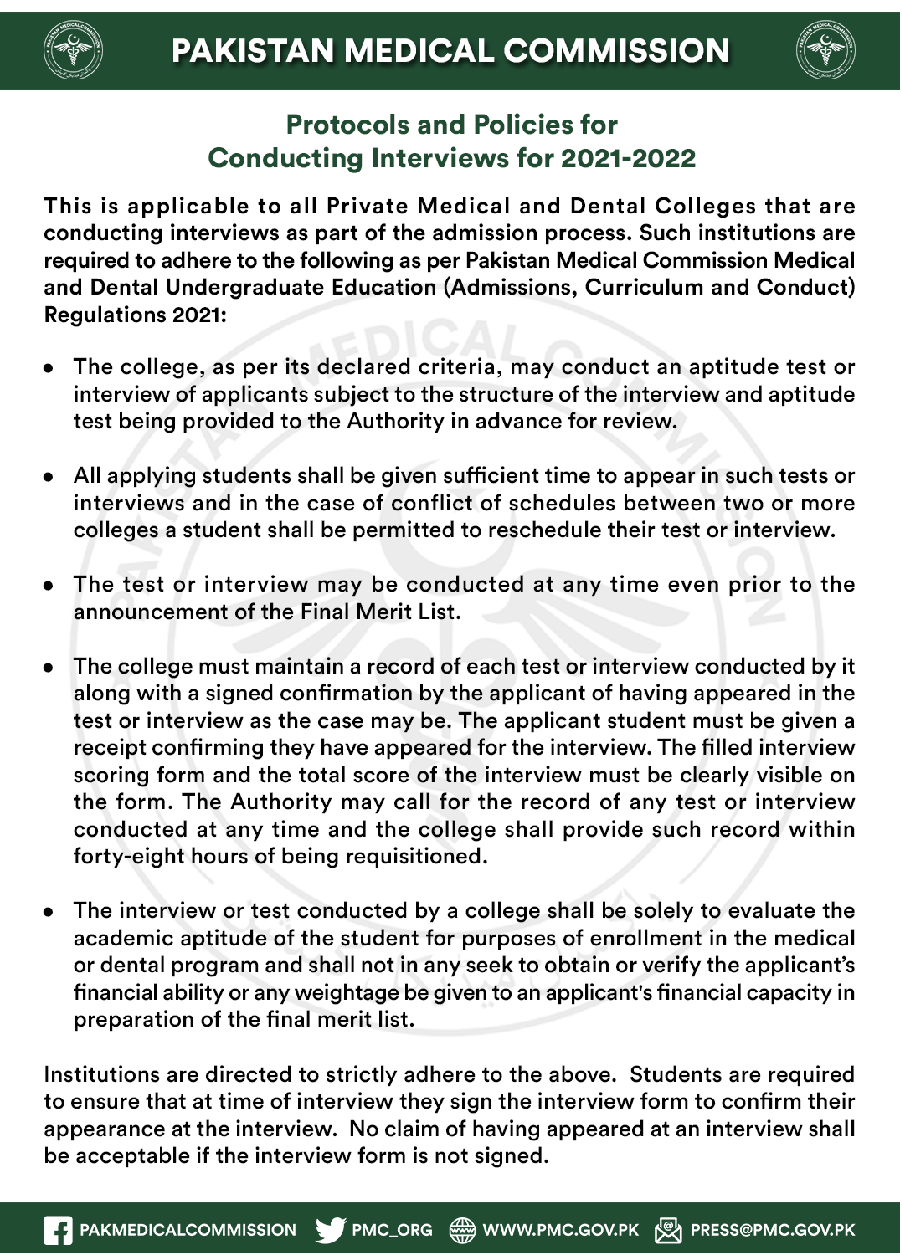 PMC has issued the process for colleges tests and interviews which has to be followed by all private medical colleges in order to start admissions for the session 2022.
Also Check:MBBS Admission 2022 in Pakistan
---
MBBS Merit List 2022
Medical Colleges and Universities issue MBBS Merit List 2022 after closure of Admission for Session 2022. Usually three or four merit lists have been issued. The students can check their names in the merit list online by entering their name and roll number. Some colleges and universities demand CNIC number in order to proceed for merit lists.
Medical Colleges and Universities in Pakistan
University of Health Sciences (UHS) is the leading MBBS Public University in Pakistan. UHS Lahore offers MBBS, dentist, nursing, pharm medical related degree programs. It was the first health science university establish in Punjab Province to bring quality in medical education and research in medical field. You can choose your desired Medical Colleges and Universities for MBBS Admission.
MBBS Datesheet Updates
In Medical Universities, MBBS examinations for first year to final professional year have been announced. For example, Shaheed Zulfiqar Ali Bhutto Medical University Islamabad has issued first professional supplementary examination 2022 datesheet and MBBS final professional fifth year datesheet. You can easily check current MBBS date Sheet online through this platform.
MBBS Frequently Asked Questions / MBBS FAQs
10% matric + 40% FSc pre-medical + 50% National MDCAT
Stay Updated with: NUMS Entry Test 2022 for MBBS admission test.