MDCAT Result Certificate 2023
Candidates who are appeared in the MDCAT Test 2023 are apprised that the MDCAT Result Certificate 2023 has been announced on November 24, 2022 by the PMC. Students can see and download your MDCAT Result Certifiacte 2023 from our website
PMC MDCAT Result 2022 has been declared on November 23, 2022 (Wednesday).
Latest Updates
Updated 28-Nov-2022
Students can check their NLE-1 total marks from Pakistan Medical Commission who appeared in NLE-I exams fo Medical & Dental. Check here
As all the students know that MDCAT result 2022 has been announced officially by the PMC, now you can get the further more updates from our website e.g., Merit Lists etc.
Updated 24-Nov-2022
There is an update regarding the Re-checking of MDCAT result 2023, students can apply for Re-checking of Marks of MDCAT Test. Students get the request form and full instructions for applying from here. UHS recounting fee is 3500/- and no application will be entertained after 27th November 2022.
| Universities | Apply for Re-checking |
| --- | --- |
| University of Health & Sciences | Apply Now |
| Shaheed Zufiqar Ali Bhutto Medical University | Appl Now |
Updated 23-Nov-2022
Students of PMC MDCAT 2023 are notified that those students who are not satisfied with their marks, so they can re-check their test marks. PMC has given the time to all the Universities till 27th November and to advised all the students to connect with their respective universities. Check Notification
PMC has announced the MDCAT 2023 result today, so all the candidates are counselled to check their result from here. For further updates students can check our website.
There is a important update for the students, PMC MDCAT Result 2023 has been announced today November 23rd, 2022. Students can check their result online by clicking on the given button below:
In 2023 MDCAT test 2023, Ghazia assar has obtained the higher scores in MDCAT Test 2023.
| Student Name | Obtained Marks |
| --- | --- |
| Ghazia Assar | 198/200 |
How to Check MDCAT Result 2023 Online?
These steps should be followed to know PMC MDCAT result 2023 by put CNIC or Passport No. etc. Here students can check the procedure to get the result of MDCAT which mentioned below:
Step 1: In the beginning, students go to the official website of PMC (www.pmc.gov.pk) and then go to the result portal.
Step 2: In addition, You need to enter your CNIC/Passport/NICOP/JVcard/PORcard without using dashes which mentioned on students admitting cards.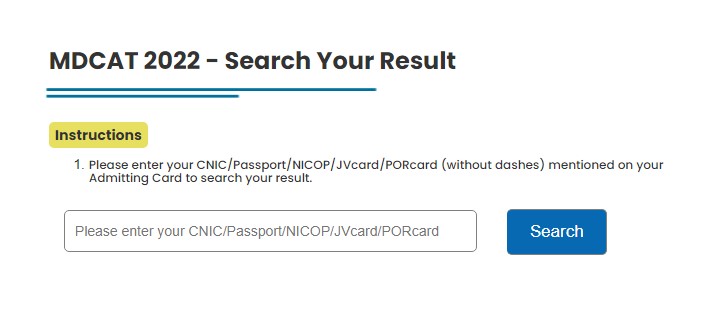 Step 3: Then you can download MDCAT Result Certificate 2023
Step 4: In conclusion, Take a print out of it.
Updated 22-Nov-2022
PMC MDCAT Result 2023 will announce on 23rd November 2022, the exact time is not declared yet. Thus, students are recommended to keep visit this page for updates regarding the result.
Updated 21-Nov-2022
The PMC MDCAT Result 2023 date has been declared by the PMC, the mdcat result 2023 pmc will announce on November 23, 2022 (Wednesday). Students can get the result of all provinces as well from here. For more updates regarding MDCAT students can check our website.
Updated 19-Nov-2022
The MDCAT result 2022 will announce soon, whenever PMC announce the result of MDCAT 2023 then the aspirants can easily examine the MDCAT result 2022 by Roll no. For more updates regarding the result students keep visit this page on daily basis.
Updated 18-Nov-2022
Applicants of MDCAT 2023 are notified that MDCAT result 2023 will be declared soon, so the candidates can easily check their result from here. Also can examine the statistics of result and complete aggregate from this page.
Updated 17-Nov-2022
The result of MDCAT 2023 date is not announced yet, but it is anticipated that result will announce in this week. Students are recommended to stay with us for the latest updates regarding the PMC Mdcat result 2023.
Updated16-Nov-2022
There is a update for the candidates who are appeared in the MDCAT Test 2023. According to the announcement of PMC the PMC MDCAT Result will be announced after 1 week. For further updates about education keep checking our website.
Updated 15-Nov-2022
All the candidates are notified that result of

mdcat test 2023

will announce after the one week of Entry Test. Thus, all the candidates are advised to stay tuned with us for latest news regarding the

mdcat result 2023

.

Check here

Educational Testing and Evaluation Agency has issued the correct

answer key of mdcat 2023,

So students are advised to download the Correct mdcat answer key.

Correct Answer Key 2023

Students can easily download their ETEA MDCAT 2023 answer sheet scanned copy.

Download

All the aspirants of MDCAT 2023 are apprised that they can download the answer key of mdcat 2023 from here, and result of PMC MDCAT 2022 will be announced soon.
Updated 14-Nov-2022
PMC MDCAT students are informed that the Answer Key of variuos boards has been announced today. Candidates can check the MDCAT Answer Key 2023 online by clicking on the link given in the table below:
Updated 31-Oct-2022
In 2022, all the Universities which includes private/ public and colleges in which PMC MDCAT test will be taken, all will accept the result of MDCAT. Check here
MDCAT Result 2023 of All Provinces:
On this page, students of all the provinces can download the MDCAT result 2023. Students can download the UHS mdcat result 2022, BUMHS MDCAT result 2023, KMUP result 2023 of MDCAT, DOWUHS MDCAT result and SZABMU MDCAT result 2022 from here. Students can easily get result of all universities which taken MDCAT Test under Pakistan Medical Commission.
Answer Keys of MDCAT 2023
On this page, aspirants of mdcat 2023 can easily discover the answer keys of mdcat 2022. With answer keys aspirants can examine their performance in test that how many MCQ's are correct or wrong. From here candidates can discover the uhs mdcat answer keys, Dow mdcat answer keys, SZABMUI answer keys 2023, KPUP answer keys, BUMHS mdcat answer keys 2023.
Result of MDCAT 2022
MDCAT Test result date has been released by PMC on 23rd November 2023. You can check the PMC MDCAT result 2023 by enter your CNIC/ Passport/NICOP/JV card/PORcrad without using dashes and get their result. PMC has issued MDCAT result through PMC official website www.pmc.gov.pk.
PMC MDCAT Test Result Validity
MDCAT is organized by the Pakistan Medical Council (PMC) and the test validity is for two academic years. Thus, the students are needed to reappear in the MDCAT exam after two years admission in the medical or dental programs as PMC MDCAT result 2023 will not be entertained after two years. Each year thousands of participants appear in the MDCAT test to get admission in the medical and dental colleges and universities in Pakistan.
Check out how many students appeared in MDCAT 2023 and how many students passed MDCAT 2023.
Also Check: NUMS entry test result 2023
Frequenty Asked Questions Regarding MDCAT Results
Ans:Students can check the result from PMC official website (pmc.gov.pk). At first go to the PMC result portal, enter the roll number and only use digits to enter the roll no and get the result of MDCAT 2022.