MDCAT result 2022 will be uploaded after MDCAT test 2022. MDCAT final result 2021 has been declared on 09 October 2021 at 01.00 p.m. in PMC press conference today. You can check PMC MDCAT result 2022 by roll number and PMC MDCAT result 2022 by name and can get MDCAT result card 2022 through PMC student portal. Just click the following button to check MDCAT result 2021 online as PMC has issued PMC 2021 MDCAT result through PMC official website www.pmc.gov.pk.
How to Check MDCAT Result 2022 Online by Roll Number?
These steps should be followed to know MDCAT result 2021 by roll number which is also applicable for MDCAT test result 2022.
Option 1
Step 1: You need to enter your roll number which you have provided at the time of registration.You can also check MDCAT result by name. In this way you can get MDCAT result 2022 by roll number. You need to just enter the numerical Roll Number e.g. 123456. Do not add any alphabet such as ABC or abc... in the search bar. You can check PMC MDCAT Result 2021 by clicking the above link. Following page will open.

Step 2: Then you can download MDCAT Result Certificate 2021
Step 3: Take a print out of it. Now you can not find your result at TEPS as it has been diabled by PMC.
Option 2: If you want to take admission in MBBS/BDS on the behalf of MDCAT result 2020 then you need MDCAT equivalence result 2021 which is available in the following link. You are required to enter the numerical Roll Number e.g. 123456. Do not add alphabets such as ABC or abc... in the search bar. Above stated steps are available at PMC official website for MDCAT 2021 result and will also be applicable for MDCAT 2022 result.
You can also use MDCAT equivalenced calculator for 2020 and 2021 test results:
Option 3: You can forward your MDCAT certificate 2021 to public and private colleges by clicking the following link after MCAT results. In this way, you do not need to find the admitting college separately. First you enter MDCAT session i.e. MDCAT result 2021 or MDCAT result 2020, then enter Roll Number and finaly select the desired college from the list given in which you want to take admission. Then click Submit.
MDCAT Result Card 2021
For result card of MDCAT 2021, you need to enter MDCAT session which may be 2020 or 2021, then enter MDCAT roll number.
MDCAT Toppers 2021
MDCAT topper 2021 with highest marks in MDCAT 2021 is 202 marks taken by Ayesha Aman. Highest marks in MDCAT 2020 is of Hafiz Muhammad Ehsan Arshad with 197 marks. Following are the toppers of MDCAT 2021 along with colleges and cities:
| Name | Marks | College |
| --- | --- | --- |
| Ayesha Aman | 202 | Quaid-e-Azam Divisional Public School and College, Gujranwala |
| Anmol Qamar | 198 | Punjab College of Science for Women, Lahore |
| Hadia Ahmad | 197 | Kinnaird College for Women, Lahore |
PMC MDCAT Test Result Validity
MDCAT is organized by the Pakistan Medical Council (PMC) and the test validity is for two academic years. Thus, the students are needed to reappear in the MDCAT exam after two years admission in the medical or dental programs as PMC MDCAT result 2021 will not be entertained after two years. Each year thousands of participants appear in the MDCAT test to get admission in the medical and dental colleges and universities in Pakistan.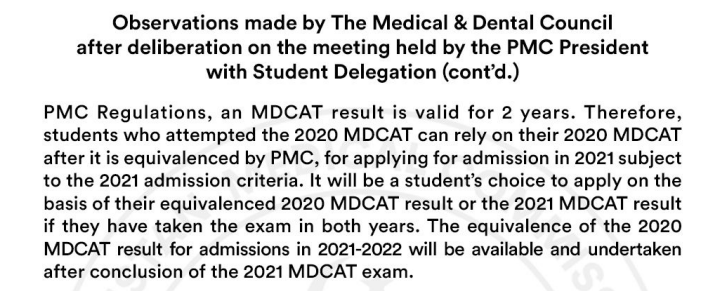 Students can also check MDCAT 2022 result by name and roll number. Following is the notification regarding Pakistan Medical Commission MDCAT result 2020: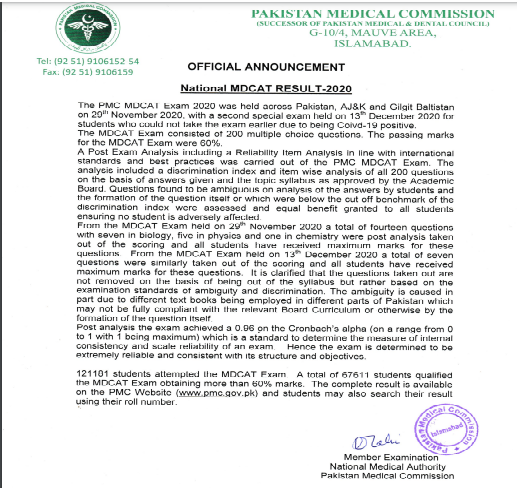 Check out how many students appeared in MDCAT 2021 and how many students passed MDCAT 2021.
Also Check: NUMS entry test result 2022