Updated - August 2023, The Medical and Dental College Admission Test (MDCAT) has undergone a significant change in its schedule. Originally dated for the 27th of August, the exam has now been postponed to the 10th of September. This shift comes in response to concerns voiced by students, who highlighted the close proximity of the MDCAT date to the Federal Board's Intermediate (FSC) exams on the 26th of July. Students felt that the one-month timeframe between the FSC exams and the MDCAT would not provide adequate preparation time for the highly competitive medical entrance test. The decision to reschedule was officially confirmed through an announcement from the Federal Secretary of the Ministry of National Health Service, Regulations & Coordination, Islamabad, conveying the government's decision to extend and move the MDCAT Examination to the new date of 10th September 2023 (Sunday).
MDCAT Registration Highlights
PMC MDCAT Registration 2023
The Pakistan Medical and Dental Council (PMDC) has officially opened its doors for aspiring medical and dental students, announcing the commencement of admissions for the academic year 2023-2024. PMDC, as the governing body for medical and dental education in Pakistan, offers an array of esteemed programs that provide students with the opportunity to pursue their passion for healthcare and make a meaningful impact on society. With a commitment to upholding the highest standards of medical education, PMDC aims to nurture the next generation of healthcare professionals and equip them with the skills and knowledge necessary to excel in their respective fields.
How To Register For MDCAT 2023?
PMC MDCAT Registration is a vital step for aspiring medical and dental students seeking admission to reputable institutions in Pakistan. The registration process is designed to ensure a fair and transparent selection of candidates based on their academic merit and eligibility. To register for PMC MDCAT, students are required to carefully follow the guidelines provided by the regulatory authority. The process typically involves online registration, where applicants need to provide accurate personal and academic information. They may also be required to upload relevant documents, including their educational certificates and photographs. It is crucial for applicants to pay close attention to the registration deadlines and ensure all required information is submitted within the specified timeframe.
Step-1: Online Application Portal
Open your browser and make sure you have a steady internet connection. Search for the official PMDC website to access the online application portal.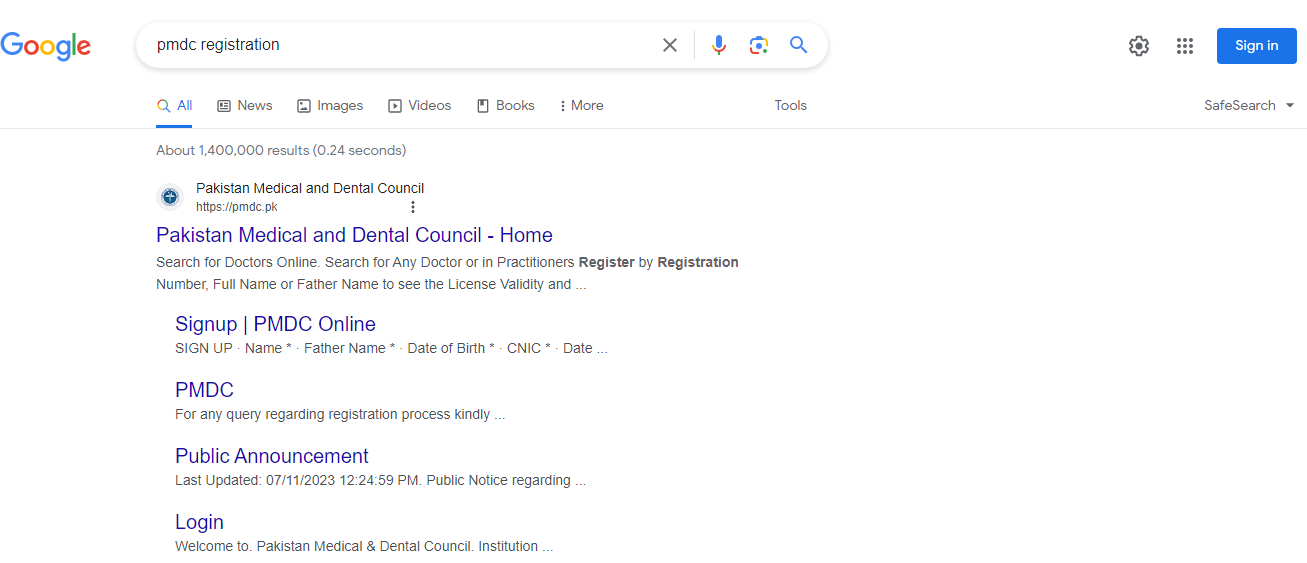 Step-2: Access Site
After accessing the official PMDC Website you need to scroll down and find the 'Exams Online' section. Under this section there will be a sub-section 'Click here for MDCAT'. Click that link and you'll be redirected to another page.
Note: Due to heavy traffic the application page may be slow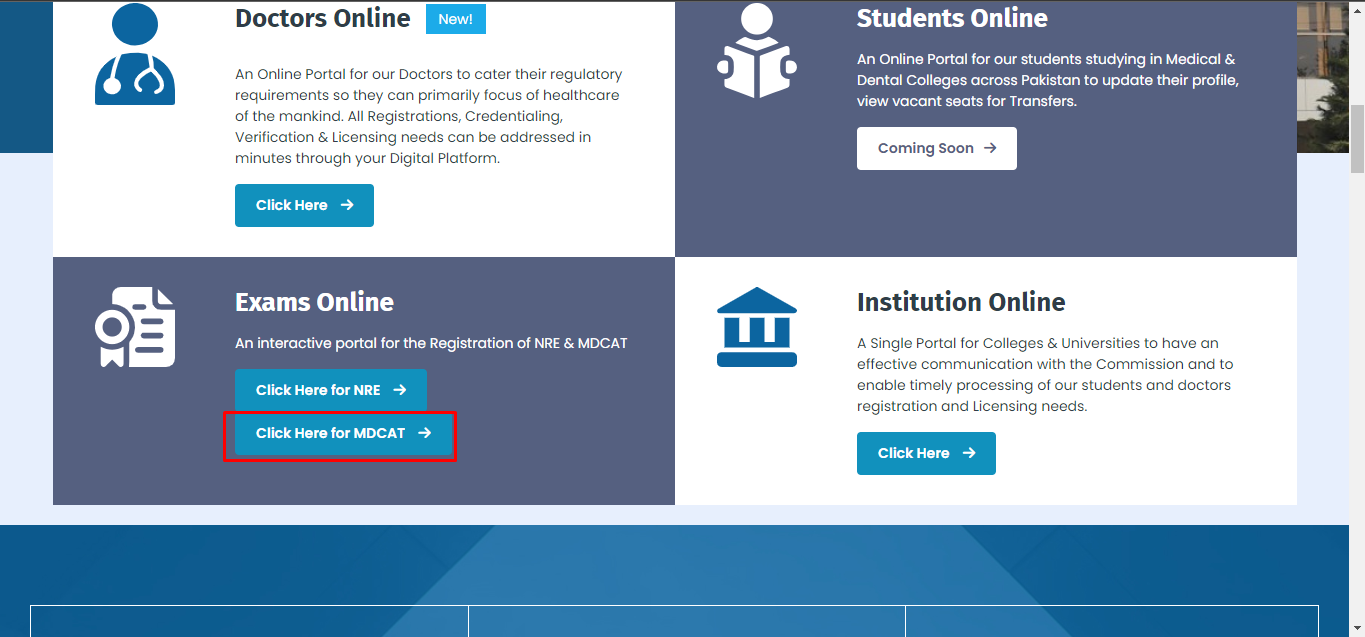 Step-3: Sign-in or Register
Once you're redirected to the registration page you can either sign-in if you've already visited the site before or you can sign in and register yourself for MDCAT.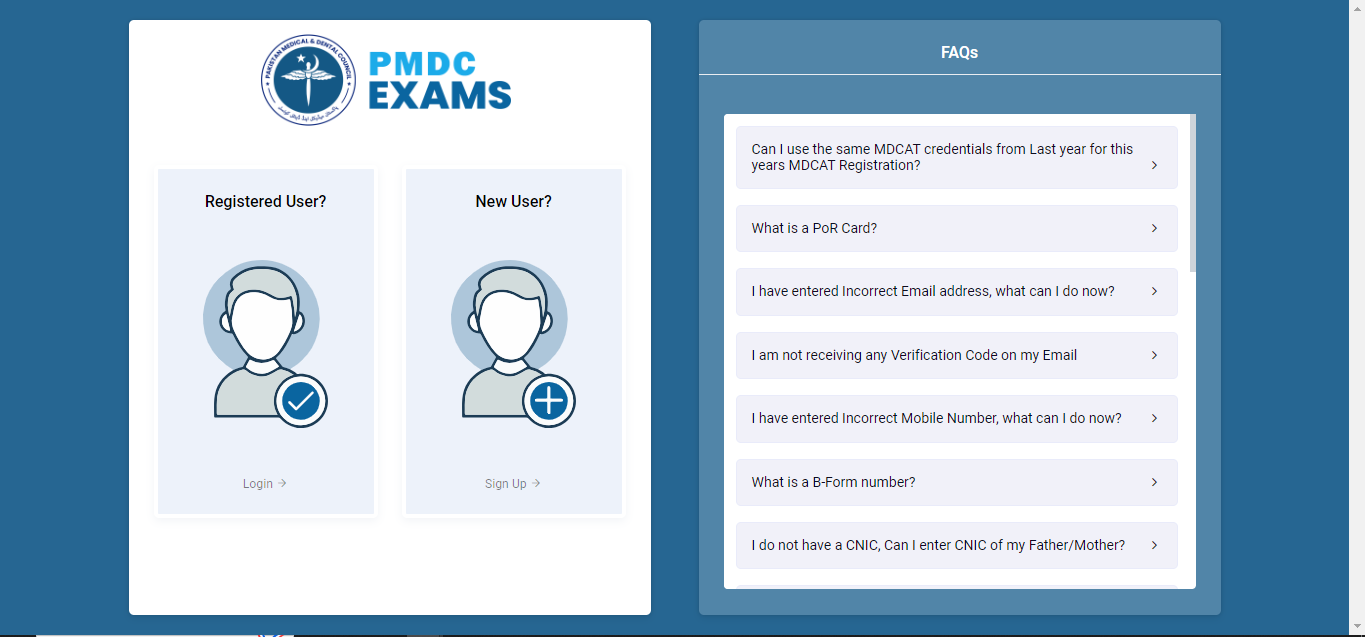 Frequently Asked Questions on PMDC
For your guidance there is a list of comprehensive questions which you may have in mind while registering some are listed as follows:
Q: Can I use the same MDCAT credentials from last year for this year MDCAT Registration?
A: No, you have to create a new account on MDCAT Portal for registration
Q: What is a PoR Card?
A: Proof of Registration Card is an identity document for Afghan refugees that entitles you to legally remain in Pakistan.
Q: I have entered Incorrect Email address, what can I do now?
A: You can change you email address by clicking on the "Change Email" option available on Login page
Q: I am not receiving any Verification Code on my Email
A: If you are unable to receive the Verification code you can click on "Resend" button and a new Verification Code will be sent to you.
Q: I have entered Incorrect Mobile Number, what can I do now?
A: You can change your Mobile Number by clicking on "Change Mobile Number" option on Mobile Number Verification page
Q: I do not have a CNIC, Can I enter CNIC of my Father/Mother?
A: No, you must enter your own Identification number otherwise your Registration will be cancelled
Q: I am entering correct CNIC Number but it is still showing "NADRA Verification Failed"
A: No, you must enter your own Identification number otherwise your Registration will be cancelled
Q: I Forgot my Password, what can I do now?
A: You can change your password by clicking the "Forgot Password" option on Login page
Q: Can I attach a Passport Size picture with "Blue Background"?
A: No, Only picture with a WHITE Background is acceptable.
Q: I Live in Pakistan, Can I give exam in International Center?
A: Yes, Any person can register and take the MDCAT as per the defined criteria in announced Centers in Pakistan or Abroad.
Step-4: Fill out the Application Form
If you choose the sign up option you'll be redirected to the sign up page where there will be columns you need to fill your details in. Complete the online application form with accurate personal and academic details. Make sure to enter all the necessary information and cross-check for any errors.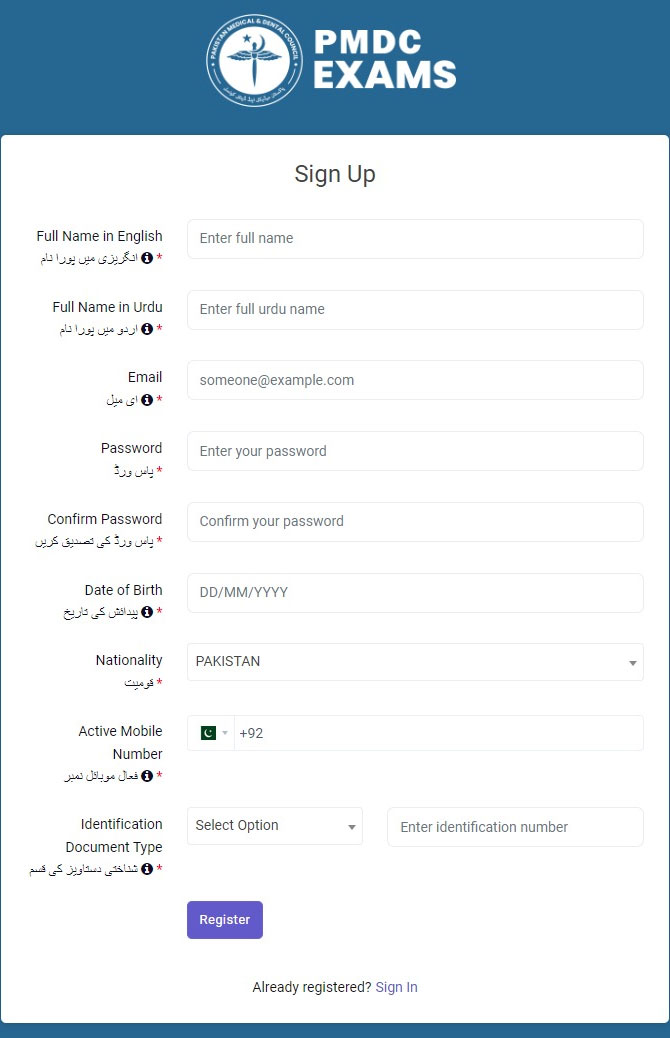 Step-5: Add Details
The sign-up sheet comprises of 2 steps after completing the 1st step click the register button at the end of the page to go towards the next step. The details entered in the previous step will automatically be directed to the next page columns as required. However, students still need to fill out all the other columns with their details including uploading a personal photograph.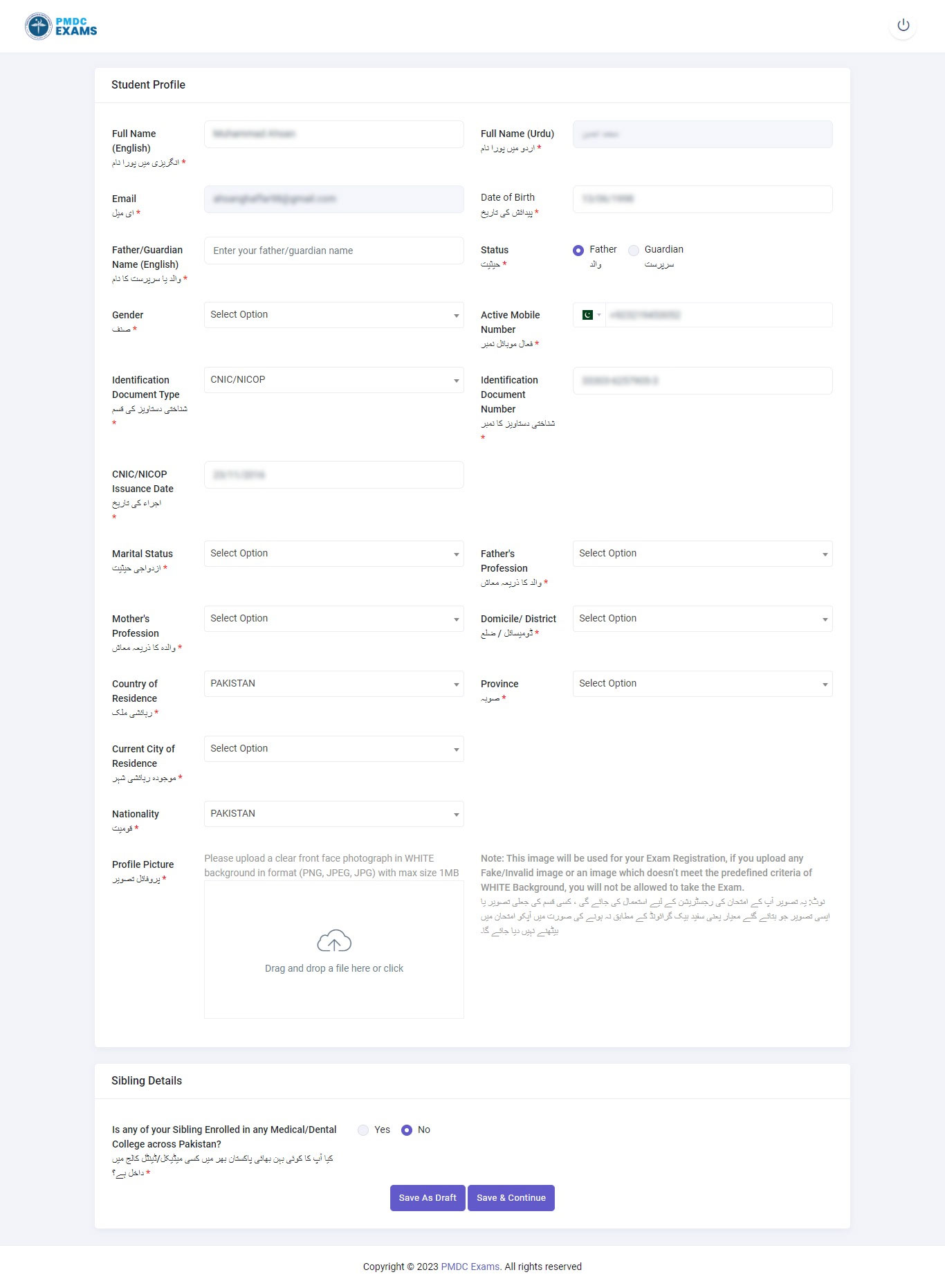 Step-6: Save and Continue
After re-checking and adding all the details press the save and continue button at the end of the page.

Step-7: Add Eductional Details
The next step includes adding your educatinal details in the column provided. After adding the educational details the next option is a choice for international and national students. The option include exam enviroment preferences wether it's a Pakistani Center or An International Center. After entering all the details click the 'Continue to Payment' button.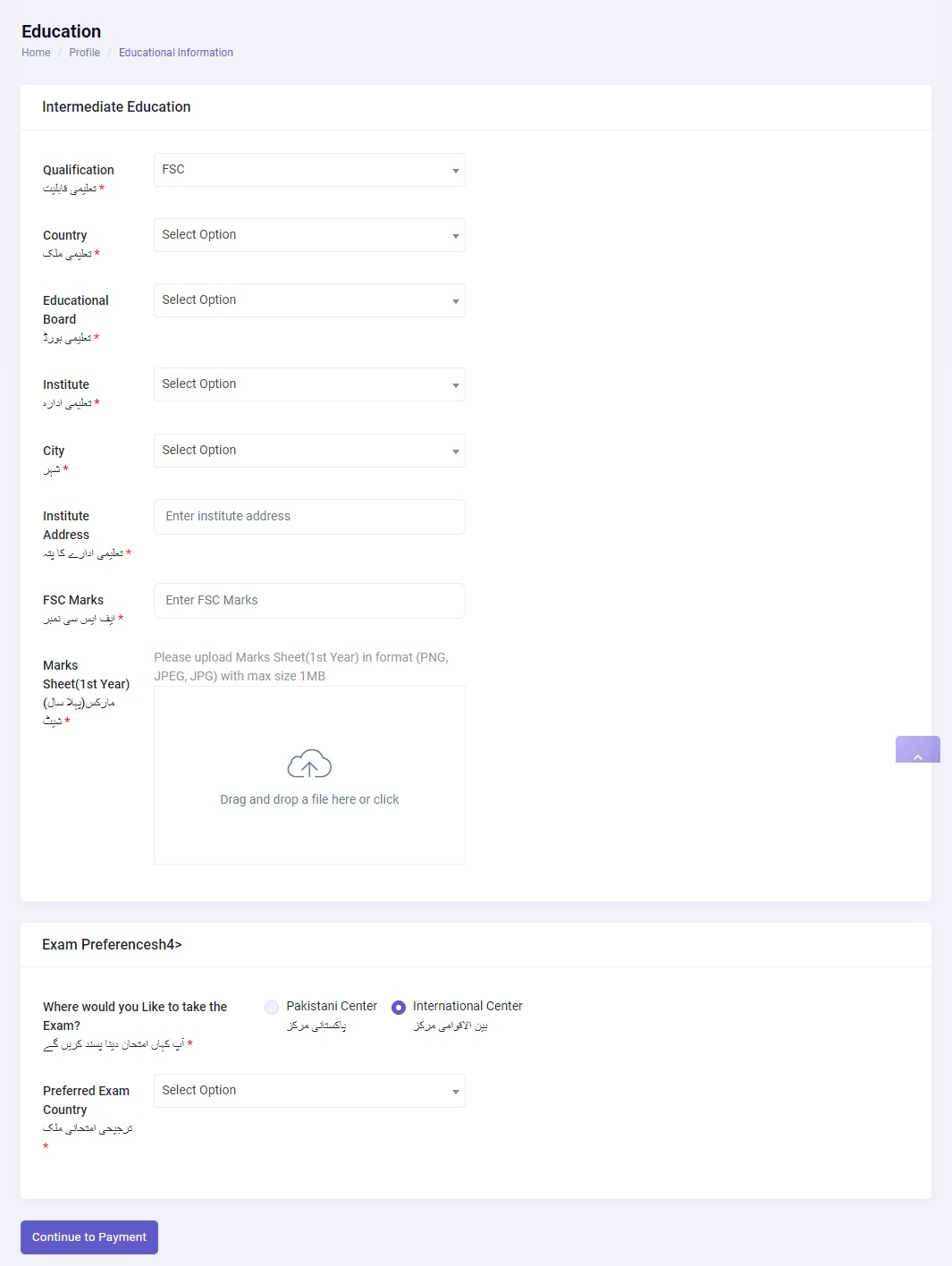 Step-8: Payment
After successful registration, you will get the regiseration fee message.The registration feee is 6000/-rps. Click on the Pay Now button. Pay the fee via debit/credit card or Bank. You do not need to upload the paid challan to the PMC portal. It will automatically uploaded by PMC.
Important Information for Online Registration 2023
Students frequently reach out to us for the latest updates on MDCAT 2023 registration. Currently, students are advised to follow the instructions below when completing and submitting the MDCAT Registration Form. These steps are applicable for MDCAT Test 2023 as well:
Complete the online registration for 2023 through MDCAT online application, as mentioned above.
After filling out the registration form, candidates are advised to review it carefully by pressing the Preview button. Once the form is submitted, editing is not permitted, so caution is essential during PMDC online registration for MDCAT 2023.
After filling and previewing the registration form, submit the details by pressing the Submit button.
Make sure to take a printout of the submitted form.
The candidate's roll number will be generated in the format of M123456789 after completing the online registration form.
The scheduled MDCAT Test Date and the candidate's test center will be provided later.
The MDCAT Registration Fee for 2023 is Rs 6000/-, and it is non-refundable.
For payment, the system will create a Bank Challan Form if paying through a bank, or it will request Debit or Credit Card details.
Alternatively, candidates can print the MDCAT challan form 2023 and deposit it at their nearest MCB Branch if they prefer not to pay online.
The PMDC MDCAT Registration 2023
PMDC MDCAT Registration 2023 is open to applicants with domicile from any of the districts of Punjab, Federal Territory of Islamabad, or Pakistani nationals residing in foreign countries. It is essential to ensure that the application form is accurate in all aspects for PMDC Online Registration for MDCAT 2023, as editing the form after submission is not possible. Additionally, only one application form can be filled and uploaded using a single ID card or Passport Number. Applicants are advised to carefully review and verify the information before submitting the registration form to avoid any discrepancies.
Keep visiting for PMDC MDCAT 2023 Registration