If you are searching the latest news of Medical and Dental Colleges Admission Test known as MDCAT, then you are at right place. Because, here you will find all the latest announced dates for MDCAT 2022 Registration Date Lets check the detail now.
PMC MDCAT Registration 2022
Pakistan Medical Commission (PMS) Islamabad issued the important announcement regarding the MDCAT Test Registration 2022. According to the details, Medical and Dental Commission meeting held on 14 May 2022. In its meeting, PMC approved the Dates of MDCAT Exam 2022. The Registration for MDCAT 2022 will be open from 25 May 2022 and MDCAT Exam will be held from 7th September 2022 To 30 September 2022. The exams will be taken in 20 cities of Pakistan and 7 International countries including: USA, UK, Canada, Germany, Saudi Arabia, Qatar and UAE.
| Remarks | Important Dates |
| --- | --- |
| MDCAT 2022 Registration | Opened From 25 May 2022 |
| MDCAT Exam 2022 | Will be held from 7th September To 30 September. |
| Sr.No. | MDCAT Test 2022 | Date |
| --- | --- | --- |
| 1 | PMC MDCAT Registration 2022 Last Date | Announced Soon |
| 2 | MDCAT Scheduling 2022 Last Date | Announced Soon |
| 3 | MDCAT Roll No Slip Last Date | Issue soon |
| 4 | MDCAT Test 2022 Dates | 7th September To 30 September 2022 |
| 5 | Final MDCAT Result Date | Upload Soon |
| 6 | Individual/Interim MDCAT Result | Announced Soon |
| 67 | MDCAT 2022 Registration Date | MDCAT Registration 2022 will be opened from 25 May 2022 |
Related: NUMS online registration 2022
How to Register for MDCAT Pakistan 2022?
Follow the following steps by PMC MDCAT student login as we have provided full information regarding MDCAT entry test registration 2022 fee and its procedure. Be hurry to apply for registration for MDCAT 2021-2022 at www.pmc.gov.pk when registration for 2022 will be started:
Step 1: Go to PMC login for online registration for MDCAT test 2022 to www.pmc.gov.pk
Step 2: Sign up for an account. Remember the username and password as MDCAT registration number. Your roll no slip and result will be delievered to this Email provided to PMC.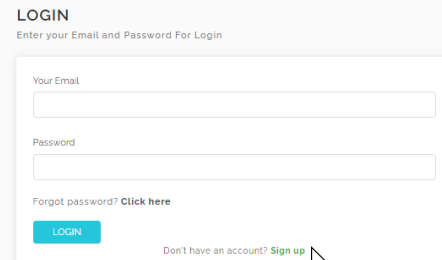 Step 3: After signing up, you will receive confirmation email to email provided at PMC portal. Click on Verify Account.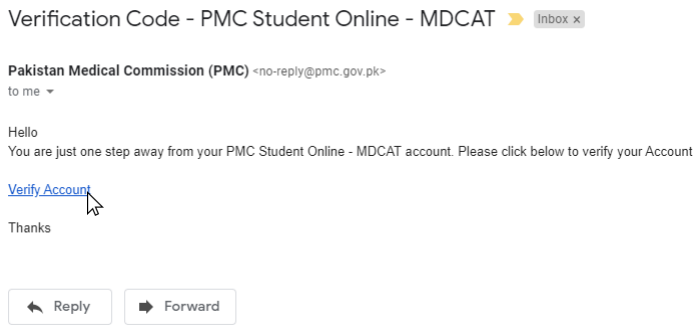 Step 4: Fill the form with complete details and Click on Update. Remember to enter CNIC or Passport number accurately with other details.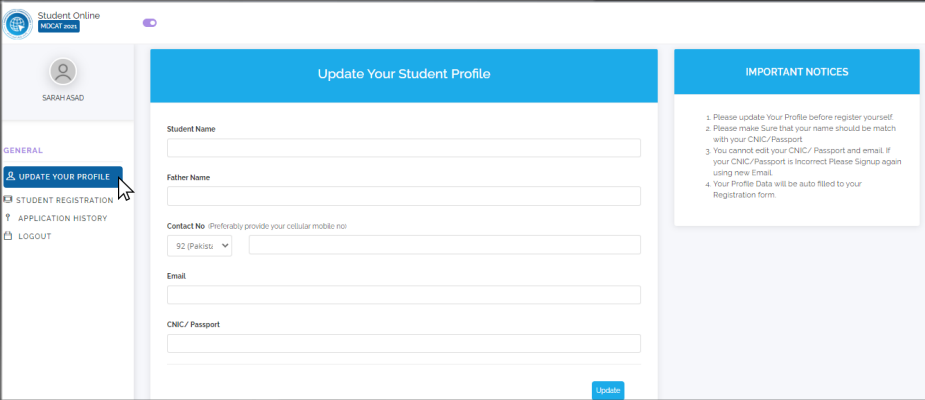 Step 5: After successful registration, you will get the following message. Click on Pay Now. Pay the fee via debit/credit card or Bank. You do not need to upload the paid challan to the PMC portal. It will automatically uploaded by PMC.

Step 6: Verify the information provided as it can not be edited after payment of the fee.

Step 7: Roll no will be delivered to your email provided.
You can download MDCAT User Guide which will be helpful in your MCAT registration 2021 Pakistan process. It contains all of the details regarding MDCAT PMC registration form 2021.
Important Instructions about MDCAT Online Registration 2022
Students are advised to follow the below instructions while filling out and uploading the MDCAT registration form. You need to follow these steps which are also applicable for MDCAT test 2022:
Online registration 2022 through MDCAT online apply as told above.
Candidates are advised to go through the MDCAT registration form again after filling it out while pressing the Preview button, because once the form is submitted, it is not allowed to edit again. So be careful while doing PMC online registration MDCAT 2022.
Once the registration form is filled and preview, press the Submit button, to submit the details.
Take a Print of the form submitted.
Candidate Roll number will be generated in the format of M123456789 after filling the registration online form.
The scheduled MDCAT test date and center of the candidate will be provided later.
Submit the MDCAT Registration Fee 2022 is Rs 3000/- The Fee is Non Refundable.
It will create the Bank Challan Form if you are paying through Bank or will ask for the Debit or Credit Card details for payment.
You can also print the MDCAT challan form 2022 and deposit it in your nearest MCB branch if you donot want to pay online.
MDCAT Registration Documents 2022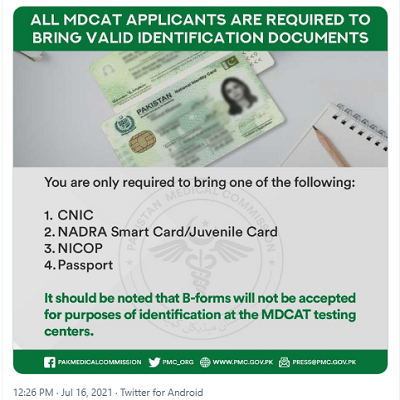 The candidates are informed to follow the mentioned instructions in order to avoid any inconvenience. It has been notified to the MDCAT students they are required to bring one of the following to the examination center on the day of the medical entry test. The students who are under 18 are required to bring their NADRA smart card/ Junevile Card for verification at test centers.
These cards are issued on the behalf of their parents or blood relations who are above 18. The fee of Juvenile card ranges from Rs.750 to Rs.2500. In order to get more information, check what is Juvenile or NADRA Smart Card. These documents are also applicable for MDCAT test 2022.
MDCAT Registration Process 2022
The applicants with the domicile of any of the districts of Punjab, or the Federal Territory of Islamabad, or the Pakistanis living in the foreign nations can apply for PMC registration 2022. The application form must be correct in all respects for PMC online registration for MDCAT 2022, because once submitted, the MDCAT registration form 2022 cannot be edited. Further, on one ID card or the Passport Number, only one application form can be filled and uploaded.
Keep visiting for NUMS MDCAT 2022 registration