Latest Updates on CSS Written Exams
Updated 18-Jan-2023
FPSC CSS roll no Slip Update !
Federal Public Service commission has announced the
CSS Admission Certificates
for the Candidates who applied for
CSS written Examination 2023. Check Here
CSS Written Exam Guidelines and Updates
FPSC CSS Roll no slip 2023
Federal public service commission officially announces the css roll no slip for written Examination before the test dates for candidates who applied for CSS Examination 2023.Candidates can get the their CSS Admission Certificates for the Compititive Main Examination from Here. Check the Link Provided below.To Print your fpsc css roll no slip 2023 , Candidates need to Enter their Names and CNIC properly.
| Test Details | Date Announced | CSS Admission Certificates |
| --- | --- | --- |
| Competitive Examination (CSS) 2023 | 18-Jan-2023 | Print css roll no slip |
FPSC Schedule For CSS Competitive Examination 2023
The candidates are searching the schedule of Combined Competitive Examination (CSS) 2023. The latest news is that Federal Public Service Commission (FPSC) has announced the Schedule For CSS Competitive Examination 2023. The candidates check all important dates that need to remember, from the given below table.
| Test Details | Tentative Dates To Remember |
| --- | --- |
| Advertisement For MCQs Based Preliminary Test (Mpt) 2023 | 7 August, 2022 |
| Online Applications for MPT Test 2023 | 8 To 22 August, 2022 |
| Conduct of MPT Test & Posting of Answer Key on Web | 2 October, 2022 |
| Announcement of MPT Test Result | 17 October, 2022 |
| Advertisement for CSS Written Exam CE 2023 | 30 October, 2022 |
| Receipt of online applications from MPT Qualifiers | 30 October to 14 November, 2022 |
| Receipt of Hardcopy of online applications alongwith documents from MPT Qualifiers | Uptil 24 November, 2022 |
| CSS Written Examination-2023 (commencement date) | 1st February, 2023 |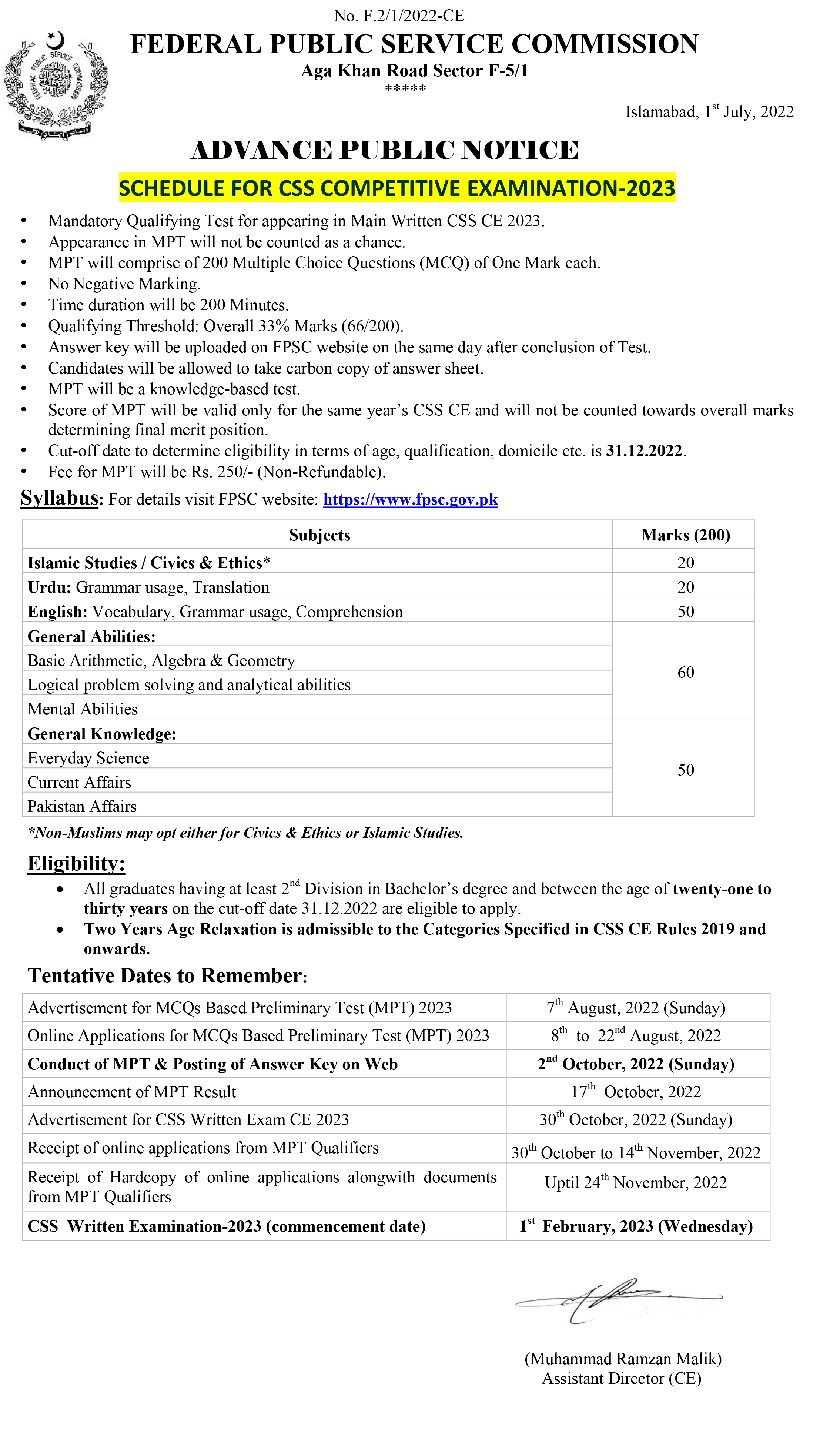 All Graduates having 2nd Division in Bachelor's Degree and between age of 21-30 years on cut off date 31-12-2022, are eligible to apply. For latest, updates regarding the CSS 2023 examination, all candidates are advised to keep visiting ilmkidunya.com, because here you will check all the latest news about the Combined competitive examination, 2023.
CSS 2023 Written Exam Date
CSS applicants who have been waiting for CSS Exam Schedule 2023 must understand its importance as they must finish up their preparing for their CSS subjects. According to CSS 2023 Written Exam Date, the FPSC's CSS written examinations will start from 1st of Feburary, 2023.
CSS Eligibility Criteria 2023
To apply for Combined Competative Written examinations, eligibility criteria is mentioned below:
Only MCQ Based Preliminary Test (MPT) qualifiers can appear in written part of CSS-2023
The Applicant must have atleast Second Division Bachelor's Degree.
Age limit for CSS 2023 is between 21-30 Years.
CSS Exam Paper Division 2023
Central superior services (CSS) examination consists of both objective and subjective type papers. Here you will check the complete detail of objective and subjective type paper with total marks and time allowed for each paper.
| Part | Paper Type | Total Marks | Time Allow |
| --- | --- | --- | --- |
| 1 | Objective Paper | 20 | 30 minutes |
| 2 | Subjective Paper | 80 | 150 (2.5 Hours) Minutes |
CSS Compulsory Subjects Paper Pattern 2023
Important Note: To qualifying in CSS written exams, required marks are 600.
CSS Written Test Total Papers (Compulsory & Optional)
Candidates who are looking for CSS written test pattern, now can check the complete paper pattern here:
The CSS exam consists of total Twelve (12) papers, in which six (6) papers are Compulsory and remaining six (6) are Optional papers.
100 marks for each paper.
Total marks of CSS written exams are 1200. In which 600 marks are allocated to compulsory papers and 600 marks are for optional papers.
Time allowed for each paper is 3 hours.
CSS Written Exam Passing Marks 2023
Only those candidates will be considered as a qualified candidates in css written exams who will get minimum 40% marks in compulsory subjects and minimum 33% marks in optional subjects. Aggregate marks will be 50%, scoring less than these criteria, then the candidate will not allow for next exam that are mentioned below
If the candidate qualifies in the written test, then the applicant will be eligible for medical examination, psychological assessment, and viva.
Rules For CSS Written Examinations
If the optional subjects are mistakenly selected then your application will be rejected and the applicant will be ask to re-evaluate its selection by the FPSC. Select two subjects from one group.
Select the combination of Optional Subjects along with the Compulsory Subjects before the closing date. There is no chance for any alteration after the closing date.
If the candidate did not appear in any compulsory or optional subject, due to medical or any other reasons shall not be allowed to sit in the rest of exam.
No candidate can get more than 3 chances to attempt competitive exams.
If candidate arrives late in examination hall, no extra time will be allowed according to the reules.
CSS Results 2023
FPSC Announces
CSS Latest Result
Click here for check result online. Analysis shows that Total 32059 Candidate appeared in this exam and only 393 candidate passed this exam held in 2022. Total percentage of
CSS 2022 Result
was 1.94 %. Candidates should stay connected and keep visiting this page for latest updates regarding
CSS Results 2023
Are you having difficulty understanding CSS written test updates? No need to worry as we have all the solutions to your problems that are available on this page. Prospective candidates who wish to attempt Central Superior Service Exams most of the time don't have any idea regarding the rules or types of CSS written exams that they will be facing in future. Prospective candidates must understand the CSS written Exam Pattern if they wish to be among the successful exam passing candidates. CSS exams consist of four major types of exams that will be presented to the student candidates attempting CSS paper. First exams are written examinations that all students will have to clear and pass successfully.