CSS exams are of competitive category held all across Pakistan. They are the toughest kind of tests which require extensive preparation. Students try lot of methods for having the best amount of knowledge for the test. Check our CSS Preparation section for having more information and also have the option to download each past paper in pdf file.
Reading, solving and learning from the Past Papers for any type of education is famous among Pakistani students. Most of them use this procedure. Have a look on the latest past papers according to the subjects such as gender studies CSS paper 2019, 2020 and general science and ability CSS paper 2020-2021 along with criminology CSS paper 2020, CSS punjabi paper 2020 and CSS physics past papers.You can download here all css past papers of past Six years.
CSS Past Papers (Compulsory Subjects)
There are Six compulsory subject in css examinations.Minimum Forty marks are required to pass each compulsory subject.Past Papers are most important source for the familiarity of examinations.CSS compulsory subject are english, english essay, everyday science, current affairs, pakistan affairs and Islamiat.You can download all css past papers pdf from the six links,that are given below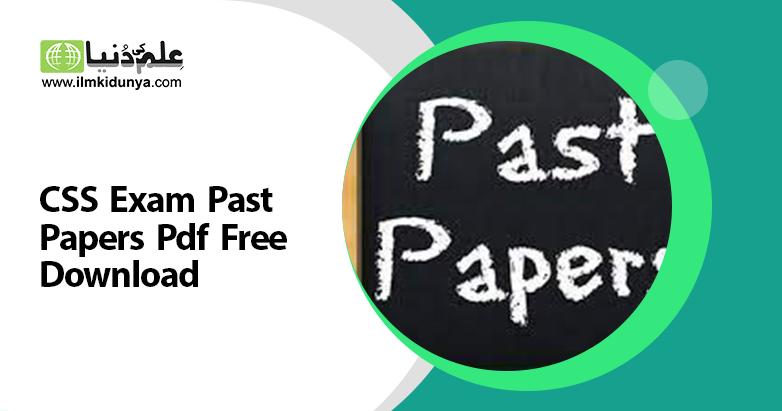 CSS Past Papers (Optional Subjects)
CSS Syllabus consists on both compulsory & optional subjects.Minimum Thirty three marks are required to pass the each optional subject.CSS optional subjects are your own choice.Optional subjects consists on 09 Groups.You can select all subject from Two or many groups.Choose these paper, about which you think that, i can secure maximum marks in this subject.According to the research Urdu Literature, English Literature, Botany, Environmental sciences, Gender studies are the top optional subjects, choosen by the candidates.You can download here all css exam past papers of optional subjects
Group E
(History Subjects)
You can also get US History CSS paper 2021, CSS current affairs paper 2020 or CSS Pakistan affairs paper 2020, CSS islamiat paper 2021, business administration CSS paper 2020, sociology CSS paper 2020, environmental science CSS paper 2020, CSS precis paper 2020, political science CSS paper 2020, governance and public policy CSS, Anthropology paper and CSS Essay paper 2020-2021 according to FPSC CSS syllabus from this platform. With the help of these past papers, you can understand the CSS paper pattern. In order to have any query then comment in the comment section.You can also download here css past papers mcqs.