Intermediate students seeking LLB Degree Program need to be on board for the LAT Admission test. The government takes the LAT exam test three times or more a year as per the official government schedule provided by HEC.
LAT Test Schedule in Pakistan
The HEC handles all the LAT Law Admission Test administration and responsibilities concerning listing test centers and creating LAT Test Date for Intermediate students for the LLB degree program.
HEC LAT Test Schedule 2023
Students who wish to succeed in the upcoming LAT Examination need to ensure that they do not miss the deadline and apply according to HEC guidelines for the LLB degree program.
Intermediate students need to keep themselves informed regarding LAT Test Schedule 2023 in Pakistan as HEC advertises the LAT admission test's announcement through advertisements in the leading newspapers, social media, and its official HEC website
Many websites are also misleading Intermediate students through fake HEC LAT advertisements, so students must authenticate the validity of the LAT examination announcement through official sources only.
Law Admission Test Advertisement Announcement 2023
Higher Education Commmission (HEC) issued the LAT test advertisement. For admission in LLB 5 years degree program, last date to register online for LAT test is 30-Oct-2023 and minimum eligibility to getting enrollment is Intermediate degree from any secondary board. HEC is conducting LAT Test for applicants desiring to get admission in LLB (Hons) Five years degree program. The applicants can submit the LAT test online application at ETC.HEC.GOV.PK portal, till the closing date. You can check all other details from advertisement.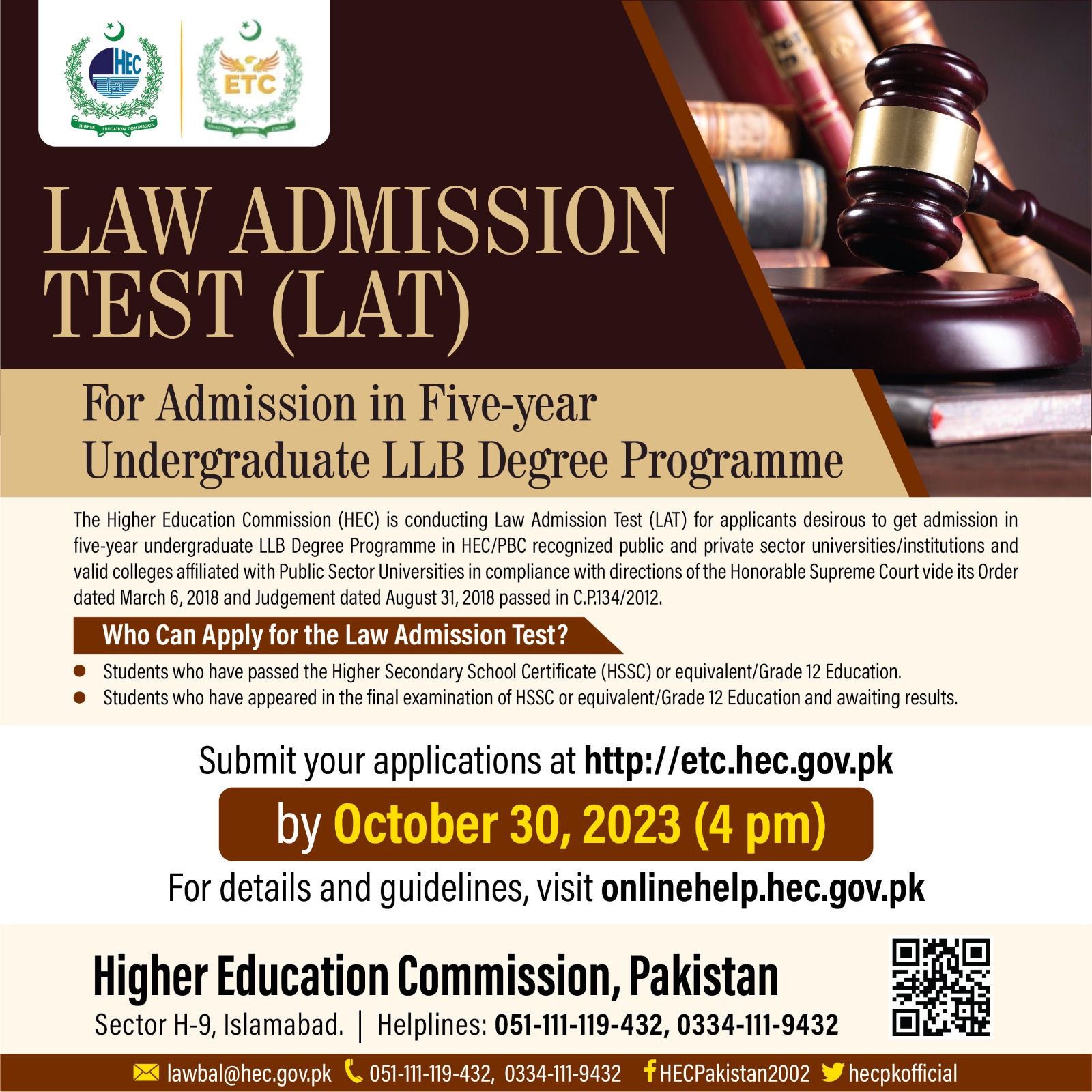 LAT Test Schedule Value
Students who wish to apply for LAT test schedule 2023 in pakistan will find all their required LAT exam schedules, upcoming test dates, and HEC official LAT advertisement. The students will also get information regarding their examination roll number slips, paper guide, important dates, and official HEC instructions and rules for the LAT admission test. Students should give proper attention and carefully go through all the important sections. Important note:LAT Test Date 2023 is 30-Oct-2023
HEC LAT Test Date 2023
Students who wish to apply for LAT test 2023, are informed that HEC announced the LAT Test Schedule 2023. LAT online registration 2023, last date to submit application is 30-Oct-2023.
Important Instructions For HEC LAT Test
Any important date must be announced on HEC website.
Students must download their roll slip through the website of HEC as per online registration and also register email address a weak before the exam date.
All details about the test date, roll number slip and exam center will be send through the email or sms on mobile number that providing by the students. Applicants should me send valid email or content number so that avoid any inconvenience.
As selected the test center from the list, it should not be alter at any cost.
On the test day, it should be required to take your copy of roll number slip and original CNIC to enter in the examinational hall.
Important Note: Apply For LAT Test 2023, last date is: 30-Oct-2023
Previous LAT Test History
There are Two test conducted in the months of Feburary and May 2022. HEC also announced the answer keys for these tests. Now, HEC is going to conduct the next LAT test of the year 2022, on August 07 2022. Last date to submit online application form is July 22 2022. Apply before the closing date at HEC portal.