NUMS has three different categories for NUMS affiliated institutes in which students can take admission for MBBS, BDS and many other programs. It also provides a huge range of courses at graduate and postgraduate levels. The specialization subjects include biochemistry, nursing and biomedical technologies. Following are the categories of NUMS affiliated institutes:
NUMS Affiliated Medical Colleges/Institutes
Following is the list of NUMS private medical colleges which are affiliated with NUMS including NUMS affiliated colleges Karachi and Lahore Medical & Dental College: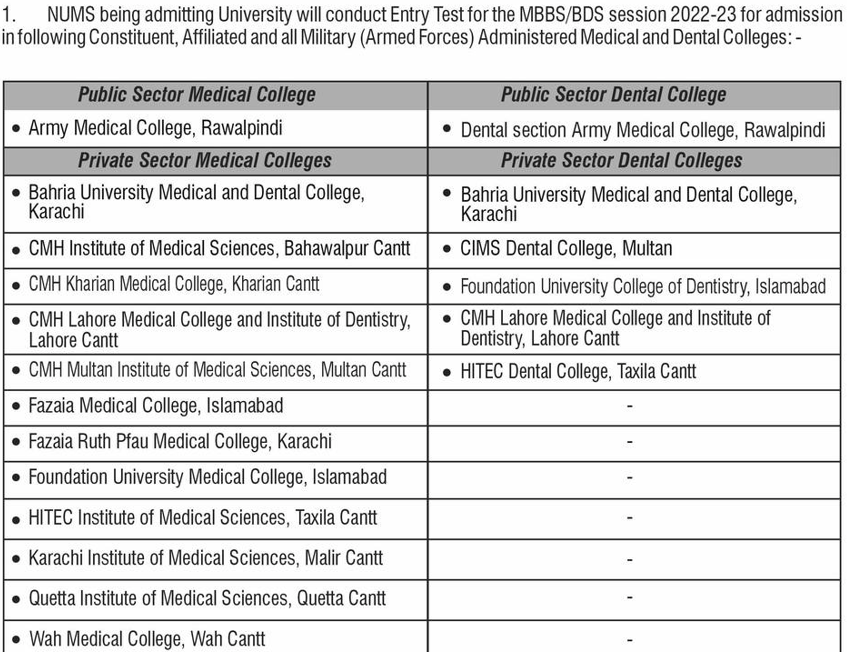 Check: NUMS affiliated colleges merit list 2023
NUMS Constituent Colleges/Institutes
These NUMS affiliated private colleges also include NUMS affiliated colleges in Islamabad.
| Sr.No. | Colleges |
| --- | --- |
| 1 | Army Medical College |
| 2 | Armed Forces Post Graduate Medical Institute |
| 3 | College of Nursing, AFPGMI |
| 4 | Army College of Veterinary Sciences |
Related: NUMS affiliated colleges 2023 fee structure
NUMS Teaching/Training Hospitals/Institutes
List of NUMS colleges which are of training and teaching listed below:
| Sr.No. | Colleges |
| --- | --- |
| 1 | Armed Forces Institute of Cardiology |
| 2 | Armed Forces Institute of Dentistry |
| 3 | Armed Forces Institute of Mental Health |
| 4 | Armed Forces Institute of Ophthalmology |
| 5 | Armed Forces Institute of Pathology |
| 6 | Armed Forces Institute of Radiology and Imaging |
| 7 | Armed Forces Institute of Rehabilitation Medicine |
| 8 | Armed Forces Institute of Transfusion |
| 9 | Armed Forces Bone Marrow Transplant Centre |
| 10 | Armed Forces Institute of Urology |
NUMS FAQs
Student

Consultant

Employer