Proper submission of PPSC Test fee 2023 is very important for prospective candidates who wish to apply and appear in the PPSC examination therefore it is important that you carefully go through all detailed instructions, guides, tips, suggestions, detailed fee information, fee application procedure and recommendations available on this page. Applicant candidates must remember to visit this page regularly, to remain informed and up to date regarding the latest news and updates for ppsc fee structure 2023.
PPSC Fee Structure 2023 in Pakistan
PPSC exam fees has to be deposited by every prospective candidate as there is no relaxation in this regard from the punjab public service commission. Prospective candidate must submit their required PPSC test fee 2023 by collecting the PPSC exam fee voucher and submitting the required fee through officially recommended banks like the national bank of pakistan or state bank of pakistan to be considered a valid application for the upcoming ppsc exam. Applicant candidates should also bring along and present their original paid fee voucher receipt during their viva voce or interview as they will not be allowed to give an interview or viva without proof of payment of PPSC fee structure 2023.
PPSC Attention Message Regarding Online Fee Collection
Punjab Public Service Commission (PPSC) has introduced the online fee collection feature. It is informed to all applicants that they are advised to deposit fees online by using the different mediums. Some of them mediums ar
ATMs
Internet Banking
Mobile Phone Banking
By Courier
The applicants can also deposit Fees by using Easy Paisa, U Paisa, Jazz Cash and other banks.
Not Accepted Medium of Fee Collection
Cheque
Pay Order
Bank Draft
Fee Deposit on old Challan Form 32-A of PPSC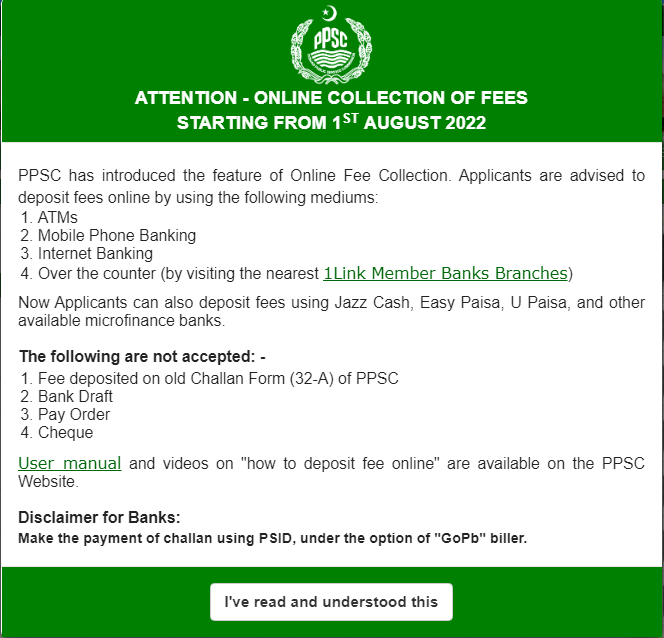 Bank Disclaimer
All Punjab Public Service Commission (PPSC) applicants are advised to make the payment of Challan using PSID, under the option of GOPB Biller. Important Note: Online Fee Collection Feature of PPSC will starting from 01 August, 2022. If applicant will submit manual fee after 01 August, 2022, the fee will not be accepted.
PPSC Online Collection of Fee User Manual
The Eight (08) Pages of E-Pay online deposit of PPSC Test Fee user manual, will enable the applicants on "How To Deposit Fee Online" are available on website of PPSC.
Punjab Public Service Commission PPSC Fee Structure 2023
| Examination | Remarks | Fee Structure |
| --- | --- | --- |
| Punjab Public Service Commission | Written Test | Rs 600/- |
| Punjab Public Service Commission | Competative Examination (PMS) | Rs 1000/- |
PPSC Test Fee Deposit Rules 2023
Pay the Punjab public service commission PPSC fee structure 2023 for both written and competative examination under the account title: C02101.
Pay the fee in any branch of National bank of Pakistan (NBP) / State bank of Pakistan or Government Treasury before the closing date of application submission.
Any Bank draft, pay order or cheque will be accepted as fee by commission.
Important Note: PPSC not charges any type of fee from special persons.
Important Points Regarding PPSC Fee Details
As you know that every student or candidate pay a fee for entry test, job test & admission test. This PPSC fee is collected by finance department for the management of test. Same, there is a fee for every PPSC exam like recruitment test and any other competitive exam. PPSC charges the fee, that is easily payable by every candidate. There is no relaxation in fee given by the punjab public service commission except special persons. Before applying online, applicant submit the fee in the nearest bank and while uploading the form, also upload it. If a candidate submit wrong fee, application form rejected by the authority. If a candidate submit the application form without uploading the bank original receipt, the application form 100% rejected by commission.