Mobile apps are the latest technology which provide you the contents according to your choice. Try to add the best study app that is suitable according to the temperament of your study. In the form of 9th Class App, Ilmkidunya provides the best study app to the users who want to get better success regarding their studies. Almost all needed contents are available in the mobile apps of Ilmkidunya. Try to use this app as this will surely helpful for you to achieve your targets. It not only provides you the content related to your studies, however, they also assist you to choose the right options regarding study career, job career and future career etc.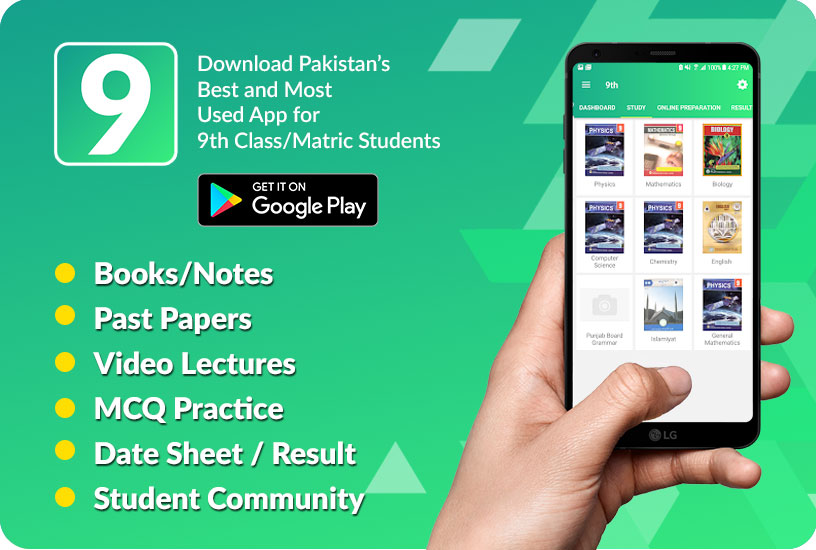 Features of Class 9 App
You can make an account and continue to have a chat platform with your classmates and your fellows and even to your teachers. You can invite them to install it so that both of you stay updated with the information related to 9th Class
This App has Study feature as well through which you can learn all the subjects and you can also submit queries if any.
Online Preparation is extremely beneficial for you as it will guide you in each subject i.e. science and arts group. You can take Online Tests and you can judge your study level at your own.
You do not need to wait for the Results announcement as this App will send you the notification whenever any result will be announced publicly.
Similarly you will be get notified with Date Sheets of 9th class.
All of us know the importance of Past Papers. Ilmkidunya has given you the facility to go through past papers. You can also download them.
We know that you are busy in your studies, therefore, we want you to stay updated from all of the educational news which can play important role in your studies as well.