By reviewing the past papers of 2nd year 2023, the student can find the gap into his/her preparation and can quickly overcome this gap. We provide complete past papers 2nd year Lahore board along with other boards for the students of every level or subject such as computer past papers 2nd year. We provide past papers with the scheme of board wise, city wise, class wise and even subject wise such as past papers of chemistry 2nd year Faisalabad board or chemistry past papers 2nd year Gujranwala board
Check: 2nd year English past papers (Download App For 12th Class Past Papers)
Ilmkidunya.com provides the past papers for almost every class and subject. For 12th class the past papers are also arranged by Ilmkidunya.com for the students for achieving their goals. They can make you know that how your paper actually designed. Inter Part II past papers can guide you about how many short and long questions in each paper. They will also guide you about the number of multiple choice questions and objective questions in all the papers.
They are provided through an easiest way that one can easily find his/her needed paper such as 2nd year education past papers solved or civics past papers 2nd year solved or biology past papers 2nd year.

We provide them till the previous five years papers such as 2nd year chemistry past papers or past paper of chemistry 2nd year, urdu past paper 2nd year or english past papers 2nd year or education past papers 2nd year.

They include both groups, first groups as well as second groups such as of past paper of physics 2nd year or islamiat elective 2nd year past papers or statistics past papers 2nd year or past papers of statistics 2nd year Gujranwala board.

They are provided with a specified sequence i.e. city specific, subject specific etc such as of physics past papers 2nd year.

Check: Urdu 2nd year past papers
You can find all 12th class BISE Boards of Pakistan including past papers 2nd year Fbise, Lahore Board, Gujranwala, Multan, AJK, Bhawalpur, Karachi, Quetta etc. of all subjects such as 12th class past papers English, 12th class past papers Maths or maths past papers class 12, past papers of physics 2nd year Rawalpindi board, Pak studies past papers 2nd year, through which you can take advantage and can make improvements in your percentage which leads to better marks in intermediate.
Also Check: 12th Class Pairing Scheme
The method to go through them can be learn through the following steps:
Past papers → Select Board → Select Class → Select Subject → Select Year → Get your papers
You can make your preparation with our 12th Class Online Test. Here the complete past papers are available below such as past paper of English 2nd year. Just scroll down the page, apply the above mentioned rule and take a good start of your preparation.
Past Papers
Qualification Level
>
Boards / Universities
>
Class Level
>
Subjects
>
Years
>
Past Papers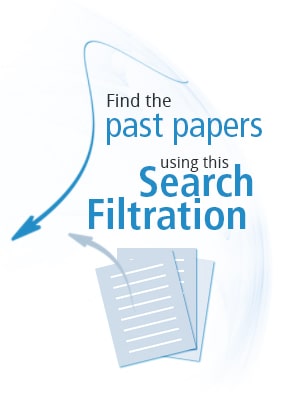 Student

Consultant

Employer