The National Database and Registration Authority (NADRA) comes under the Ministry of Interior and is given the task of regulating the registration database of people of Pakistan. As NADRA is large and autonomous body operating in many cities or regions across the country, it employees more people to carry out essential task that are necessary to keep the organization and related processes running smoothly. Thus, there are many opportunities for people to get Jobs in NADRA. As jobs provided by NADRA are government sector jobs, they return numerous benefits to employees of such jobs. They provide better job security, more fringe benefits, good salary, and various other things. NADRA Jobs require that you show high levels of competency, punctuality, and necessary interpersonal relational skills etc. From this webpage, you can learn all the details about the NADRA Latest Jobs that you should know.
About NADRA
The National Database and Registration authority NADRA is a respectable and well known organization which is solely responsible for keeping record of details of Pakistani citizens. NADRA was made with a dream to set up an innovatively progressed National Database of the Pakistani Citizens, which is 'straightforward' and 'effectively available'. Their main goal is to help advancement and speak with partners in a proficient and useful way. It has the biggest biometric citizen information portal on the planet and has over 800+ offices all over the country to facilitate people. Since it utilizes a great many individuals in all fields, it is most assuredly the biggest manager in Pakistan.
Jobs in NADRA
There are numerous chances of Jobs in NADRA for individuals. NADRA jobs accompany many advantages because they are purely Government sector jobs. They give better professional stability, more incidental advantages, great compensation, and different things. It is necessary to get a NADRA job that you show undeniable degrees of ability, regularity, trustworthiness, and essential relational social abilities. Here from ilmkidunya.com, you can get familiar with all the details and insights concerning the NADRA Latest Jobs.
The most anticipated and awaited employment opportunity for work searchers in Pakistan is NADRA Jobs. One explanation is on the grounds that the quantity of vacancies for jobs in NADRA for the most part are exceptionally high. Normally they won't need exceptionally high schooling and experience. Numerous candidates can benefit from these open doors in their regions. Most well-known and Latest NADRA jobs that are reported every year are Junior Executives, Registration Executives, Office Staff, Administrative and support staff with equal employment opportunity for Male and Female both. The predetermined qualification level is matric, intermediate and bachelors to fill the seats
NADRA routinely enlists and latest NADRA jobs are offered to new alumni and experienced experts for its activities across Pakistan in Islamabad, Karachi, Lahore, Faisalabad, Multan, Rawalpindi, Quetta and different locales. All most recent positions at NADRA are mentioned here when they are declared.
Requirements NADRA Positions in Karachi 2022
Copies of CNIC, CV, Domicile, PRC, and Two latest Photographs. Should be shipped off the referenced area before the last date. Note that all the documents are attested.
Avoid late submission because such an application will not be considered.
Age is dealt just as a number and is admissible as indicated by the methodology of Govt. of Pakistan.
The applicants should have Domicile and PRC of District of the Province they live in
Those having a half year of Experience with NADRA will be preferred
Just qualified/shortlisted applicants will be called for NADRA Jobs
No TA/DA allowances will be granted to any candidate showing up for interview
How to apply
To go after the NADRA jobs, it is essential that you completely read the work promotional ad since it holds all the significant data, which is fundamental for an applicant's application for a specific work. The qualification criteria should be perused prior to beginning your employment form and this standard is given in the ad.
After cautiously finding out about the work prerequisites, the competitor needs to round out an application shape and connect their CV, confirmed and checked copies of degrees, 4 ongoing photos, bore witness to/checked duplicate of CNIC, and the duplicates of tributes by the foundation. These archives must be shipped off the individual who has undersigned the "Promotional ad for the opening" inside the 15 days after the distribution of the ad. Any application, which is sent after the due date or is fragmented, won't be engaged by the work recruiting council for NADRA Jobs.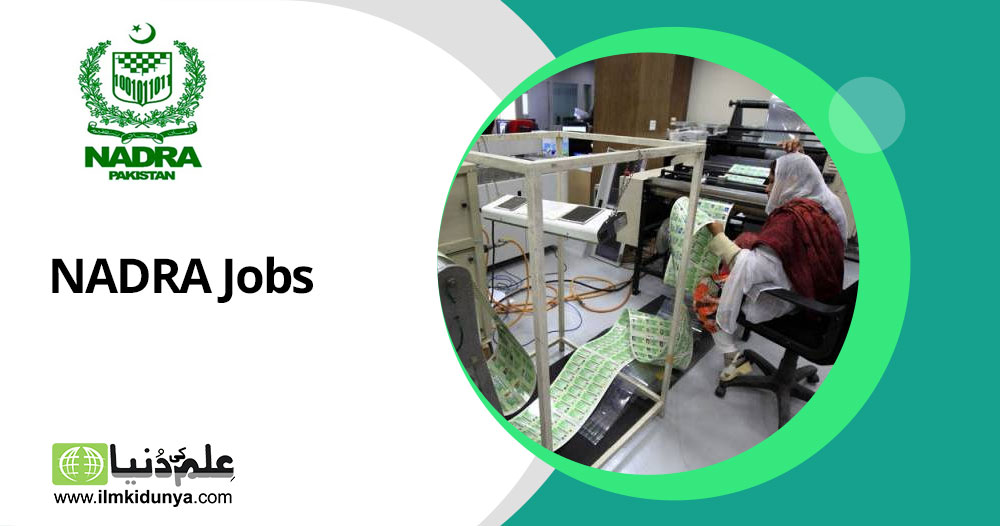 FAQs:
Position Announcements in NADRA Jobs
The announcements for NADRA Jobs 2022 are displayed in several outlets for people to see. You can find out about vacant job positions in NADRA by reading newspapers. All Government agencies across Pakistan advertise for new jobs positions in leading newspapers for example, Jung, Dawn etc. In addition to this, you can also learn about position announcements for Jobs in NADRA through its official website. To see new vacancies, you have to visit NADRA's official website. After doing so, hover your mouse over the "About Us" tab, which will open a drop-down menu, slide your mouse to the "Careers" tab and click it. Afterwards, a page will open which will inform you of all the vacant job positions in NADRA. On the webpage, you will find the "Advertisement for the vacancy" PDF file; download the file to learn more about the job. Read the advertisement carefully because they include all the required information in relation to the job. In NADRA Jobs advertisements, you can learn about education requirements, number of experience required for the job, salary package, age, period of appointment etc.
How to Apply For Jobs in NADRA
In order to apply for the NADRA Jobs, it is necessary that you thoroughly read the job advertisement because it holds all the important information, which is necessary for a candidate's application for a particular job. The eligibility criteria must be read before starting your job application and this criterion is given in the advertisement. After carefully reading about the job requirements, the candidate has to fill out an application form and attach their CV, attested and verified photocopies of degrees, 4 recent photographs, attested/verified copy of CNIC, and the copies of testimonials by the institute attended. All of these documents have to be sent to the person who has undersigned the "Advertisement for the vacancy" within the 15 days after the publication of the job advertisement. Any application, which is sent after the due date or is incomplete, will not be entertained by the job hiring committee for NADRA Jobs.