Many people are not able to wake up early in the morning. Because of their habit, they go late on job and now they are afraid they may lose their job. Many students are worried they may fail in class. To change your habit of late waking up in the morning there are some steps you can use and change your habit.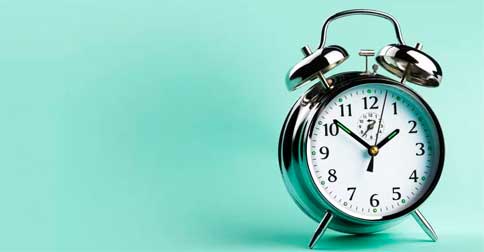 "Most people don't have that willingness to break bad habits. They have a lot of excuses and they talk like victims" Carlos Santana
Adopt healthy habits
To change your attitude of waking up late in the morning, firstly check what are the reasons you don't sleep well in night. There are some things which are proven by research you must not do them so that you can get a proper sleep.
Don't eat any spicy food before going to sleep or in evening it disturb your stomach and you are not able to sleep.

Don't use mobile or tab before sleep because there light create radiations which wreck your sleep and cause headache.
Engage yourself in good activities
It's very important to prepare yourself for a good night sleep. Try to read a good book before sleep or play a puzzle. Do not waste time on computer games before sleep they don't relax your mind they cause headache.
Don't watch TV before going to sleep it can cause trouble in your sleeping.

Don't study or do anything which can cause stress, it can affect your sleep.

Focus on positive thoughts before sleeping.

Think about all the good memories.
Change your Sleeping place
It's possible that your environment of room is affecting your sleep. Try to change the environment of room change mattress, or wall color. These small things affect a lot on your sleep.
Always use air freshener in your room.

Use cool colors on the wall.

Darken your room; light can cause trouble in your sleep.
Use proper Alarm clock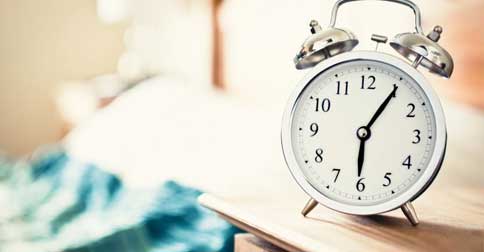 Some people need simple alarm tone and they wake up on that very low sound alarm, other needs very loud alarm tone. There are many varieties of alarms that just vibrate near you to awaken you, including wristband and other devices that clip on your pillow or go between your mattresses.
Consider all the kind of features you need in your alarm to have, such as sound or brightness.

Experiment the alarms on you and check which one helps you to wake up on time.

Always set alarm before going to sleep.
Position the alarm clock far from the bed.
It's a very common habit that we close our alarm when it rings. So remember to but the alarm far from your side of bad, so that when it ring you will not stop it either you are forced to wake up at that time.
Get someone to help you.
If you have a roommate or your mother or father have habit to wake up early morning so the best thing you can do is to ask them to wake you up. This way you will be awake on right time and your job will be safe as well.
Get up before your alarm
If you wake up before the alarm clock don't sleep again, wake up and do some exercise so that you will feel fresh and do your work effectively and efficiently as well.
Brighten up your bedroom
The body naturally wakes up faster if the room is brighter. Keep your curtains open or use room light to brighten your room. Light normally give your body a indication that its morning time and you need to wake up and achieve your goals.
University Of Management And Technology Umt Lahore
249 Articles
171 Articles
79 Articles
Punjab University PU Lahore
57 Articles
Punjab University College Of Information Technology Lahore
56 Articles
Allama Iqbal Open University Aiou Islamabad
55 Articles