We all are worried about something like worried before any exam or job interview. Sometimes we worry about those things which are not going to happen but we think they could happen so we get worried about it. In daily life, the symptoms of anxiety could be increased heart rate, poor concentration at work, sleeping problems, or just worried about those things which could go wrong. There are some simple ways through which you can control anxiety.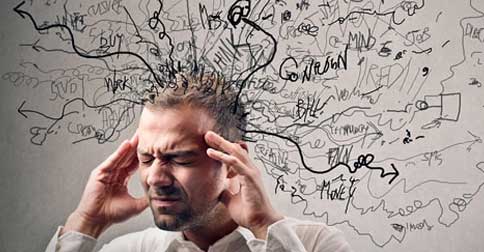 Diaphragmatic Breathing
One of the easiest ways to decrease your anxiety is by decreasing your heart rate. But it's not in our control, but we can try to be relaxed and decrease the heart rate by simply taking deep breath. The most commonly utilized strategy is breathing by contracting the diaphragm, a horizontal muscle in the chest located just above the stomach cavity. When we take deep breath it calms our muscles and decreases the heart rate as well.
Get enough sleep
When we don't get proper sleep for many days it causes stress and anxiety. Daily proper hours of sleep are requirement of our body, when we don't get proper sleep it affects our health but it affects our mood as well. When you feel anxious schedules your time and takes at least seven to nine-hour sleep. It will help you to be relaxed and the anxious feeling will be gone as well.
Take a Timeout
"Reduce the stress levels in your life through relaxation techniques like meditation, deep breathing, and exercise. You'll look and feel way better for it" Suzanne Somers
Do yoga or meditation on daily basis to relax your body and mind. If you make it a habit you will feel relax and do your daily work more efficiently than before. It will help you to control anxiety as well.
Exercise
We all are so busy in our life that we don't do exercise daily. Exercise is not good only for health but it also help to relax your mind as well. Early morning exercises open your mind, make your mind strong, and open so that you can deal with anything in life without stress and anxiety.
Smile
When you feel low in life because of family issues or work problems take a break, read different stupid jokes, and smile. Research suggests that laughter can reduce symptoms of depression and anxiety, so check out funny videos or shows.
Express gratitude
Jealous to other coworkers or relatives is not going to make your life easy. Try to be nice and always be thankful to those who help you. It's not necessary that help is given on small stuff or on a very big issue. Just be thankful to other. It will make them happy and it will make you happy and relax as well.
Eat right
Always eat right on time and eat healthy food. When we do not eat properly we get agitated, this cause anxiety. Eating healthy food right on time makes you healthy and happy.
Think Positive
Thinking about all the negative things which could happen and cause you pain. This always going to cause you trouble. Try to think positive thoughts about good stuff. Negative thinker are always stressed and face anxiety all the time, Because of that all these things go wrong because of their negative mind.
Hangout
Give some time to yourself hang out with family or friends do some shopping or play games .Give a relaxing time to yourself enjoy your life. All the time doing work or studying also create anxiety issues. Relaxing your mind and body is also very important. Try to hang out every weakened so that you can avoid anxiety problems.
University Of Management And Technology Umt Lahore
249 Articles
171 Articles
79 Articles
Punjab University PU Lahore
57 Articles
Punjab University College Of Information Technology Lahore
56 Articles
Allama Iqbal Open University Aiou Islamabad
55 Articles