Key Book Math's Class 9 is the best solution manual for android as well as for IOS users. As you know that there are lots of books and manuals in Google Play Store. These books are not helpful for students. Many of the students want that, they should have best solution of all problems in Mathematics. These problems are solved in different solution manuals. But all students cannot buy these manuals. These manuals are very expensive. If you want best solution manual for your exams then you should download Key Book Math's Class 9 (PTB). The key features of this solution manual are discussed below:
Quick and Easy approach to learn:
Open Educational Forum developed this app as the best guide for students of class 9. In this solution manual, all problems are solved in easiest way. These solutions are collected from best guides and approved from professors. This is an app that can help students to learn basic concepts to solve problem in Math's. When students learn things quickly then they can prepare themselves for exams. Key books available in markets may not have easy solution of all problems. Moreover, these key books are not free of cost. For best solutions, you have to buy many key books. But this app saves your time. You can learn things more easily and quickly.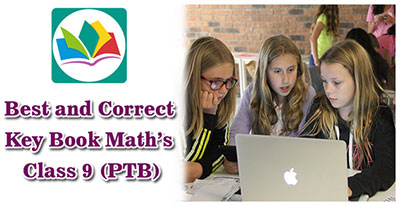 Free to download:
Text books or key books are not available in market for free. You have to pay for these books. After buying these key books, you realize that these key books are good for nothing. Best solution manual for class 9 is available in your Google Play Store. This solution is free to download. You have to pay nothing to download this app. Poor students can also download this app. These poor students can also learn easy concepts to score good marks in exams. This app will help you a lot in solving many issues in Mathematics. To prepare yourself for board exams, you should have best solution with best approach. Key Books Math's Class 9 (PTB) has best solution for all problems in Math's.
According to Punjab Textbook Board:
Punjab Textbook Board is the educational board in Punjab. Students of Punjab follow those books that are recognized by Punjab Textbook Board. Key Book Math's Class 9 is according to Punjab textbook board. This key book has solutions of all problems involved in that textbook. Students will enjoy learning mathematics with this app. Student can understand solutions more easily.
Organized Distribution:
Distribution of all chapters and exercises is according to numbers. To save your time, this app has best features. First you will select specific chapter. After this, all exercises will be shown on your screen. Select that specific exercise, and then solutions of all problems will be shown. This will save your time. And you will get solution of all problems. This is an app that can help you in your exams for best results.
Knowledge for All:
Open Educational Forum wants to promote education. Students of all classes should learn concepts of Mathematics. Main aim of developer is 'Knowledge for all'. This is for all types of students whether they are poor or they are rich. Teachers can also use this app to deliver these concepts to students.
Key Book Moths Class 9 (PTB) is the best solution manual of math's for students as well as for teachers. This app is best for all. Solutions in this app are easy to understand. This key book enhances learning skills of students. Students can learn things in short interval of time. Just Download Key Books Math's Class 9 and score highest marks in your board exams!
More Articles From
khawar ali
University Of Management And Technology Umt Lahore
249 Articles
171 Articles
79 Articles
Punjab University PU Lahore
57 Articles
Punjab University College Of Information Technology Lahore
56 Articles
Allama Iqbal Open University Aiou Islamabad
55 Articles