"Studious inquiry or examination; especially: investigation or experimentation aimed at the discovery and interpretation of facts, revision of accepted theories or laws in the light of new facts, or practical application of such new or revised theories or laws."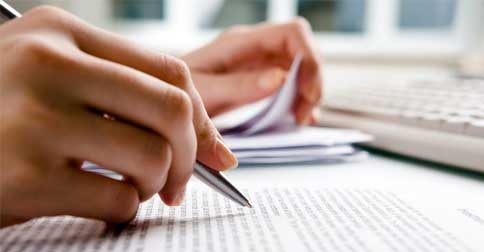 What is research paper? A research paper is basically a piece of academic writing based on its original author work on a particular topic. If you want to achieve supreme excellence in anything so only knowledge of that thing is not enough. It's just like if you want to win a medal in Olympics aiming for achieving medal is not enough, you must have a positive attitude and you must believe in yourself that you can achieve anything. This positive attitude is your first step to writing an A-plus research paper.
The first step to start any research paper is to find a topic related to your field on which you want to work. Always choose a topic which is new and not much work is done on that topic. But if you are working first time on any research paper than choose any topic which seems easy then read it and get all papers from that research paper meaning find all the reference papers which are given in your selected paper. Not all the papers are published in a well-known journal. But their references could be from very good journal, so don't ignore any paper read all papers and always use new articles meaning use past 5 years' paper mainly but if the researchers have not worked on it that much then you can search and use papers which are more than 8 years old or more than that even.
When you have read many research papers now you have a clear idea about your topic, and you know that how other researchers have done their work on the same topic. Now you have to decide what knew you can add to your paper. There always a research gap which you need to identify and cover that in your research or you can update the previous research with new data. New researchers should try to just make their paper very simple just use new data or add new variable so that research would look new.
Now you need to make a list of variables which are used in other papers.so that you know what variables you can use in your paper. This list helps you a lot to work or make a new model. It's not necessary to read only five to ten papers. Read as many research papers as possible, so that you can get to know which variables are used by different researchers.
When you start writing a research paper don't forget that you are writing a paper for those who are expert, or just common students. So you have to write your paper in a manner that each and every person can read it and understand what you are trying to deliver to the audience.The main stepos used in any research paper are as follows:
Abstract

Introduction

Research Question

Research Objective

Literature Review

Methodology

Conclusion

Limitation
These headlines are normally used in general papers, but it can be different according to your field like if you are an Engineer, or Doctor or from any other field so some handing can be different.
There are many research journals where you can publish your research paper. If you publish your paper in a well recognize journal it gives a good impact on your cv and helps you to get a good job in any institution.
University Of Management And Technology Umt Lahore
249 Articles
171 Articles
79 Articles
Punjab University PU Lahore
57 Articles
Punjab University College Of Information Technology Lahore
56 Articles
Allama Iqbal Open University Aiou Islamabad
55 Articles