PMC allows students to participate in the Medical and Dental College Admission Test after successful completion of their Higher Secondary School Certificate intermediate exams along with result awaited students or even before final exams of equivalent qualification. The admission regulations of Pakistan Medical and Dental Council have made compulsory for all students to qualify the test if they want to take admission in the MBBS degree program or BDS degree program. The entrance test is conducted according to the university guidelines and students must have to prepare the test accordingly. On this page, the complete PMC MDCAT syllabus 2021 PDF download has been given and students are advised to attain full comprehension of their entrance test by following the MDCAT syllabus 2021.
How to Get PMC National MDCAT Syllabus 2021 PDF
If you are worried about how you can get national MDCAT new syllabus 2021 pdf download with MDCAT mcqs you should focus on the basic requirements of the test including subject details. According to the PMC syllabus 2021 the students have to attempt the portion of Biology, Physics, Chemistry, English and Logical Reasoning to pass the test. Students can get complete National MDCAT syllabus 2020-2021 pdf download from the link of syllabus for MDCAT 2021 which will give them complete information regarding each subject and the content of each subject that will be included in the test.
Subject Wise PMC Syllabus MDCAT 2021 Download PDF
You can download MDCAT syllabus 2021 by PMC subjectwise from the following table:
PMC ensures the students that there will be NO General Knowledge questions in MDCAT Test 2021 so students are not required to learn them.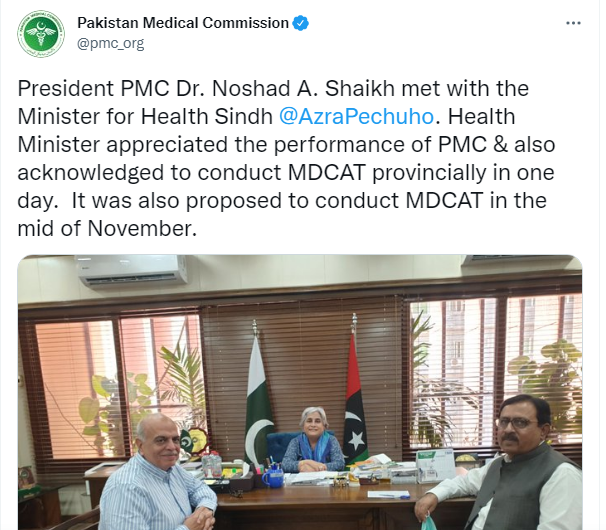 All students are informed that the test will be based on 210 MDCAT questions in the form of multiple-choice questions/ answers. However, if you lack comprehension regarding the entrance exam pattern you can also utilize MDCAT syllabus for better and effective preparation of various topics such as Biotechnology, Urinary system, Hyperpolarization, Work and energy, Projectile, Lenzs law, Sulfur - Chemical element or Electromagnetism or Harvard step test Glands or Electromagnetic induction. It also covers covalent bond between monosaccharides or ascaris lumbricoides is an intestinal parasite of or which law is based on law of conservation of energy or brachial plexus supply or the electrode through which electrons enter the electrolyte or conductivity is the reciprocal of or unit of electronegativity.
To get further details of each subject you must download MDCAT syllabus 2021 right now and start your preparation according to the guidelines which are specially formatted for the students. You should also check NUMS MDCAT syllabus 2021 pdf download as NUMS syllabus 2021 is also important if you want to apply in NUMS. Stay updated for MDCAT 2020-2021 paper with answer key as we will upload them when it will be published.