PMC will conduct MDCAT Test on 13th November 2022.
Applicants who are under the age of 16 can appear in MDCAT test 2023. The requirement for completion of HSSC or FSC or A-level degree is not mandatory for MDCAT test 2023. The result awaiting students of HSSC or FSC or A-level degree can also take this test. Students have to get 55% marks in Medical college test and for dental is 45% must obtain in MDCAT test. So if you are looking to apply for admission in medical and dental colleges are invited here at this page. Students are offered the complete guide that how they can get admission in medical and dental colleges.
Check: MDCAT online tests
Students are notified that for admission in MBBS they must obtain 55% to pass the MDCAT Test and for BDS students will attain 45% marks in MDCAT test. For getting admission in MBBS/ BDS students have 60% Marks in FSC / equivalent. Students are advised to check the full detail of MDCAt test eligibility. Check Eligibility
Under age of 16 years, all the applicants are eligible for the MDCAT examination, and their registration dates are started from 16th July to 20th July 2023.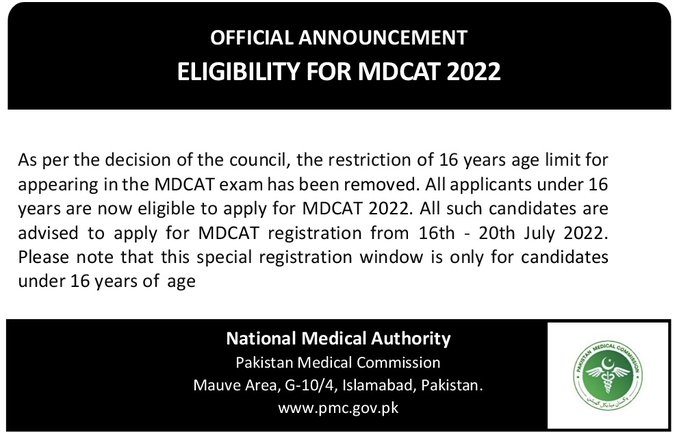 Admission Criteria In Public & Private Colleges
Students are notified to check the Admission Criteria which is given by the PMC for Public and Private Colleges. Check Admission Policy
Moreover, applicants are generally required to arrange the following documents to get PMC MDCAT eligibility:
Domicile Certificate
Computerized national identity card or B Form or Passport Number
Matriculation certificate or any other equivalent certificate or Name of the institution
Marks heset or result card of intermediate/ FSC or any other equivalent study program. Result awaiting students can ignore it.
A recent colored photograph of the applicant
PMC MDCAT Eligibility Criteria in Pakistan
Students are informed that they have to appear for an entrance exam of MDCAT which will evaluate the status of your admission. PMC conducts the entrance test or MDCAT every year from all over the country or from foreign Pakistani students who are interested to apply in medical studies. Students who are looking for eligibility criteria for mdcat 2023 are informed that pmc has been issued eligibility criteria, candidates can check the MDCAT eligibility criteria 2023. here we have criteria for students can take know-how through the given steps down below:
All of the students are eligible to apply MDCAT as there is no restriction to apply in MDCAT.
There is no percentage required for the students to appear in the test and also no restriction about getting 12th Grade education or HSSC educational certificate or equivalent education.
The result awaiting students can also give the test. MDCAT eligibility criteria in Pakistan is the same for the students from all over the country. However, students of other countries or out of Pakistan may apply with some other additional requirements.
Each year students can get the chance to take MDCAT test once.
Related: MDCAT registration 2023 online
MDCAT Eligibility Criteria 2023 in Pakistan
Applicants who have gathered their required documents are encouraged to apply for PMC MDCAT 2023 before MDCAT 2023 expected date. However, applicants are informed that Ilmkidunya is not only providing them with the MCAT eligibility criteria in Pakistan 2023, but this platform is also provided the students with the helpful tips that how to prepare MDCAT. Moreover, MDCAT past papers and MDCAT coaching centers all are provided here that can be the keys to your success. So, join Ilmkidunya today and find a better solution for your MDCAT session 2023.
Student

Consultant

Employer