This Year PMC MDCAT Test will be conduct on November 13, 2022.
There are countless MDCAT coaching and preparation centers in Pakistan based in various cities and towns. These institutions charge fee and help students prepare for the MDCAT course in their physical premises or online. Students who have completed their FSc exams or even before that the students can enroll in the MDCAT coaching session. It is recommended that you start preparing for the Medical and Dental Colleges Admission Test at the earliest to get your best chances in getting the best possible marks.
Updated 10-Nov-2022
MDCAT 2023 Centers of Punjab Board
Students can check the complete list of centers of MDCAT 2023 of Punjab board. Students can check the city-wise centers and also examine the sub centers. This is best opportunity to the students to check complete details before time and get mentally prepared for MDCAT test 2023. Check Centers of MDCAT 2023
Updated 08-Nov-2022
Students are advised to check the MDCAT test centers of Punjab Board. On this page Punjab Board cities are mentioned below, so students can easily check.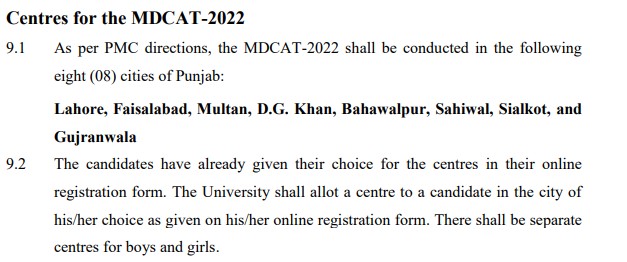 Updated 07-Nov-2022
Students can check that which Universities will take the PMC MDCAT test Province wise.

Updated 03-Nov-2022
International MDCAT 2023 Centers
This year Saudi Arabia and United Arab Emirates will conduct the PMC MDCAT 2023. Students can check the complete address, test time and link from here.
International PMC MDCAT Venues
Updated 31-Oct-2022
MDCAT Test Centers in Pakistan 2023
PMC has been opened the student portal from October 29, 2022 to November 02, 2022. Applicants have only one opportunity to inter change the center from one provincial exam university to another. Applicants are advised to change the centers if they want, after 2nd November this chance will no be given to them. Check Notification By PMC
Updated 04-Oct-2022
Students can select their centers for the MDCAT test but it is necessary that the center must be in their same city.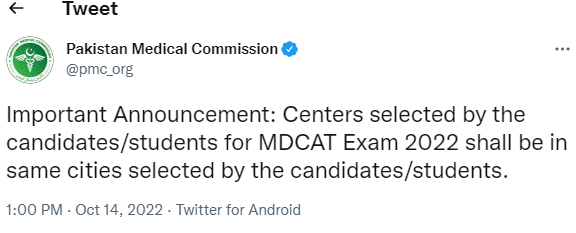 From the following link, you can find out various collges for MDCAT colleges along with MDCAT preparation academies and coaching centers.
MDCAT Test International Venues:
Here are International venues for MDCAT where MDCAT test will be conducted in Two International countries this year.

PMC Gradings of Medical and Dental Colleges
PMC has graded the medical and dental colleges which includes public and private colleges. You can check the Grading List.
Top Institutions for MDCAT Preparations 2023
You can get the information about different colleges which are offering MDCAT preparation 2023 in pakistan such as KP medical education, Allama Iqbal medical college, Punjab or Federal. Following is the list of some institutions for MCAT:
| Sr. | Institute Name | Contact Info |
| --- | --- | --- |
| 01. | Stars Academy Lahore | 30-Kashmir Block Allama Iqbal Town Lahore Ph: 042-37800293-92, 0321-9432187-6 |
| 02. | The Star Institute Lahore | Plaza: 54,Ist Floor,Cavalary Ground,Lahore,Cantt Ph: 042-36619610 042-36619688 Fax: 042-36619688 |
| 03. | KIPS Academy Lahore | 30-A Johar Town, Lahore Ph: 042-5179001-3, 5167838 |
| 04. | Pace Academy | Suit no. 402-B, City Towers University Road Peshawar Ph: 091-5842514 Fax: 091-5842514 Email: info@paceedu.pk |
| 05. | Lahore Garison Education System | LGES Secriate 9, link Tufail Road Lahore Ph: 042-35740334-5 |
| 06. | Agha Tech Academy Karachi | A-13, A-14, Karam House B1-16, Main University Road Karachi Ph: 03333275311, 03333272136 Email: contact@aghatech.com |
| 07. | AL-HAMD Institute of Sciences | Main Campus: 8- block 3-AII Township, Lahore Ph: 042-5122779 |
| 08. | Overseas Academy Lahore | Faisal Town, Goal Chakkar, Lahore Ph: 042-5170784, 0345-4151649 |
| 09. | Merit Institute Lahore | 72 Shadman, Lahore Ph: 042-7580594, 0333-4223991 |
| 10. | Al-Syed Institute Lahore | Rehman Pura Stop, Ferozpur Road, Lahore Ph: 042-7530627 |
| 11. | Study Vision Lahore | Ph: 0333-6992549, 0301-4325570 |
| 12. | UET Engineers Lahore | Ph: 0300-4314045, 0333-4481856 |
| 13. | Students Inn Academy Lahore | Ph: 042 5853524, 5164507-8 |
| 14. | Toppers | 852 B Faisal Town near Fast University, Lahore Ph: 042-8429134, 0333-432751 |
| 15. | Achievers Institute Lahore | Ph: 042-7068877, 0333-4223991 |
| 16. | Rana Science Academy Lahore | 13 B Main Road, Faisal Town, Lahore Ph: 042-5161762 |
| 17. | Jinnah Academy Lahore | 16 B I, Gulberg III, Lahore Ph: 042-5871597, 0334-4226256 |
| 18. | Raza Academy Lahore | 125 A Faisal Town, Lahore Ph: 042-5162571 |
Ilmkidunya is an absolutely free but authentic educational resource and information system that is available online 24/7 throughout a year. Applicants who wish to appear in MDCAT exam 2023, Ilmkidunya is providing them a complete set of information, so that they feel the great ease in preparing and appearing in the MDCAT and other entrance exams accordingly. Stay updated with academies information such as KIPS MDCAT preparation 2023 or for admissions in other institutions such as Liaquat University of Medical and Health Sciences or Riphah International University or King Edward medical university.
It becomes a matter of great concern for the MDCAT aspirants to choose whichever institution offers the best preparation along with the fact that it suits their budget, location and mindset. So be proactive, explore them all and choose the one that you really find the best for you.
Ilmkidunya has prepared a thorough list of MDCAT preparatory institutions in different major cities, which is as below:
No Record Found!!!