MDCAT paper consists of five subjects including Biology, Chemistry, Physics, English and Logical Reasoning. Total Marks, paper pattern of all these subjects is stated below:
Table Of Content MDCAT Paper Pattern
MDCAT New Paper Pattern 2022
This year MDCAT paper pattern, marks distribution and passing marks has been changed. thus, candidates should know MDCAT passing marks 2022 which are: For Medical college 65% and for Dental college 55%.
MDCAT Marks Distribution 2022
Here, candidates get the most attentic updates regarding MDCAT marks distribution. This year marks distribution has totally changed from prior years, total Marks are 200 and marks distribute according to the Numbers of MCQ's. Students can see the total subjects Marks distribution and percentages of all subjects.
| S.No. | Subject | No. of MCQ's | Percentage |
| --- | --- | --- | --- |
| 01. | Biology | 68 | 34 |
| 02. | Chemistry | 54 | 27 |
| 03. | Physics | 54 | 27 |
| 04. | English | 18 | 9 |
| 05. | Logical Reasoning Questions | 6 | 3 |
| | Total | 200 | 100 |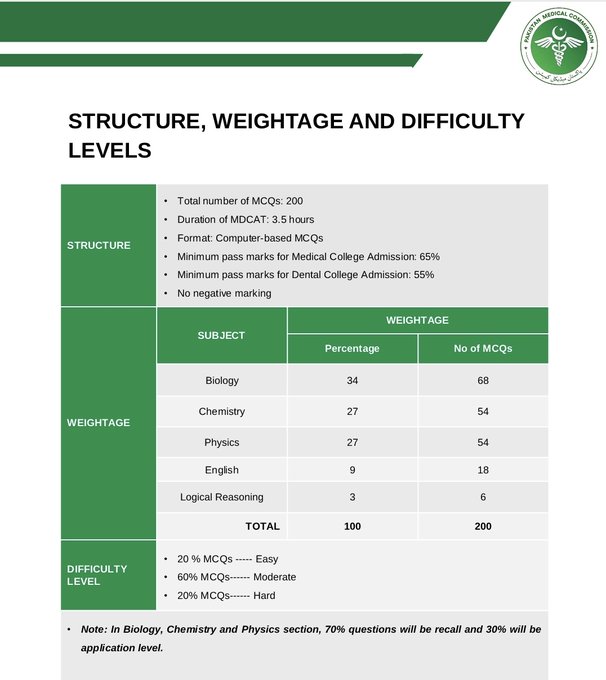 Applicants are informed that each question carries one mark with no negative marking. MDCAT total marks 2022 will be now of 200. Applicants will be offered a duration of 3 hrs and 30 minutes to attempt the paper. Minimum passing marks in Medical College 2022 are 65% and in Dental college are 55%.
Total Marks Of MDCAT Test 2022
Total marks of MDCAT 2022 has been changed. Now this year 200 MCQ's are provided and each carry 1 mark.Thus students have 200 total marks in MDCAT 2022. Every student need to attain maximum marks in MDCAT, therefor they can get admission in Medical and Dental College 2022. In MDCAT Test 2022, all the applicants need to acquire 65% marks which (130/200) for Medical College and 55% marks (110/200) for the Dental College.
Complete MDCAT Paper Pattern 2022 in Pakistan
Medical and Dental College Admission Test, MDCAT is an evaluation test of the students who are interested to start Medical education career. The test is conducted once a year and because of the assessment of this test students are offered admissions in undergraduate medical programs in different medical colleges and universities across the province Punjab. Students who are looking to prepare for MDCAT 2022 are offered the complete MDCAT syllabus and MDCAT paper pattern 2022 in Pakistan here. Students are informed that check out the complete paper pattern and then prepare yourself accordingly.
PMC MDCAT Test Sample 2022
PMC has uploaded MDCAT Sample Test 2022 so that the students can know about the test pattern. this sample will definitely helps the students to understand the structure of paper and how much MCQ's tough to understand. You can also follow this sample test for 2022 MDCAT test.
Students can Check here the sample paper of MDCAT
Get MDCAT Practice By Ilmkidunya
MDCAT is, somehow, a tough exam and is difficult to cover under the given time. But, a good practice can help you to solve the paper within the given time. Applicants who are worried about MDCAT 2022 paper practice and preparation are invited by Ilmkidunya, where they can get the complete solution of MDCAT past year papers. Applicants are informed that they are offered MDCAT online MCQs tests of almost all the subjects comprised of the MDCAT syllabus. Students can start free test sessions here and after practicing again and again you can get a good grip on the paper pattern because the tests provided here are just according to the pattern you are going to face in the examination hall. Get information about paper pattern through MDCAT past papers pdf.