Being a young Muslim it is our duty to practice Islamic teachings in every chore of life. Nowadays most of our fellow students are enjoying summer holidays and are preparing for the blessed month of Ramadan.Your mother and other family members have taken many responsibilities regarding Ramadan and for you they have left just the task to keep fast .But how could you involve yourself in carrying out some Ramadan related activities.
There are several food items mention in Quran which would be served in heaven ,so this Ramadan why not we create a heavenly menu for iftar.Yes, just pick a single food item from heaven and prepare a dish for iftar or sehri daily .Double bounty will be at your hand .1.Ramadan Blessings.2. Heavenly meals at your own dining table
This heavenly offer is not restricted to girls; even boys can participate in such activities by preparing a fresh beverage or something sweet. They can also help in cutting fruits to be served at iftar.
Milk:
The description of the Paradise is stated in Surah Muhammad (PBUH) about the people who promised to the God fearing; therein are rivers of water which never stales; and rivers of milk of which the taste does not change.
We all are aware of the uncounted health benefit of milk and this summer the yummy mango shakes would be dominating the iftar menu .A part from mango shakes you can prepare date shakes as a chilled serving. Both the ingredients are from heaven so don't miss to try a comforting date shake this Ramadan.
"in them [both will be fruits, date palms and pomegranates" [Surah Al-Rahmaan 55:68]
Dates:
Dates are always considered as sacred fruits and they also will be available in Jannah .The following recipe will give you a blend of milk and dates--- the heavenly offering.
The Date Shake: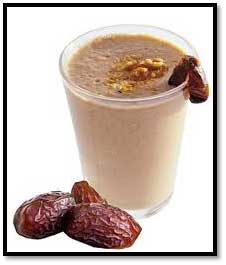 Ingredients:
Dates: 20

Milk: 250 ml.

Cinnamon (grounded): a pinch

Ice cubes
Method:
Wash the dates and un-stone them

Add milk in the blender with dates

Blend till a smooth drink.

Add ice-cubes and blend again.

Add a pinch of cardamom powder

Serve chilled
Walnut:
The walnut tree is also mentioned in Jannah so you can eat walnut to praise your God. The Tooba tree in heaven resembles a tree in Syria called al-Jawzah (walnut) which grows on one trunk then spreads its branches higher up. Everybody is familiar with the health benefits of nuts .Prepare an amazing dish with walnuts to complement the Tooba tree in Paradise.
Walnut Burfi: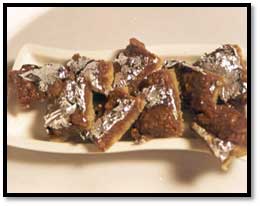 Ingredients:
Walnuts: half cup and extra ¼ cup for frying

Milk: 1/4 cup

Khoya: 250 grams

Sugar: 1/4 cup

Ghee: 1 tablespoon

Cardamom Powder: 1/2 tsp
Method:
Take 1/2 cup of walnuts and add 1/4 cup of milk in it.

Soak it for 1 hour.

Blend the soaked mixture in blender to make a coarse puree

Heat 1 table spoon of ghee in a wok

Add in the remaining 1/4 cup walnuts cook till golden

Drain the ghee and set aside.

In the drained ghee, add khoya and sugar

Mix all the ingredients well, then add the walnut puree and mix well.

Keep cooking till it leaves the sides.

Add cardamom powder and fried walnuts.

Spread the mixture in a lightly greased tray and get it set for half an hour
Pomegranate and Grapes:
Pomegranate is the fruit from Jannah. Different hadiths and verses have confirmed it .Our beloved Prophet Muhammad (PBUH), said:
"There is not a pomegranate which does not have apip from one of the pomegranates of the Garden (of Jannah) in it." (Narrated by Anas bin Malik)
Allah Almighty mentioned in Quran:
"By means of it We produce gardens of dates and grapes for you, in which there are many fruits for you and from which you eat." (23:19)
If these fruits are not available in this season you can take the frozen or tinned pack to make mouth- watering fruit salad an iftar.
Pomegranate and Grape Fruit Chaat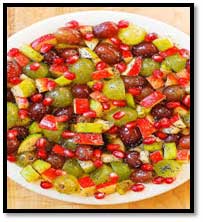 Ingredients:
Mixed Fruits: one bowl, peel and cut them in small pieces

Grapes: 50-60

Pomegranate: 1-2 large size or half cup of seeds

Chaat Masala: 1 table spoon

Sugar:2 table spoon

Tang powder (orange)to sprinkle or squeeze fresh orange juice
Method:
Add chaat masala and sugar in the bowl of diced fruits.

Add grapes and pomegranate seeds.

Sprinkle tang powder or squeeze orange juice.

Mix well and serve cool

You can use fresh fruits whatever u like in the chaat.
You can add Honey in every dish to create the real heaven at iftar
USEFUL LINK:
6 Renowned Fruits Mentioned In The Holy Quran
https://www.qurantutor.com/blog/renowned-fruits-mentioned-in-the-holy-quran/
University Of Management And Technology Umt Lahore
249 Articles
171 Articles
79 Articles
Punjab University PU Lahore
57 Articles
Punjab University College Of Information Technology Lahore
56 Articles
Allama Iqbal Open University Aiou Islamabad
55 Articles