If you are an 'eatoholic' who loves to try new tastes from all over the world the options are limitless. Nowadays teens are generally accused for their indulgence in fast food as these super-sized meals are the real culprits for generating obesity and other illnesses in young generation .Don't worry, if you are a food lover you can now think beyond those traditional Chinese meals or jumbo burgers. Now international cuisine has become so popular in Pakistan that you can chose among wide varieties from all over the world .If you are really frightened of those calorie rich ingredients you can opt for some light menu like baked fish or a vegie treat .The only thing is to hunt a right thing at the right place.
One good news is that researchers have reported in the journal of the American Medical Association that all teens have a tendency to to overeat when a typical "extra-large" fast food meal is served , but normal-weight teenagers make up for the craving by eating less later. Therefore take a break after you taste any new meal and give another try after a month or so.
GYRO and Donors: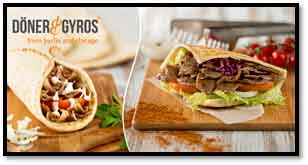 Gyro and Doner are meat treats just like Middle Eastern Shwarma and the three of them are cooked on a vertical rotisserie. However, there is a marked difference among these three cuisines .You might have tasted Shwarma many times and familiar with those trim meat slices, yet Döner kebab belongs to Turkey. Here also the meat is sliced from a vertical rotisserie, wrapped in bread, and topped with veggies but the type of meat, herbs, toppings, and sauces are totally different from Shwarma.
Popular Doner toppings include: white onions, lettuce, red cabbage feta cheese, jalapeno, and traditional pickles, while the sauces are Garlic mayo, spicy ketchup, or tzatziki sauce.
Gyros, in contrast, belong to Greece. Gyros are made from a combination of lamb and beef. The meat is seasoned with a variety of Mediterranean herbs, like: oregano, thyme majoram, and rosemary .Gyro servings are topped with tomatoes, onions, and red cabbage. Specific sauces include: Tzatziki sauce with a blend of hot sauce.
Donors and Gyros are easily available in Pakistan. Currently a German version of these meals is popular with a brand called 'Berlin donor and Gyro'.
Fettuccine Alfredo: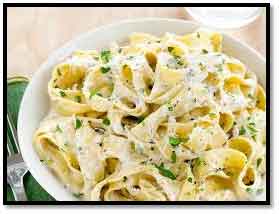 This simple Italian dish has a unique origin. Alfredo di Lelio ran a restaurant the Via della Scrofa in Rome.In 1892, Alfredo made a dish of plain pasta called Fettuccine for his wife who is suffering from nausea and upset stomach. Fettuccine is long, flat ribbons of pasta. In fact the word "fettuccine" means "small ribbons" in Italian. He tossed the fresh-made pasta with butter and Parmesan cheese. Nowadays, restaurants are serving this pasta with shrimps and chicken and they have customized the original taste according to our spicy savors.
You can order this simple Italian Pasta at any continental eatery or Italian restaurants in Pakistan.
Dosa: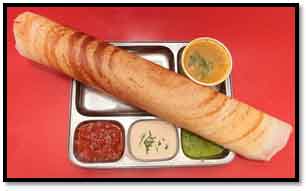 If you or your mom is an Indian soap opera freak, you might have heard or seen the mouth -watering South Indian cuisine ,the famous; 'Masala Dosa'. Basic Dosa is a distinctively flavored pancake, or Tortilla. The wrap is made up of rice and Mash Daal. The delicate crispy pancake is skillfully fried on a girdle and served with filling. The Masala Dosa has boiled spiced potatoes in it .Chicken and Qeema Dosa are other varieties .The side sauces are very unique and add tempting flavor to the cuisine.
Hunt for a South Indian Restaurants around your town to try this amazing South Indian Treat.
Waffles: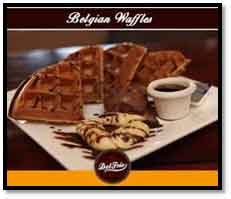 Waffles are popular breakfast dish made from leavened dough that is cooked between two patterned plates to give the waffle a distinguished shape and imprint. There are many different types of waffle iron and recipe available. Waffles may be made fresh or you can use the precooked and frozen packs. They batter leavened with baking powder, is mixed with pecans, chocolate or berries. This sweet breakfast food, is topped with butter, maple syrup, honey, or powdered sugar.
USEFUL LINK:
Top 5 International Foods You Need To Eat!
University Of Management And Technology Umt Lahore
249 Articles
171 Articles
79 Articles
Punjab University PU Lahore
57 Articles
Punjab University College Of Information Technology Lahore
56 Articles
Allama Iqbal Open University Aiou Islamabad
55 Articles