"Without continual growth and progress, such words as improvement, achievement, and success have no meaning" Benjamin Franklin
"Success is not the key to happiness. Happiness is the key to success. If you love what you are doing, you will be successful" Albert Schwei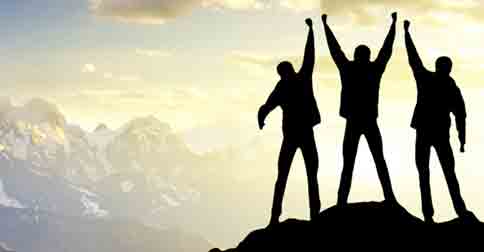 Everyone wants success no want failure. But it is not possible that every person will be successful. The main question is what the successful people are doing more than others are. May be we are not doing those things which the successful people did. There is something different about them and us. We are working hard, working efficiently; always update our skills still not successful like others.
An international study surveyed more than 500 business leaders and asked them what sets great employees apart. The main purpose of research was to see why some people are more successful than others are. The answer was very surprising: Leaders chose "personality" as the leading reason.
Notably, 78% of leaders said personality sets great employees apart, more than cultural fit 53% and even an employee's skills 39%.
The problem is that when the leaders say personality they don't understands what they are referring to.
Personality consists of a stable set of preferences and values through which we approach different people.
There is list of some skills which makes the exceptional employees apart.
They're Willing to Delay Gratification
One thing that exceptional employees never say is, that's not my duty, or that is not part of my job description. The exceptional employees work out of their own job description, they don't say no to work. They are willing to give their whole time to work. Doing different work increase their ability to work. It also increases their skills as well.
They Can Tolerate Conflict
"Whenever you're in conflict with someone, there is one factor that can make the difference between damaging your relationship and deepening it. That factor is attitude" William James
However exceptional employees don't create any conflict and they don't runaway from it. They are very good at presenting their points. They are able to handle things; they know how to reach in every situation without creating any mess.
They remain Focus
"Live life to the fullest, and focus on the positive" Matt Cameron
The exceptional employees never get distracted because of office issues or customer response. They are very motivated towards their goals that whatever happens around them they still maintain their focus towards their life goal.
They're Courageous
"Wisdom, compassion, and courage are the three universally recognized moral qualities of men" Confucius
The exceptional employees are very confident; they can ask any difficult answer. They even can ask to the authority if they are not happy with the decision. But they are very calm person, they know how to deal with other people they say what they are thinking but in such a way that no one mind it. They always think before they speak and handle every situation with very logical way.
They are never satisfied
They are very satisfied; they always think that it can be better. They always think that things can be improved. So they never get satisfy they always focus on improving their work by improving their self, learning new things, doing things in a better way.
They Neutralize Toxic People
They are very good in handling those people who are frustrated and exhausting all the time. The exceptional employees always check their emotions and control them. When they need to deal with difficult people they always observe their emotional situation and use it and calm down the other person in a very gentle way.
University Of Management And Technology Umt Lahore
249 Articles
171 Articles
79 Articles
Punjab University PU Lahore
57 Articles
Punjab University College Of Information Technology Lahore
56 Articles
Allama Iqbal Open University Aiou Islamabad
55 Articles