800 significant writers, academics and other academicians and writers, including American Philosopher Noam Chomsky have raised their voices and showed solidarity with the people in India occupied Kashmir through a letter.
The letter was signed by Noam Chomsky, Mirza Waheed, Nitisha Kaul, Kamila Shamsiem Basharat Peer and others. The letter that was signed showed deep concern about the armed violence enacted by the Indian state through its 700,000 strong army on civilians in the area.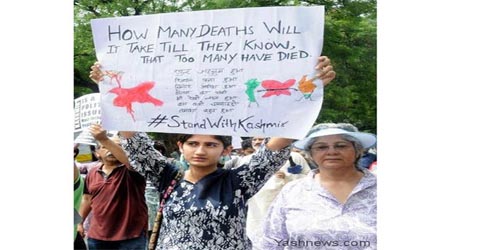 It is mentioned in the letter that more than 50 people have been killed on the pretext o crowd control since then.
Pakistan has firmly rejected the claim that Kashmir is an important part of India and has demanded that the matter should be solved under the applicable resolutions of the United Nation Security Council.
The socio-political Commentator from Harvard, American linguist and political activist Prof Noam Chomsky compared the current conditions in Kashmir to that of Palestine. He says that the current situation in Kashmir is shocking. He also assured that he would do the same for Kashmir as he did for Palestine.
University Of Management And Technology Umt Lahore
249 Articles
171 Articles
79 Articles
Punjab University PU Lahore
57 Articles
Punjab University College Of Information Technology Lahore
56 Articles
Allama Iqbal Open University Aiou Islamabad
55 Articles