During the past decade, touchscreen computers have attracted lots of people. Special thanks to the state-of-the-art and innovative tablets and iPads, now every person on this globe is enjoying this facility. Due to constant upgradation in technology and added-on features in tablets and iPads, Microsoft found themselves under pressure because they were not able to launch inventive desktop PCs. So after rigorous thought process and out-of-the-box thinking and execution, Microsoft was finally able to launch their touchscreen monitor with a unique set of components and creative features to turn the workplace table into an interactive touchscreen. This imaginative touchscreen monitor can basically be used as a drawing table or a canvas because this monitor can be adjusted in a horizontal position. The users can now draw, paint as well as sketch on one side and can enjoy watching videos and playing games on its large screen. All of these features are possible because of Surface Studios Zero Gravity Hinge which allows the customers with incomparable levels of adjustabilities and screen positions. Although all other companies like Dell and HP have their own all in one computer, and all these companies are inspired by iMac. But Surface Studio has taken all these ideas of different companies into a new direction.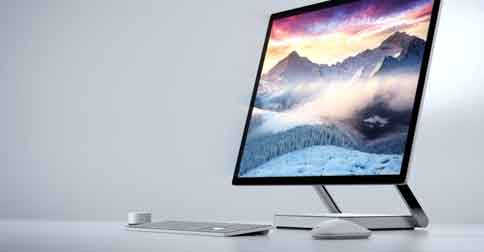 Microsoft launched their Surface Studio in December 2016. Since the touchscreen monitor was one of its own kind and was Microsoft's first ever experience so there was not too much stock of their Surface Studio machine. Since it was not available in the market so not many layman people are familiar with Surface Studio. It has got good features like Skylake Intel Core I processors, and also has Nvidia GeForce GTX 900M-series graphics. Because of these features, it is quite expensive but it all depends on its popularity and people's demand if they are willing to pay the high justified price for these amazing features.
Microsoft Surface Studio has a brilliant screen for creative minds. It has large and 28" PixelSense™ Display. You can use it to draw your ideas and make a beautiful picture edit it redesign it with beautiful colors. Surface Studio is befitted for professional artists and graphic designers since it has professional grade software inbuilt in it. These soft wares include:
Adobe Premiere Pro

Solidworks

Autodesk
It has many unique tools like Surface Pen and Surface Dial. The interesting feature about Surface Studio especially for artists is that they can reinvent tools as well as per their convenience. Surface Studio also comes with a Bluetooth mouse and keyboard so that users can carry these two anywhere they want to go.
Well, it's like you can't stop talking about luxurious and high-tech features of Surface studio. We all use a password to secure your PC or IPad. But Surface Studio has a different way of securing your PC, it has face recognition feature you just sit in front of it, and it opens without asking any password. It will recognize only your face and open only for you. Well, this feature has already been incorporated in Surface Studio before iPhoneX folks!!!
List of Surface Studio Eye-catching Features
CPU: It has GHz Intel Core i7-6820HQ (quad-core,with 8MB cache,up to 3.6GHz)

RAM: It has 32GB DDR4

Graphics: Nvidia GeForce GTX 980M (4GB GDDR5 VRAM)

Screen: It has 28.125-inch, Pixel sense Display

Storage: 2TB,5,400 rpm Rapid Hybrid Drive Storage (128GB SSD)

Ports: 4 x USB 3.0, SD card reader, mini DisplayPort, headset jack

Connectivity: 802.11ac Wi-Fi, Bluetooth 4.0

Operating system: Windows 10 64-bit

Camera: 5MP Windows Hello camera

Weight: 21.07 pounds (9.56kg)

Size (display): 25.09x 17.27 x 0.44 inches (63.7 x 43.9 x 1.14cm W x D x H)

Size (base): 9.84 x 8.66 x 1.26 inches (25 x 22 x 3.22cm W x D x H)
University Of Management And Technology Umt Lahore
249 Articles
171 Articles
79 Articles
Punjab University PU Lahore
57 Articles
Punjab University College Of Information Technology Lahore
56 Articles
Allama Iqbal Open University Aiou Islamabad
55 Articles