"We shall not cease from exploration and the end of all our exploring will be to arrive where we started and know the place for the first time"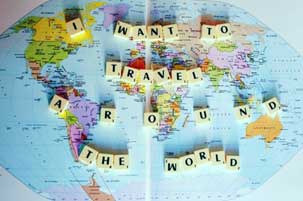 In the past travelers used to carry a guidebook whenever they go to abroad and exploring the world or finding different places in new cities. But now we do not need any guidebook when we travel all you need is a mobile and apps to explore the world. Here the list to apps which will help you whenever you visit new cities.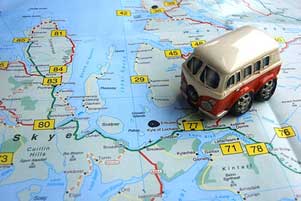 Viber
This app is very useful for communication in abroad. The app is used with the help of Wi-Fi. The app has very good features like text to your relatives or friends. It's not necessary that other person have the same app for use there is a feature of Viber out that lets you call contacts in your phone.
Tile
This app is very useful for those who have a habit or misplacing their stuff. This thing happened a lot when we are traveling. This app help you to find your stuff, it can find any stuff like keys, wallet, laptop, this app can track your stuff where ever it goes. Tiles use Bluetooth to create a link between your phone and Tiles, so you have help in finding your stuff which you have misplaced.
SayHi Translate
Every person follows his or her own country language. So whenever we go to visit a new country it is very hard to talk to them or understand them. SayHi Translate makes the translation from country to country very easier, it translate the new language into your own words so you can understand them. Its use is very simple just speak into your phone and it will translate it into your own language or any language you desire.
Amount
Currency conversion can be a difficult thing, but that is not the only issue. The Amount app is a unit and currency converter and not only helps you to navigate monetary exchanges, but it has some more categories like speed limits, fuel consumption, cooking and even your cloth size, if you want to buy any new dress in another country. It has almost 700 different units in over 30 categories.
Food spotting
It is very hard to get to know in overseas that which place is good to have some food. Yes, it's possible to just see restaurant's menu to know what they sell, but it is possible they may mislead you. So Food spotting app is very useful in this case, here people post pictures and reviews of different dishes which they have tasted and appreciated. This app currently features over four million dishes. Use this app to get to know what is best to eat and from where to eat when you are in a new country.
Like a Local
Tourists are available in every country, but hey normally miss guide about the places. So don't get trap by them and use Local app, in this app people give reviews about places and insights about their favorite places in town. So you can check those reviews and go see all those places which are according to your taste.
Speed Spot
Everything we do now depends on internet because we rely on apps which do not work offline. So you need to download Speed Spot. This app helps you to search and even test the Wi-Fi of local hotels, cafes, and restaurants. No matter where you are or where you are going you will never have to be without internet access.
University Of Management And Technology Umt Lahore
249 Articles
171 Articles
79 Articles
Punjab University PU Lahore
57 Articles
Punjab University College Of Information Technology Lahore
56 Articles
Allama Iqbal Open University Aiou Islamabad
55 Articles