Productivity is a word that has been grabbing people attention for a while. In today's rush life employers opt for productive employees rather than people who just look busy. Since productivity is the usage of resources efficiently to provide best end result in the minimum amount of time. Other than work, productivity if incorporated in daily routine, tasks can be accomplished in a more organized manner.
As everyone is working hard for better future, hence focus should be solely on outcome rather than the process. But procrastination is a part of human nature, we as human beings make excuses and try to avoid hard work but still expect a fruitful outcome. It is the high time to break this routine to achieve our goals.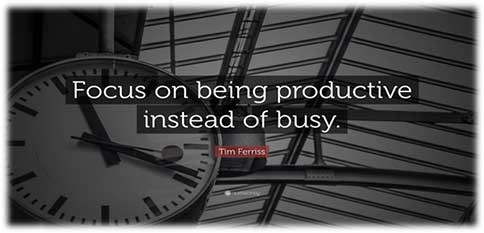 In this post, I am going to discuss different ways through which productivity can be built over time, also what patterns you should avoid to become productive.
Productive people
Schedules
Maintain schedule with few major tasks to accomplish during the day. Their complete focus is on one thing at a time. Only 20 percent of what they do each day produces 80 percent of their results. They eradicate the tasks that don't matter or have a minimum effect on your overall productivity. They avoid multitasking that slows down overall process resulting in a poor outcome. While multitasking, you bound your skills to concentrate on different tasks. Productive people utilize their potential that they have by focusing it on one task. They don't fill their schedule with insignificant things such as running errands rather keep their focus on achieving high price outcome.
Every door is not your door
Every opportunity is not "the opportunity", they think before acting on some vague idea or a project. In addition, they think through before accepting an offer. Often, piled up work leads to stress and none of the tasks can be completed properly. They avoid agreeing to all opportunities that knock at their door. This avoids them from getting overworked and then end up getting nothing completed.
Evaluate
Make time to evaluate their progress and shortcomings. They are aware of their weaknesses and utilize them to get the best possible result. They avoid taking up tasks without setting prior goals. This helps them in attaining long term goals.
Plan ahead
Have a planner with them containing all the agendas. Set organized goals and firm boundaries. They mark out strategies to achieve their short term and long term goals. They avoid starting a project without strategizing and breaking down tasks in milestones. They know tasks if not strategized, can lead to accomplishing useless targets whilst delaying the required output.
Output oriented
Are output oriented, they spend less time in completing a task as they are driven by results. For them measuring the quality of output in preferred over the amount of time spent on a certain task. They avoid being process oriented that is the measurement of time spent on a certain task rather than the output. They avoid wasting time and looking busy without any outcome.
Let success make all the noise
Usually, are indulged in completing their tasks, so their success makes all the noise. They void telling others how busy you are and cannot get tasks done. Instead productive people work hard and manage their personal life.
Productivity is not something you get up one day and decide to try it. It's a system in accordance to which life is organized and made successful. I leave you with a question to ask yourself in what ways are you stopping yourself from being the best version of yourself and in achieving all that is that you dream of.
University Of Management And Technology Umt Lahore
249 Articles
171 Articles
79 Articles
Punjab University PU Lahore
57 Articles
Punjab University College Of Information Technology Lahore
56 Articles
Allama Iqbal Open University Aiou Islamabad
55 Articles