| University / College | Courses | Post Date | Last Date | Notice |
| --- | --- | --- | --- | --- |
| | | 05-Mar-2023 | 06-Apr-2023 | |
| | | 14-Feb-2023 | 30-Mar-2023 | |
| | | 26-Jan-2023 | 10-Feb-2023 | |
| | | 25-Jan-2023 | 10-Feb-2023 | |
| | | 11-Jan-2023 | N/A | |
| | | 08-Jan-2023 | N/A | |
| | | 05-Jan-2023 | 30-Mar-2023 | |
| | | 04-Jan-2023 | 10-Feb-2023 | |
| | | 30-Dec-2022 | 07-Jan-2023 | |
| | | 30-Dec-2022 | 30-Mar-2023 | |
The LLB Degree Program is one of the most sought-after programs by students due to its immense value. You can attain prestigious positions in the field of law by becoming LL.B graduate and gaining honour and respect in your society.
LL.B Degree Field
The legal career field is one of the most highly paid career fields in Pakistan. Therefore, many students want to study LL.B degree courses, but only a few are chosen to get this prestigious honour. The LLB degree offers the potential for students to pursue higher studies abroad for Law as well complete LL.M degree courses.
LL.B Degree Worth
The LL.B degree course is an excellent choice for those students who wish to become highly successful, but it demands dedication and commitment from students due to Law field complexity. LL.B course offers a very nice balance of general and law courses along with the inclusion of Pakistan laws as well.
LL.B Degree Electives
The students of LL.B degree will also get the opportunity to study various Elective & Compulsory courses like law and economics, competition law and Antitrust, International Finance Law, Intellectual Property, Law and literature, Practice of International commercial arbitration, among others.
LL.B Degree Universities Islamabad
The Capital offers some of the best Law Colleges and Universities in Islamabad, such as International Islamic University, Bahria University, Islamabad School of Law, National University of Science and Technology, The Institute of Legal Studies, School of International Law(SIL), Federal Urdu University, Quad-e-Azam University, Hamdard University Islamabad, among others.
Quaid-i-Azam University Islamabad LLB Admission 2022
If you are looking for your law admission in Islamabad, Then there is a good news for you that, your favourite Quaid-i-Azam University has announced the LLB Admission schedule. Quaid-i-Azam University is a federal public sector Institute in Islamabad and thousands of students wait to announcement of admissions. Now University announced the admission schedule. Faculty of social sciences, Admissions are open in BA LL.B Degree. Applicants are invited from Pakistan and Foreign Nationals for admission to LLB degree program. Quaid-i-Azam University Islamabad Fall Admission 2022 last date to apply is 20 September, 2022. Applicants seeking admissions in Law are advised to register themselves with HEC for LAT Law Admission Test.
The Quaid-i-Azam University is providing scholarships / financial assistance to the Pakistani students. Admission shall be done on the basis of cumulative merit and academic record only and LAT test passed candidates will be considered for LLB Admission.
Quaid-i-Azam University Islamabad LLB Eligibility Criteria
Intermediate degree holders from any recognized board are eligible to apply
Result awating candidates can also apply
Only LAT Law Admission Test Passed candidates will be considered for admission
LLB Admission 2022, last date to apply is 20 September, 2022
Apply online at www.qau.edu.pk website
International Islamic University LLB Admission 2022 Revised Dates
The International Islamic University (IIU) Islamabad has been announced the revised admission dates 2022. Admissions are open in different Undergraduate and Graduate programs, multiple faculties. Previous, the last date to apply was 29 July. Now the University extend the last date to apply till 05 August, 2022 Faculty of Shariah and Law, department of Shariah admissions are open in BA/LLB (Hons) Shariah & Law (5 Years) degree program. IIUI LLB Program offered to both Male and Female candidates. Apply online at www.iiu.edu.pk website, before the last date. Here you can check the IIUI LLB admission requirements
International Islamic University LLB Eligibility Criteria
HSSC or equivalent 12 years education with minimum 50% marks
Applicant with HEC-Law Admission Test (LAT) passed result are eligible to apply
The merit shall be determined on the basis of LAT along with the previous qualifications as per university regulations
IIUI LLB Admission 2022, last date to apply is 05 August, 2022
Apply online at www.iiu.edu.pk website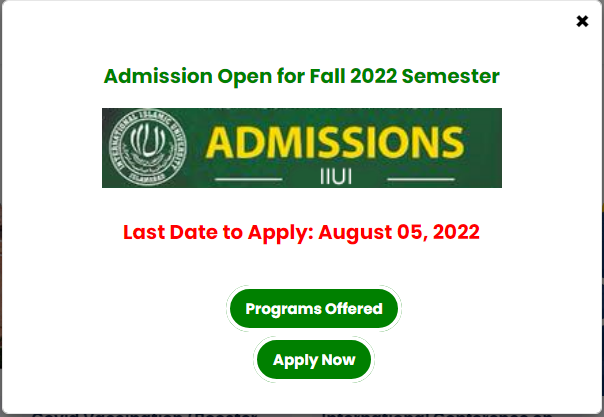 Bahria University Islamabad LLB Admission 2022
Bahria University has been announced the admission schedule. Admissions are open in Bahria University's Lahore, Islamabad and Karachi campus. Bahria University is the federally chartered public sector University and was established by the Pakistan Navy.Bahria University Islamabad Campus recently announced the admissions schedule. Fall 2022 Phase 2 Admission are open in multiple Bachelor's, Master's and PhD programmes for different faculties including the Bachelor of Law (LLB). Last date to apply is 28 July, 2022 and Computer based test will be held on 30 July, 2022
Bahria University Islamabad department of UG program, admissions are open in LLB (Hons) 05 Years program. BU LLB program, total semesters are 10 and credit hours are 166. Bahria University LLB Fee structure is Rs 475,700 / complete course. Here you can check the eligibility requirements of for admission in LLB program
Bahria University LLB Eligibility Criteria
The candidates having passed Intermediate examination are eligible for admission
A-level students also eligible to apply
Apply online at www.bahria.edu.pk website, before the last date
Admissions are also open on merit based scholarships
NUST University LLB Admission 2022 in Islamabad
National university of science & technology (NUST) is the top ranked university of Pakistan. NUST has different sub-campuses in Rawalpindi, Risalpur, Karachi and Quetta cities. The university recently issued the admission advertisement 2022. NUST University Islamabad admissions 2022 are open in multiple undergraduate programmes. NUST Islamabad LLB Admission 2022 are also open in Bachelor of Laws (LLB) 05 years program. Last date to apply is 24 June 2022. Apply online at ugadmissions.nust.edu.pk online portal, before the closing date