Women comprise more than 50 percent of Pakistan's total population. Despite this, on an average, the situation of Pakistani women in compare with men is one of systemic gender relegations, although there have been attempts by the government and progressive groups to elevate their status in society. In 2012, the World Economic Forum ranked Pakistan and Yemen as the worst in their Global Gender Gap Report. Having said that, several Pakistani womenfolk, especially in the rural areas, have suffered due to violence, like rape, acid throwing, honor killings, forced marriages, forced prostitution, etc, which were committed on them.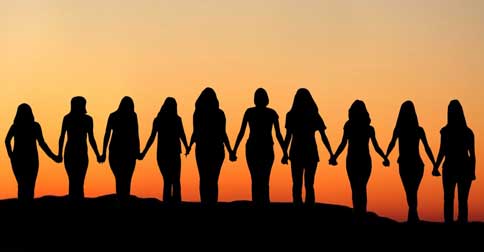 Quaid-e-Azam said in a speech in 1944, "No nation can rise to the height of glory unless your women are side by side with you" we are victims of evil customs. It is a crime against humanity that our women are restrain within the four walls of the houses as prisoners."
The lives of Pakistani women have changed during the past 20 years and they are more empowered and liberated then they were ever before. Women empowerment refers to the ability of women to transform economic and social development when empowered to fully participate in the decisions that affect their lives through leadership, training, coaching consulting and the provision of enabling tools for women to lead within their communities, religions and countries.
Women empowerment generally has three components. Firstly, women's sense of self-worth. Secondly, their rights to have a power of control their own lives, both within and outside home. Lastly, their ability to influence the direction of social change to create a just social and economic order nationally, internationally and universally.
Empowerment has multiple, interrelated and interdependent dimensions:
Economic: Economic empowerment means to empower women economically by giving her rights of properties. Lands, financial responsibilities, adequate shares in jobs, business opportunities etc.

Social: In social dimensions, it means women's social status should be equal to that of man by avoiding all discriminations based on injustice and inequality. Accordingly the women are required to have respectable status in society, importunity to raise voice, struggle etc.

Personal: Personally, they should be given equal liberty and freedom in their personal affairs, such as, in case of marriage, vocational pursuit etc.

Political: Politically, women should be empowered by reserving their seats in national as well as provincial assemblies and providing their independent right of one woman one vote.
As a whole, women empowerment aims at providing women with their social, economic, political and personal rights.
Advantages and Disadvantages
Cultures and countries that educate women see an overall decrease in birthrate, with a population problem, that's an advantage. Women from educated circles tend to have children later in life, and fewer of them, and there's a correlation with drops in overall crime because you have more established people taking care of children. Furthermore, providing women birth control also aids in this exertion, and by decreasing family size, each family has overall more funds, which creates a general decrease in poverty.
The disadvantage of empowering women is that when you preach total equality, you might lose gender identity. There are differences between men and women that should not be blanketed by extreme equality measures; women are simply better at teaching, men are simply physically stronger. These differences should be embraced and taken advantage of rather than masked. Also, in the endeavor to empower a particular group, sometimes people feel entitled simply because they belong to that group. For example, there seems to be a sense that "women should be respected" regardless of how they act. People should be respected, if they deserve respect. I've met plenty of stupid, classless women that insist you treat them a certain way simply because they are women. No, you earn respect, regardless of whether you're a man or a woman.
More Articles From
Saffa Tariq
University Of Management And Technology Umt Lahore
249 Articles
171 Articles
79 Articles
Punjab University PU Lahore
57 Articles
Punjab University College Of Information Technology Lahore
56 Articles
Allama Iqbal Open University Aiou Islamabad
55 Articles