Actually Pakistan doesn't have a good reputation when it comes to the rights of women. Some prominent activists working for the rights of women in Pakistan include Sharmeen Obaid Chinoy, the winner of two Oscars for her documentaries on honor killing as well as acid-attack victims; and Malala Yousafzai, the Nobel Prize winner for her work on education of girls.
The two personalities that are mentioned above have been lauded all over the world for their great efforts however they are not alone in their fight. Women from all the backgrounds across Pakistan are embroiled in this fight for their rights. They may not get much limelight, however they do their part.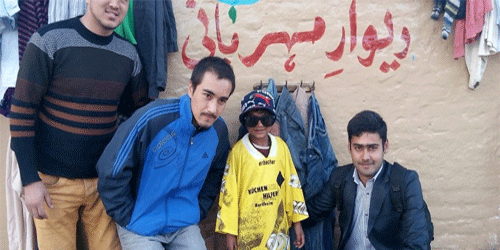 Usman Awan (Owner of StepForward Pakistan)
Let's meet Step Forward Pakistan, originated by Usman Awan a social activist who wishes to fight for positive cultural, moral as well as religious values of Pakistan.
You might also like: Refugee girls, hoping for more than survival, need education: Malala
As per the social activist Usman, he has observed a large number of harassment issues in work places, educational institutes and also in public transport which is his reason to fight against this corrupt crime.
According to him, in 80% of the harassment cases the oppressor takes benefits of womens' helplessness, weakness as well as the fact that they don't raise their voices against these crimes.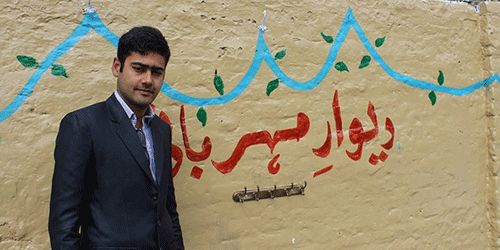 The Girls studying in universities and in colleges desist from communicating such issues to their parents for the fear of their educational career being risked.
Large number of harassment victims hushed down only because they are looked down upon in the society and no legal reports are filed.
---
Most women are not aware with this fact that the law of Pakistan gives them complete protection against sexual harassment.
---
It has become very important that efforts should be made to spread this awareness so that every female gets to know what harassment actually is and how to handle these issues through self-protection and through the means of law enforcement.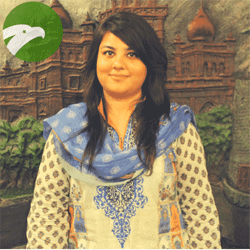 Fatima Butt
In light of aforementioned situation, Usman joined hands along with his friend Fatima Butt to start encouraging Pakistani women against this crime.
Fatima Butt, who is also a social activist is working for women rights and fighting against sexual harassment in Pakistan. She is a lawyer by profession and she has done Bachelors in Law (LL.B) and she also holds a Master's degree in History from University of the Punjab.
You might also like: Women as a Pillar of Development
Even as a young girl, Fatima observed sexual harassment in society and declined to close her mouth. Fatima decided to raise her voice against this crime faced by large number of women in Pakistan and also in the entire world.
Fatima says,
---
Being a girl, I know very well the mental torture that a woman bears because of the unwanted peep and glare, touch, and immoral offers.
---
I saw a lot of girls leaving varsities and resigning from offices because of this matter however I dared to take an action against it and promised to save girls suffering from this mental distress.
During her university days, she staged and supervised various seminars to increase awareness regarding sexual harassment.
Last year, Fatima proactively started working for women rights and also joined hands with Step Forward Pakistan in this regard and now helping them as a legal adviser.
Away from that, she still finds the time to participate in many social activists to further her source. She wishes to remove the sexual harassment against women at institutes and workplaces and promoting women rights awareness and has her own Facebook page, where she educates girls regarding this issue.
The main mission of Fatima is to provide legal help and state-level protection to women who are facing sexual harassment and are unable to raise their voice because of one reason or another.
She believes that preemptive use of constitutional laws is essential to change the society and the only way to do that is by giving out severe punishments to the guilty of sexual harassment.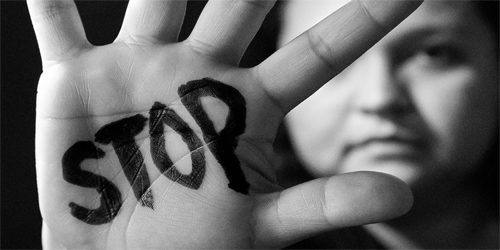 Sexual Harassment in Pakistan
As per the research conducted by UNISON in 2008, over 50% of working women face sexual harassment in Pakistan. Almost 24,119 cases of violence against women were reported during year 2008-2010, among of which just 520 workplace harassment cases were filed (Parveen, 2010).
Some of the largest institutes of the country and also companies have failed to tackle this issue.
The largest university of the country, University of Karachi, has notoriously failed to control the flow of sexual harassment cases whereas the largest airline of the country, PIA, was litigated by a hostess for sexual harassment.
A brilliant fast bowler, Haleema Rafique, ended up taking her own life because of the same matter.
In 2013, the situation was more shocking. Almost 7733 cases of violence against women were reported in media. 1516 were murdered whereas 472 were killed for the reasons of 'honor'.
Here, the main issue is that women do not report cases of sexual harassment, afraid of the resulting shame they stand to face at the hands of the society.
Furthermore, it is not easy for a woman to prove harassment because it demands witnesses as well as evidence. Some other factors of not reporting include the fear of losing jobs or being defamed as a victim of harassment.
University Of Management And Technology Umt Lahore
249 Articles
171 Articles
79 Articles
Punjab University PU Lahore
57 Articles
Punjab University College Of Information Technology Lahore
56 Articles
Allama Iqbal Open University Aiou Islamabad
55 Articles