Understanding the Basic Concepts Of VPN
VPN (Virtual Private Network) is a highly useful and interesting technology that's used by the people in all corners of the world for safe web browsing and to access blocked websites in their areas.
In fact, in a number of top IT jobs in Pakistan and other countries, VPN is often brought up in the interviews too. So, whether you a tech-savvy user who loves to learn about new technologies or someone who is building a career in the IT industry, it will help to learn about the basic concepts of the VPN.
What is a VPN?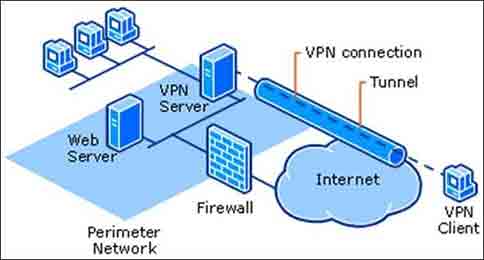 A VPN is a network service that allows you to protect your data as well as your privacy when you access the Internet. This is because it creates an encrypted network, a safe tunnel, if you will, between your system and the server it connects you to for the Internet access. This means that no one can see the traffic that goes across your system and the VPN server, including your own ISP (Internet Service Provider) and the other users that are connected to the wi-fi network you are using.
Basically, VPN does two things to give you a high level of security and privacy. These are:
It replaces your current IP (used to identify different users on an Internet network) with a randomly generated one. This means that your identity is completely concealed.
It creates a private tunnel for the traffic to pass between your computer and the VPN server.
How can you use a VPN service?
A VPN service is generally available in two formats-
Standalone software (PC or Mac) or app (Android and iOS)
Browser plugins (Chrome, Firefox, etc.)
Using both of these is pretty simple and easy. However, they have different advantages and disadvantages which are discussed below.
Browser Plugins
VPN plugins are just like other types of browser plugins you use. These can be easily integrated into your web browsers such as Google Chrome or Mozilla Firefox to enjoy the service. They are also usually quite cheap, or even free! However, they do come with some drawbacks.
The biggest drawback of the browser plugins is that more often than not, they aren't VPN at all! A lot of companies market their plugins as VPN which are in fact only a proxy service. Thus, your data and privacy aren't as safeguarded as you may think. In addition to that, many of these (especially the ones that are free) are malicious in nature which do the exact opposite of what they're supposed to do, which is protecting your privacy.
Such plugins instead collect your information and hundreds of thousands of other users in a database which they can sell to marketers and other companies. For instance, as per a recent report, researchers found all kinds of viruses and spyware in "alarming" number of VPN apps on Android phones!
Standalone Apps
If you want the highest level of security and protection then you can't go wrong with any of the top standalone VPN software that are available in the market. For instance, if you need the best VPN for twitch, then you can check this guide.
If you are willing to invest in a paid VPN software, then you can enjoy a variety of premium features such as faster Internet, better customer support, and lots of server choices.
The only small drawback of using a full-fledged VPN software is that users who are not good at the technical aspects of software may find it somewhat difficult to set up the program.
VPNs are a great way to access location-restricted content online as well as to enjoy web browsing in a safe environment. You can also save a lot of money by making online purchases such as Netflix subscriptions, steam games, etc. from locations that are offering the lowest prices. However, it's important that you pick your service carefully and look for one which is reputed and reliable.
University Of Management And Technology Umt Lahore
249 Articles
171 Articles
79 Articles
Punjab University PU Lahore
57 Articles
Punjab University College Of Information Technology Lahore
56 Articles
Allama Iqbal Open University Aiou Islamabad
55 Articles