Standardized tests are an important part of applying to college, and like them or not, you need to be prepared to increase your chances of getting in your top school. Standardized tests can be stressful, but you can make the process easier with these standardized test prep tips.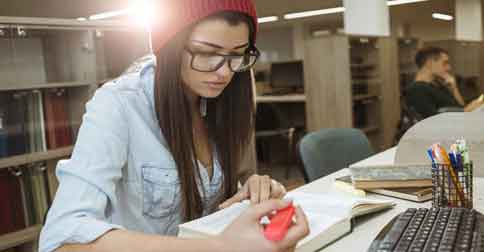 Figure out what kind of learner you are
One of the best ways to maximize your study time and efforts is by figuring out what kind of a learner you are, and then modifying your study habits to fit your learning style. For example, some people are auditory learners – the learn and remember information best after hearing it. Other people are tactile learners, who benefit from writing out information to better retain it. Still others are musical learners, visual learners, and more. By figuring out your unique learning style, you'll be able to tailor your study habits to help you retain information better. Flashcards won't help you if you are an auditory learner. Figure out your learning style and start using it today.
Find a study group
Studying for standardized tests is a taxing process, and studying alone all the time can really weigh on you. It's great to spend some time alone to figure out your own studying process, and practice your unique learning style, but it's easy to get in your own way when you don't have any outside opinions to break up the monotony.
So, change things up by finding a test study group, or by getting a tutor. A tutor can help instruct you on proven methods for studying and performing well on tests. They teach this exact thing for a living, and may be able to show your shortcuts that will save you time and frustrations, and ultimately earn you a better grade. If your current studying process isn't working well, consider getting a tutor or finding a study group
Find other essays for inspiration
With most standardized tests, there is a written portion where you will be required to write an essay, or at least a handful of short answer questions. Work on honing your writing skills prior to the test, and find an essay structure that's easily repeated, regardless of the prompt that you are handed. A great way to do this and prepare yourself for essay writing is to find essays previously written for standardized tests or other formal scenarios, so you can see an example of what works well, and get some ideas for your own use. Sometimes, the best inspiration comes from other proven examples, so use these resources to your advantage if you have access to them.
Preparing for a standardized test isn't easy, but it can be a lot easier with the right proven formulas and systems. Figure out your learning style, hire a tutor or join a study group, and consult with other resources that can help you figure out these formulas, and you'll be well on your way to success. Success leaves tracks – so be sure to follow those tracks whenever you can.
University Of Management And Technology Umt Lahore
249 Articles
171 Articles
79 Articles
Punjab University PU Lahore
57 Articles
Punjab University College Of Information Technology Lahore
56 Articles
Allama Iqbal Open University Aiou Islamabad
55 Articles