English is a common language, It is taught in every school. But not all the students are comfortable with this language, many students face so many problems when they learn speak English or writing it. There are so many books available in the market through which you can learn English, but now the technology is advanced so much that you can learn English through help of some mobile apps. There is list of those apps which will help you to learn English in a easy way.
Duolingo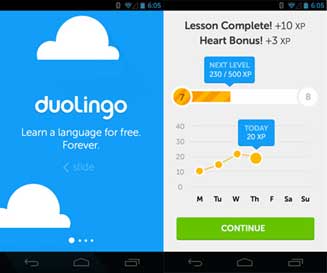 This app is very using full to learn English and then check your skills of English with its gamified learning system. Normally apps a have a simple profession lesson, but Duolingo structures your lessons as a skill tree, with some skill points as well. This helps you to track your learning progress, that how much you have learned English and improved your skills. It also have another feature lives system that will encourage you to answer each question correctly.
Memrise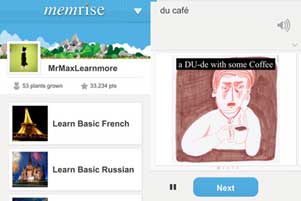 Memrise app offers al large variety of courses in different languages including English, this is all for free.
These courses which the app offers are constructed by Memrise community. The app integrates with your main Memrise.com account, but it also offer an offline mode so that you can continue learning if you don't have internet everywhere. Memrise also has some elements of gamified learning as well.
Lingua.ly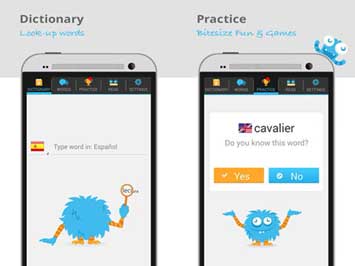 It is a multi-task app it has a feature of learning English as well as learning vocabulary. It uses a proprietary language- processing method that makes it able to recommend real texts to you, based on any text in which you are interested to read or learn and some vocabulary tests or your interest. This means that you are nor bounded to texts written specifically for learners and can read real text as well in any language you like. It is very useful app especially if you really wanted to improve your language and having a good command on language.
Learn English Grammar UK Edition | US Edition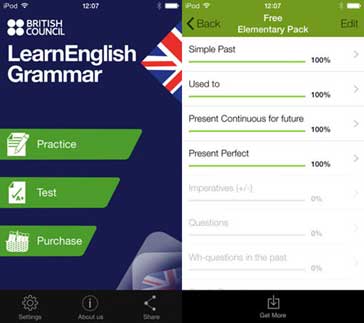 This app is developed by the British Council. This app is developed to help improve your green; the main purpose of this app is to help you improve your grammar. This app has both UK and US English editions offer four levels of questions, starting at the opening level, and going all the way up to Advanced level. Each level covers 12 grammar topics, with 20 activities per topic.
Johnny Grammar's word Challenge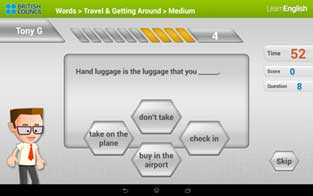 This app is a fun quiz application that tests your spelling, grammar, and vocabulary. This app will give you tests ask you to solve question answers within 60 seconds. There are three levels of question answers easy, medium, and difficult. There are ten different question topics including Food and Restaurants, Small talk and Hobbies. This app provides you a great opportunity to compete with other users on a global leaderboard.
Speaking Pal English Tutor
Speaking Pal English Tutor app is very useful to learn English by using your devices voice-recognition technology to stimulate a voice call with a native English speaker. This will definitely help you to improve your English. This app will provides you more than 100 levels and a slot of different dialogs, sentences, and vocabulary items. But you have to pay for most of the levels, but app is free till level 16.
My Word Book 2
It is an interactive vocabulary notebook app. This app will help you to learn important words of English which we can use on daily basis in writing or communicating with others. This app contains different pictures, sounds, and sentences to help you remember these words. All words are sourced from Cambridge University press learner dictionaries. It has more features like you can create your own flashcards or a quick work review.
University Of Management And Technology Umt Lahore
249 Articles
171 Articles
79 Articles
Punjab University PU Lahore
57 Articles
Punjab University College Of Information Technology Lahore
56 Articles
Allama Iqbal Open University Aiou Islamabad
55 Articles