Innovation is need nowadays people want new things they want change in their life they prefer different style of stuff all the time as it is said.
"Without change, there is no innovation, creativity, or incentive for improvement. Those who initiate change will have a better opportunity to manage the change that is inevitable" William Pollard
Innovations happen on daily basis in every field new designs are made in every field like in clothes shoes, mobiles apps, and cars as well. But innovation is needed because people get tired of stuff and always look for something new. Here is list of some stationary products which will amaze you.
Kezuri Cap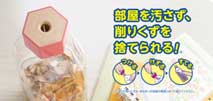 Japan has made a new kind of sharpener; we have seen so many styles in sharpeners shapes colors. When we search sharpeners we find so many kind of it. Some are cartoon ones which people like the most. This is a new kind of sharpener it works in combination with an empty plastic bottle. Basically, the bottle is attached to fill it with waste of the pencil. This is helping you to keep your desk clean. This bottle is 500ml which can hold around ten pencils waste, it means you don't need to change the bottle very soon. This sharpener is in different colors and its price is $ 3.
Aritayaki Ballpen

This is basically a very beautiful pen that implements a very traditional Arita ware in its design. This product took almost two years to be made because of quality issues and some difficulties that goes with the expansion and contraction process. This pen is a very expensive innovation it will cost you 1000$.There is so many designs available in this pen.
Kurutoga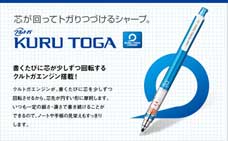 Every student and adult in Japan use lead pencil at work and school. Kurutoga is a new type of lead pencil when you use it this mechanical pencil lead turning as you write, keeping it sharp all the time. This mechanical or lead pencil is available on Amazon and its price is just $5.
Air Press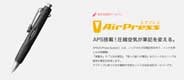 This pen is made for those who spend time working near water, it's possible you are a swimming coach for example. Air press is suitable for fast-scribbling or writing on moist paper by pushing out compressed air to emit ink whenever there is force. Air press is available for rupees $6.You can buy it from Amazon anytime.
Harinacs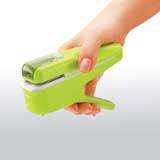 Harinaca ( its roughly meaning is "without staples") it's a paper stapler that does not use any typical metallic pins. Instead, it folds apart of the paper to bind sheets together, able to handle up to eight sheets in one time. Now you don't need to refill the stapler with pins which we were doing from our childhood.
Frixion ball pen

When we write something with ball pens we can't remove it we normally cut it and move on but it look bad.Japan has introduced a new type of ball pen when you use it, you think it's a normal pen but there is a rubber on back of it and with the help of it you can erase anything which you have written with this pen.
Digital Pen
This new and very innovative pen. There is digital pen and USB drive work together, you write with this pen on a flat surface, and everything which you have written with the pen is automatically save in the USB drive.
Cramp Free Pen
A very innovative pen. This pen is made with aluminum; this ergonomic pen has a rubber on its three sides for your index finger and them as well. This pen basically ensure reliability, smooth writing without any cramp on your hand.
University Of Management And Technology Umt Lahore
249 Articles
171 Articles
79 Articles
Punjab University PU Lahore
57 Articles
Punjab University College Of Information Technology Lahore
56 Articles
Allama Iqbal Open University Aiou Islamabad
55 Articles