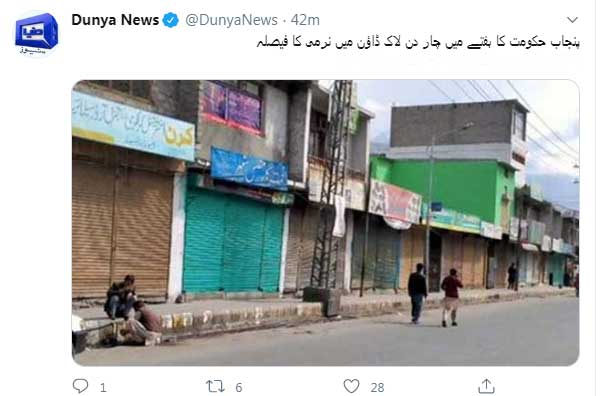 The government of Punjab has decided to uplift the lockdown for four days in Punjab yet there will be lockdown for three remaining days. Punjab will remain open on Monday, Tuesday, Wednesday and Thursday and will remain closed for the rest of the three days Friday, Saturday, and Sunday. Says Fayyaz-ul-Hassan Chauhan, the provincial media spokesperson.


Talking to the media he said that the government of Punjab has decided that the lockdown will be eased for four days of week while the complete lockdown will be for three days.He further said that all the shops and bazaars will remain open in the days of ease. Big plazas, shopping centers will remain closed all week; notification of new decisions in Punjab will be issued shortly.
Talking to a private TV channel, Fayyaz-ul-Hassan Chauhan said that it is the month of Ramadan and we have to run our business.
Meanwhile, sources said that SOPs have been prepared to ease the lockdown in Punjab. The lockdown will not be relaxed due to the spread of corona in six major cities of the province including Lahore, Faisalabad, Multan, Gujranwala, Rawalpindi and Gujarat.
Partial lockdowns will continue in major cities. Lockdown will be eased due to low corona prevalence in at least 15 districts of the province including Sheikhupura, Nankana Sahib, Sahiwal, Okara, Narwal, Hafizabad, Jhelum, Khushab, Bahawalpur, Bahawalnagar, Layyah, Muzaffargarh, Vehari and Lodhran.
According to sources, the lockdown will be eased by May 18. The outbreak of the corona epidemic in the mild districts of Lockdown will be reviewed by May 18. The easing of lockdown will allow small markets to open in these districts.
The sources further said that the working hours of the markets in the districts where the lockdown will be relaxed will be from Fajr to 5 pm. In case of less outbreak of the epidemic, more facilities will be provided to open markets in these districts.
A separate policy will be formulated to continue the lockdown in Lahore. The highest number of cases of corona in Punjab was reported in Lahore. Consideration will also be given to maintain the lockdown in Lahore till Eid.
University Of Management And Technology Umt Lahore
249 Articles
171 Articles
79 Articles
Punjab University PU Lahore
57 Articles
Punjab University College Of Information Technology Lahore
56 Articles
Allama Iqbal Open University Aiou Islamabad
55 Articles