"Music is the greatest communication in the world. Even if people don't understand the language that you're singing in, they still know good music when they hear it" Lou Rawls
Everyone like to listen songs whenever they are free or sometimes just to be relax they like to listen songs. Majority of people have started using Pandora, Spotify, Google Play Music, or Apple Music. But there are other people who are satisfy only with their own collection. They want to listen their favorite collection all the time. So if you are looking for apps which plays local music and also streams music, there is list of all that cool music apps for you.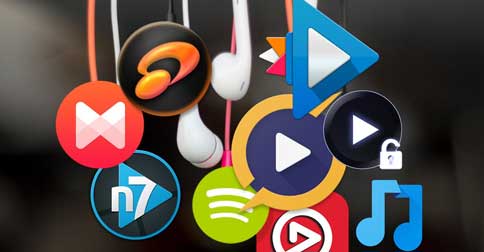 BlackPlayer
Price: Free / $2.69
BlackPlayer is a very simple, but elegant music player. It works on tabs structure but interesting thing is that if you want to use selective tab there is a function for that, you can customize tab and use only those which you actually want. Most importantly, it has an equalizer, widgets, scrobbling, an ID3 tag editor, no ads, themes, and support for most commonly used music files. You can use its free version but it is not that good but paid version is quite good.
Price: Free / $3.99 + $2.99
JetAudio is very popular and favorite of majority Andriod users. The main reason of this is that it got very good features which are better than any other music app. You can tweak your music experience a little more than usual. On top of that, it comes with an equalizer (complete with 32 presets), simple effects like bass boost, a tag editor, widgets, and even MIDI playback
MediaMonkey
Price: Free / $2.49
This app is very good; it has many good features like organizational features like audiobooks, podcasts, and ability to sort songs by composer instead of just artists. The most important feature of this app is then it syncs your music library from your computer to your phone with the help of Wi-Fi.
Price: Free / $3.49
This app did something different from any other music app. It not creates any music list it make collage of you music collection. It also comes with a 10-band equalizer, volume normalization, a tag editor, scrobbling, and plenty of other features. If you want something new and different don't forget to try this amazing music app.
Price: Free / $5.99
Neutron Music Player is another very good music app but it is not that popular as it probably should be. It features a 32/64-bit audio version engine that is (according to the developers) independent of the Android OS. The idea of developers is that it helps music sound better. This app has many other good features like unique file types (flac, MPC, etc), a built-in equalizer, and a host of other
Price: Free / optional donation
Phonograph is newer in music player apps. You can change theme if you like. Along with that, you'll get Last.FM integration, a tag editor, playlist features, a home screen widget, and some other navigation features. This app is very good and useful for those who just want to listen their own collection of music.
Price: Free
Pulsar is probably the only complete music player app which is free. The features include beautifully done Material Design, tag editing, gapless playback, smart playlists, a sleep timer, and Last.fm scrobbling. It has not so many features, but it does not mean it's not that good. This app is for those who are looking for lightweight, and good looking music player.
University Of Management And Technology Umt Lahore
249 Articles
171 Articles
79 Articles
Punjab University PU Lahore
57 Articles
Punjab University College Of Information Technology Lahore
56 Articles
Allama Iqbal Open University Aiou Islamabad
55 Articles