"Personal attributes that enable someone to interact effectively and harmoniously with other people"
Soft skills are intangible skills meaning they cannot be seen. The term soft skills are normally used for employers to refer to the intangible and non-technical abilities that are sought from candidates. Soft skills are sometimes referred as transferable skills or professional skills. Soft skills mainly related to your attitudes and your intuitions. These skills are not related to your qualification it refers to your personality-driven. Now days soft skills are consider very important you will find soft skills in many job descriptions, next to the technical qualifications.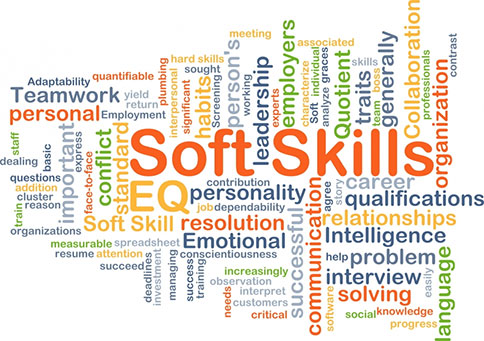 An employment expert says that technical skills will get to an interview but soft skills will definitely get you to job.
Communication Skills
Communication skills are very important because if you want to explain something or convince someone you need to communicate with them and explain everything. It does mean that you have to express yourself in a way that others are willing to listen to you, either you are writing down or telling others with the help of presentation or just calmly explain to a team what you need.
Teamwork and collaboration
Employers want those employees who are team players, not those who work solo. Employers want those employees who can work as a team and can lead a whole team in a professional way without any disputes or conflicts. This means an employee should act like a leader, or sometimes a good follower, taking care of the deadline, monitoring the progress.
Problem Solving
In many interviews, you are asked, "How did you solve a problem?" .When you go to an interview and this question is asked what you have to answer is given by Ann Spoor, managing Director of Cave Creek Partners. "Think of specific examples where you solved a tough business problem or participated in the solution. Be able to explain what you did, how you approached the problem, how you involved others, and what the outcome was—in real, measurable results."
Critical Observation
It is easy to just copy and paste any kind of data. But it is important that you interpret or analyze the data. Instead of simply sending a spreadsheet to your boss, give them past years highlights and summary of key years of attention, and suggest possible improvements and next step.
Conflict Resolution
"Conflict resolution is the process by which two or more parties engaged in a disagreement, dispute, or debate reach an agreement resolving it. Several skills are needed for you to resolve conflicts in the workplace effectively". It is employee duty to resolve every kind of conflict which come in a team or any organization this is a very important soft skill a person should have.
Self-Motivation
Having a positive attitude and work without any supervision is also a very important soft skill which a person should develop in him. It demonstrates reliability and commitment, but it also tells that you can fit properly into an organization without any supervision.
Flexibility
People are not comfortable in every place. Mainly people are not willing to leave their comfort zone, but leaving that comfort zone is a hard skill. Flexibility is a very important soft skill which should be in every employ, employer prefer those employee who can work out of their comfort zone whatever task is given they do it, whenever it is given to them they do it before the deadline and never complain about it.
Decisiveness
Decisiveness is combines with different set of abilities like, the ability to weigh up the options, to assess all kind of options good or bad, to assess all relevant information, and crucially analyze the information. If you can learn this soft skill it will benefit you in your whole life and help you in every situation.
University Of Management And Technology Umt Lahore
249 Articles
171 Articles
79 Articles
Punjab University PU Lahore
57 Articles
Punjab University College Of Information Technology Lahore
56 Articles
Allama Iqbal Open University Aiou Islamabad
55 Articles