Most Netizens are unclear about the rules and regulations of using internet. We all have taken the World Wide Web for granted and are ready to do any activity on the net .Internet users have very less or absolutely no idea that this unawareness could lead to serious consequences.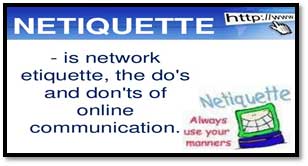 The term Netiquette has been established to render basic etiquettes of using the net. Netiquette is a set of rules describing proper online behavior. These online ethics should be followed at every online or social network destination.
The most desperating aspect is that just 30 percent of the available internet data is clean and readable while the other 70%is nothing but pornography .It is therefore an obligation on us as a Muslim to follow proper etiquettes on the net .Sharing such type of content is also a great offense.
If you want to spend quality time on the net follow these netiquettes for safe and clean surfing. These rules have to be followed not just on accessing or viewing websites but you should take care of such regulations while writing anything on the internet like articles, blogs, official mail or even a friendly chat on social media. They are just simple principles which can be adopted by everyone.
1. Be courteous and Respectful: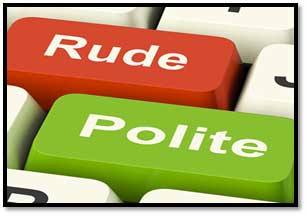 We all know that certain vocabulary is not acceptable in even the everyday chat .These words are unpleasant for the friendly atmosphere and it's better not to use them on internet otherwise you'll regret later. Avoid sentences or words that make the conversation or document rude or show any type of racism. Sarcasm generally takes the shape of arrogance and violence so it's better to avoid sarcastic tone on the net or use it very carefully.
2. Respect Privacy: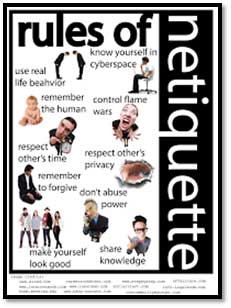 Keep in mind that on every forum or portal you should respect the privacy of others .This etiquettes greatly matters on the net as people tend to share and post anything irrespective of the privacy consideration. Never try to leak any private information revealing somebody's identification or personal matters. This is considered as a cyber-crime and you could be in serious trouble if you leak any private information without the owner's permission. Never make a private message viral by clicking reply all.
3. Use CAPITAL Letters with caution: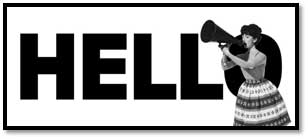 Like any other manuscript, our internet typing has some regulations .Typing capital letter is just like screaming on the net therefore be careful the next time you are writing something .Capital letters are typed only when you are stressing on certain point or just yelling at somebody. Using capital letters sometimes show that you have no respect for the person whom you are communicating.
4. Provide your identification to the person you are communicating:
If you are introducing yourself to any new site or person then make sure that you are providing your correct identification to other user. Greet them courteously by beginning your messages with a salutation and don't forget to provide your signature or name in the end .Try to insert a descriptive phrase in the subject line .Remember these things should be followed when you are contacting some authorized or identified sites or personalities but for strangers you have to be very cautious.
5. React or respond in a cultural manner: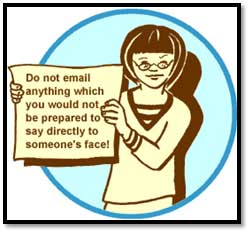 Many people are bullied on internet by unknown users .If something happens to you don't respond in the same manner .You just block them and in severe cases report about them in your nearest cyber cell. It's better not to respond strangers online. Don't send or respond to chain messages or posts.
There are many other netiquettes to be followed but the primary thing to focus is respecting the privacy of others and securing yours while surfing on the net.
University Of Management And Technology Umt Lahore
249 Articles
171 Articles
79 Articles
Punjab University PU Lahore
57 Articles
Punjab University College Of Information Technology Lahore
56 Articles
Allama Iqbal Open University (Aiou) Islamabad
55 Articles