Mohi-ud-Din Islamic University Nerian Sharif, AJ&K is accepting applications for their spring admissions 2023. Mohi-ud-Din Islamic University is accepting admissions 2023 for the Associate Degree programs, Bachelor programs, MS and MPhil programs. While announcing the admissions, MIU also stated that need based and merit based scholarships will also be awarded to the deserving candidates. MIU is accepting spring admissions 2023 purely on merit. Result awaiting candidates can apply too. The list of the MIU spring admissions 2023 programs is given below: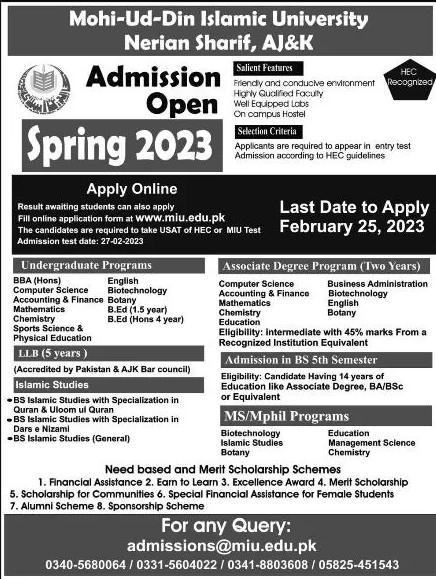 MIU Undergraduate Programs:
Sports Science &
B.Ed. (1.5 year)
B.Ed. (Hons 4 year)
Associate Degree Program (Two Years):
Computer Science
Business Administration
Biotechnology
Accounting & Finance
Mathematics
English
Botany
Chemistry
Education
Islamic Studies:
BS Islamic Studies with Specialization in Quran & Uloom ul Quran
BS Islamic Studies with Specialization in Dars e Nizami
MS/MPhil Programs:
Education
Management Science
Chemistry
Islamic Studies
MIU Spring Admission 2023 Eligibility Criteria
For admission in associate degree programs and Bachelors programs a candidate must have cleared their HSSC or intermediate qualification with minimum 45% marks from an HEC recognized institute.
To get admitted in MS/ MPhil programs, a candidates must have cleared bachelors or equivalent qualification with at least 2.5 CGPA from an HEC recognized university.
Candidates are required to take USAT of HEC or MIU Entry Test.
If you decide to take MIU entry test, you must score at least 60 % marks in it.
MIU Spring Admission Process:
Create and account on MIU admission portal by providing your personal details, i.e. B-form or CNIC number, phone number, email etc.
After creating the account, start filling out the admission form.
Upload all the requested documents to your portal.
After uploading the documents generate the application fee challan and submit the fee.
Fee submission details will be given on the fee challan.
Upload the receipt of paid application fee to your portal.
And submit your application.
MIU Spring Admissions Last Date 2023:
MIU open its admissions twice a year, named as fall and spring admissions. Now the university has opened the spring admissions for the year 2023 and the last date to apply for MIU spring admissions 2023 is 25th February 2023. And the university will also conduct its own entry test and students who score at least 60% percent marks in it, stands eligible for the admission. The date of MIU entry test is 27th February 2023.
University's Salient Features:
Friendly and conducive environment Recognized
Highly Qualified Faculty
Well Equipped Labs
On campus Hostel
Scholarships MIU is offering:
MIU is offering the following need based and merit based scholarships to the deserving candidates:
Financial Assistance
Earn to Learn
Excellence Award
Merit Scholarship
Scholarship for Communities
Special Financial Assistance for Female Students
Alumni Scheme
Sponsorship Scheme